Dunkin' No? Donuts — The Company is Looking a Lot More Like McDonald's
Monday, January 08, 2018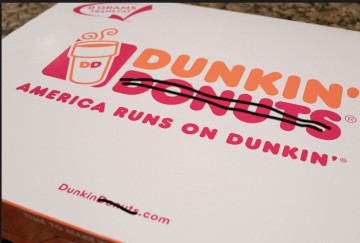 Big changes are hitting Dunkin' Donuts -- oh wait, you can't use the 'Donut' part of the name soon because that is going away -- or is it?
It is hard to keep up with all the new edicts coming out of Dunkin' corporate headquarters and if you can keep track you must be an analyst at some consulting.
The conglomerate has tested in California dropping the word "Donut" from the name. No final word on name shortening. Consultants must be analyzing the data.
The once small New England chain is big, brawny and global…and getting more so every day.
The corporate giant who is now owned by a massive food conglomerate is slashing its menu and will be transforming the company. The news pouring out of the headquarters in Canton, Massachusetts is coming fast and furious — consumers in Worcester, Pawtucket or Tel Aviv should all get ready.
Big Menu Changes
Remember when Dunkin' added lots of sandwiches to try and capture the lunch and afternoon crowd? Well, lots of those additions are going away and so are a number of breakfast sandwiches.
By the end of March, the company says the following are gone:
Turkey Cheddar Bacon Sandwich
Ham & Cheddar Sandwich
Tuna Salad Sandwich
Chicken Salad Sandwich
Big N' Toasted Breakfast Sandwich
Angus Steak & Egg Breakfast Sandwich
Strawberry Banana and Tropical Mango Smoothies
Peach, Caramel, and Mocha flavor shots (unsweetened shots, as opposed to Dunkin's iconic favor swirls)
Some optional muffin, bagel and cream cheese selections (a list leaked last summer shed light on which specific varieties could be eliminated)
Flatbread
The company is not saying the sandwiches are poor sellers, but Dunkin' Donuts is claiming that the reduced menu will result in "faster, more accurate service and a more consistent consumer experience from store to store."
So what does the future of Dunkin' Donuts look like. Who knows? First, we have to remember we are not sure if they are keeping the word Donut anymore. We are now learning that a whole bunch of those yummy sandwiches they — or Gronk or Big Papi — told us to buy are now not quite as good as we were told. And, they are now saying fast and consistent drinks are better than those "Big N' Toasted" sandwiches.
Confused? Don't be. Always trust the business consultant.
We will have to wait until the corporate guys get the latest debriefing from the corporate consultants to lets us know if we can ever have a flatbread again.
Related Articles
Enjoy this post? Share it with others.