NEW: Worcester Telegram, Boston Globe Facing Layoffs
Tuesday, July 24, 2012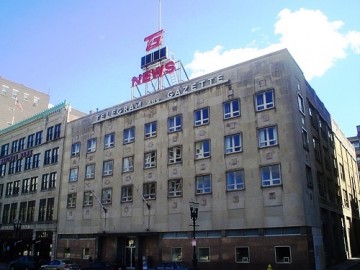 The Boston Globe and Worcester T&G are facing layoffs and buyouts, affecting a total of about fifty employees between the two markets. Both newspapers are owned by the same media group which is a subsidiary of the New York Times Company.
With newsrooms across the nation are shrinking their staff as advertising revenue and circulation continue to fall, Assistant Professor of Journalism at Northeastern University, Dan Kennedy, says that it's hard to tell when the layoffs will stop. On June 6 2012, the newspaper industry made 600 layoffs in one day - not an industry record.
"The Globe will stop cutting if executives can figure out how to bring in enough revenue to support a newsroom of a certain size. And if they somehow stumble across the magic formula for success, they will not only stop cutting, they'll start hiring," he said.
He said that the recent layoffs were not entirely unexpected but there is hope that the Globe will reach a point where it does not need to lay off any more employees.
"I had not picked up any indication that this (the layoffs) was coming. The Globe – as best as anybody can tell – seems to be having a fairly good year. The [New York] Times doesn't pick apart the numbers… I was surprised," he said. "There's really no way of knowing [if they will need to cut more jobs]. Obviously the people running the Globe would like to think they're there now. The advertising business has tremendously changed, and the Globe is shifting this cost to readers, who are paying for it digitally."
The Globe is offering voluntary buyout options to 23 employees in advertising and 20 in their newsroom. The Telegram & Gazette said it laid off one employee Monday and offered buyout options to five to 10 employees.
Globe publisher Christopher M. Mayer sent out a memo notifying employees: "This move, difficult as it is, is part of a program to rebalance the business and will allow us to reallocate resources toward the investments we need as we innovate and introduce new products. This will also assure that we continue to meet the needs of our advertisers, and provide readers the high-quality journalism they expect from us."
Kennedy runs a blog, Media Nation, which discusses the changing media industry.
Future of the Telegram
From his perspective, Kennedy said that the Worcester T&G, which operates on a much smaller scale than the Globe, could use its size to its advantage but may not be local enough.
"In general, truly local papers are doing better than large regional papers like the Globe," he said. "My sense is that the T&G may not be local enough -- that it's more like a small regional paper than it is a local paper. That's not a good position to be in. But as I said, my knowledge of the T&G is pretty limited."
Affecting Coverage?
"It's hard to know how successful that will be. My sense that with the exceptions of a few large papers like the Times and the Washington Post, it's likely that smaller ones that will charge for online access will have some limited success, but it's not going to save them," he said. "It's hard to know where the bottom is. We all wish them all the success in getting them to pay for online access, but there is a limit to that. Advertising is never coming back, not to what it used to be."
In the memo sent to employees, the Globe's publisher says they will remain committed to its job to supply quality journalism.
"The Globe still has by far the largest newsroom in New England, and it continues to deliver groundbreaking, award-winning journalism across all media platforms," Mayer's memo read. "We continue to offer effective solutions for our advertisers using the Globe and Boston.com as we add new offerings such as BostonGlobe.com, Ricochet, eBooks, ePaper, and the upcoming RadioBDC. Even more exciting initiatives are in development."
Mayer added that the Globe continues to face "challenging times." but Kennedy says layoffs in the field have already lessened to a degree.
"Downsizing in the past has been enormous. This one is fairly small. It'll be interesting to see if it changes how they will cover news. It may not," Kennedy said. "They may be able to redeploy their staff more efficiently than they have. Layoffs in the past, we were seeing 70 people gone. Obviously that's a huge change. It was a huge effect on how they cover the news."
The Globe's publisher says they are up for the challenge and changes.
"We face rapid change in how readers get their information and how advertisers communicate their messages. That requires us to make tough choices along the way about how to allocate our resources," the memo read. "We must continue to introduce new products even as we improve the efficiency of our operations."
Related Articles
Enjoy this post? Share it with others.