Worcester Art Museum Names Bafaro Jr. President of Board
Thursday, November 19, 2015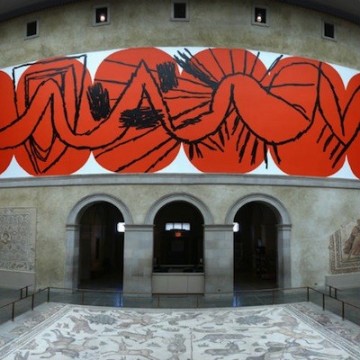 The Worcester Art Museum has announced that Joe Bafaro Jr. will be the next President of the Board and will be joined by four new Trustees: Sarah Berry, James Donnelly Jr. Mark Fuller and Malcolm Rogers. They will replace Cliff Schorer and Marie Angelini, who will be rotating off.
"Our four new Trustees will add a range of skills, ideas, and networks. With Sarah's return, as well as Jim's and Mark's engagement, we are further strengthening our philanthropic reach while adding senior experience in not for profit oversight." Matthias Waschek added "Malcolm's wisdom as the former director of the MFA Boston will help us with the implementation of WAM's 2020 Long Range Plan, which has four goals: Reinvigorate the Mission; Build the Board and Corporation of Tomorrow; Reach 200,000 Visitors by 2020; and Define the Path to Sustainable Mission," said Bafaro on the new Trustees.
Joe Bafaro Jr.
Joe Bafaro is taking over from outgoing President Catherine Colinvaux, who helped the board integrate the Higgins Armory collection, build institutional capacity and increase the Museum's visibility on a national level.
Bafaro has been a trustee since 2007 and in that role has been a big part helping the Museum manage the growth of its earned revenue in support of its long-term financial planning and wider institutional goals.
The New Trustees
Sarah G. Berry has worked with Wells Fargo Advisors and its predecessor firms since 1978. During that time, she spent eleven years managing the Worcester office and six years managing the Boston Institutional and Retail office.
James C. Donnelly, Jr. is a partner at the Worcester law firm of Mirick O'Connell in Worcester where he focuses on complex civil litigation and business disputes. He was named a Massachusetts "Super Lawyer" by Boston magazine and Law & Politics 2009-2014 and is a graduate of Dartmouth College and Boston College Law School.
Mark W. Fuller has for the past ten years been a Vice President at Benefit Development Group in Worcester, a brokerage firm offering group benefits insurance in medical, dental, life and disability. BDG is now a Risk Strategies Company offering all types of business insurance.
Malcolm A. Rogers, a native of Scarborough, North Yorkshire, recently retired as the Ann and Graham Gund Director of the Museum of Fine Arts, Boston, a position he held for two decades—the longest-tenured director in the Museum's 144-year history.
Worcester Art Museum
The Worcester Art Museum was founded in 1896 and has 38,000 piece collection that covers 51 centuries of art.
The Museum is located at 55 Salisbury Street in Worcester and is open Wednesday through Friday and Sunday from 11 a.m. to 5 p.m.; Saturday from 10 a.m. to 5 p.m. and every third Thursday from 11 a.m. to 8 p.m.
Admission is $14 for adults, $6 for children 4-17. $12 for seniors 65 and older, and $12 for college students with ID. Parking is free.
Click Here for More information.
Related Articles
Enjoy this post? Share it with others.