The Cellar: New Zealand + South African Finds
Saturday, May 19, 2012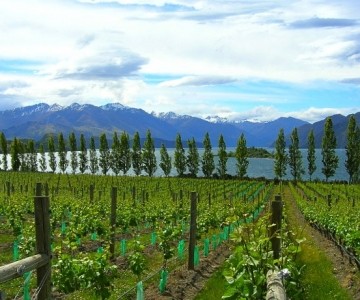 This week we travel south and visit some of the world's southernmost vineyards; one in New Zealand and one in South Africa. If you have a thirst for more and would like to expand your knowledge about wine in a fun and relaxing atmosphere, you should consider attending one of my 'Evening with Wine' events. The next such event, featuring Rosés and the classic varietal Syrah, is scheduled for Thursday May 24th. For more information visit
www.ProvidenceWineAcademy.com
.
This week's first wine is a great value from New Zealand's Marlborough region where the Sauvignon Blanc grape rules the land. Framingham Wines, which makes a Pinot Noir I reviewed last year, is the producer
behind the Ribbonwood label. This great producer, whose vineyards are located in this famous sunny, dry and cool region, also produces wines from other classic varietals including Riesling and Chardonnay. Since 2009 the farming practices at Ribbonwood's Wairau Valley vineyard block have been 100% environmentally sustainable, making this $10 gem a wine you can enjoy in good conscience.
The 2011 Ribbonwood Sauvignon Blanc, of which they produce 7,000 cases, is a classic style Marlborough Sauvignon Blanc – simple and straightforward. With its pungent green, and grassy aroma and grapefruit flavors this inexpensive style has become very popular with American wine drinkers over the years. The last couple of vintages of this wine have received solid reviews and the 2011 vintage does not disappoint. Not bad for $15.
For this week's next wine we stay south of the equator, but travel west, across the Indian Ocean, to South Africa's Central Coast. In the False Bay series of wine, famed winemaker Werner Engelbrecht of Waterkloof
Cellars has created a series of quality entry-level wines. The grapes in this series are sourced from farmers throughout Cape Winelands and include Sauvignon Blanc, Chenin Blanc, Chardonnay, Shiraz and Pinotage – they even make a Rosé of Cinsaut and Mourvedre. Pinotage is an interesting grape. It was created in 1925 by Abraham Perold, the first Professor of Viticulture at Stellenbosch University, when he crossed Pinot Noir and Cinsaut in the hopes of creating a grape that would display the delicacy and finesse of Pinot Noir, but have the productivity and structure of the robust Cincaut.
While one might argue that this balance was never really achieved, Pinotage has found its own identity and has a strong following, among them yours truly. The 2009/2010 South African Pinotage growing season was difficult with strong winds literally blowing off shoots, thereby lowering yields. But a stable and cool spring (their harvest season) produced quality grapes and as a result a good wine. The 2010 False Bay Pinotage is nicely earthy and herbaceous on the nose. Not bad for a $15 Pitnotage.
Enjoy!
Steffen Rasch CSW is ready to answer any wine-related questions, comments or concerns you may have. Feel free to email him at [email protected]. And as always, don't forget to follow GoLocalProv's Wine Cellar on Facebook and sign up for one of his tastings through the Providence Wine Academy.
Related Articles
Enjoy this post? Share it with others.