The Cellar: Red Wines for Chilly Winter Nights
Friday, January 04, 2013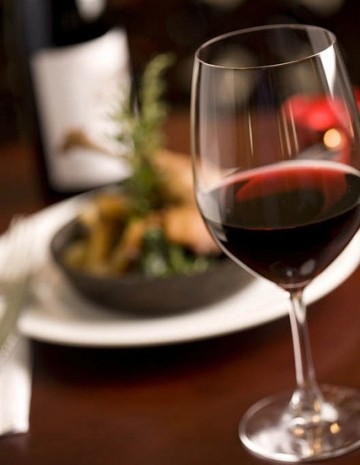 Happy New Year!
To start 2013 off in style I decided to highlight two great, easy-drinking, red wines that make for excellent food wines, as well as sipping in front of the fireplace.
The first wine takes us to Piedmont's hilly sub-region of Langhe, the home of some of the most prestigious wines in all of Italy. While the Nebbiolo based wines of this region is a category of wine that is steeped in
tradition, Langhe is also known for being a hub for innovative winemakers making modern-style wines from international varieties such as Cabernet Sauvignon and Sauvignon Blanc.
The $12 2008 Bricco Magno Rosso from Villadoria is a great inexpensive red wine that combines the best of the old traditions with modern-day winemaking techniques. This Nebbiolo grapes are hand-harvested, destemmed and soft crushed. Traditional Nebbiolo based wines, such as Barolos and Barbarescos, are subjected to extended maceration (the period when juice, skins and seeds interacts) to maximize color, tannin and acid. This makes these wines more or less undrinkable when young. The Bricco Magno underwent relatively short maceration period for a Nebbiolo based wine, and was aged, first in small French oak barrels for about a year, then large oak casks for an additional two years. This makes for a light colored, soft and velvety wine, with bright red fruit and roses and hints of muddy earth.
If you want to spoil yourself and really ring in the New Year with style try something like this week's second wine; the $30 2007 Cabernet Sauvignon from Domaine Eden. Domaine Eden is made by Mount Eden
Vineyards, which is located in Napa Valley's sub-region of Santa Cruz Mountains. Founded in 1945, Mount Eden Vineyards is a one of the original 'boutique wineries' famous for making limited production wines from small lots of Pinot Noir, Chardonnay and Cabernet Sauvignon. Santa Cruz Mountains is one of Napa Valley's cooler sub-regions located close to the Pacific.
While primarily a Cabernet Sauvignon (78%), this wine is actually a Bordeaux blend made of all the five Bordeaux grapes varieties: Cabernet Sauvignon, Cabernet Franc and Merlot with small additions of Petit Verdot and Malbec. The Mount Eden series are all made from low yielding vines and with ripe and mature grapes. After having aged for 2 years in oak barrels, the wine is then bottled unfiltered. This makes for a full bodied and delicious wine. The Cabernet Franc shines through adding a green herbal note to ripe black currents and cedar. The tannins are velvety making for a smooth sipping experience.
Cheers!
Steffen Rasch, CSW, is ready to answer any wine-related questions, comments or concerns you may have. Feel free to email him at [email protected].
Related Articles
Enjoy this post? Share it with others.