Christian Alexandrou: 12 Who Made a Difference in Central Mass in 2012
Wednesday, December 26, 2012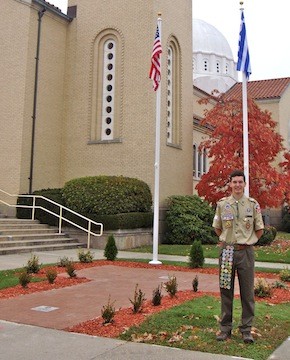 The Veterans Recognition Committee at St. Spyridon Cathedral had been hoping to build a veterans memorial on Church grounds for over 30 years, but it never came to fruition until a 17-year-old Boy Scout teamed up with a 90-year-old World War II veteran.
Eagle Scout candidate Christian Alexandrou is a member of Boy Scout Troop 114 in Shrewsbury and attends Worcester Academy. Christian was inspired and motivated by several older scouts in his troop who had done service projects to honor veterans. When it was his turn to do an Eagle Scout service project, he decided to construct a memorial at the church he had attended his whole life, St. Spyridon Cathedral.
To make his vision a reality, Christian reached out to the chairman of the church's Veterans Recognition Committee, 90-year-old Peter Leasca.
The memorial, which was unveiled on Veterans Day at a ceremony attended by Congressman Jim McGovern, serves as an everyday reminder of the sacrifices made, not only by veterans of St. Spyridon, but by all that have served in America's armed forces.
For his part, Leasca has been impressed with Christian's work ethic so far, and he doesn't think their partnership will end any time soon.
That's because Leasca has been collecting the names of the church's veterans for the last 20 years, and now he believes he can finally honor them properly.

Related Articles
Enjoy this post? Share it with others.