Dear John: Will I Ever Go On a Date?
Tuesday, May 06, 2014
What's your problem? Write to John at [email protected].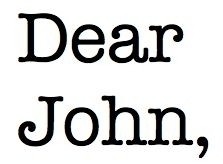 Dear John,
I've been seeing a girl for several months now. She's great – we have a lot in common, we have a great time together, and it's all good. Except for the sex, which is kind of boring. (As boring as sex can be, anyway.)
Unfortunately, while this has been going on, I've also been seeing ("hooking up with" would be more accurate) an ex-girlfriend just because we're so great in bed together. My situation with her is the opposite: we don't get along particularly well, we can hardly have a conversation that doesn't end in an argument, but the sex is incredible. So we get together once in a while just for that, with no illusions that it is anything more than that.

I know this is wrong and can't go on. My feelings for my new gf have grown to the point that I realize I have to end it with the ex. But I'm worried – I guess my question is, can a relationship succeed if the sex is so-so at its best? What do you think?

Signed,
Missing It Already

Dear Missing It Already,

I'm not going to answer your question because I think it's the wrong question. The one you should be asking is, can a sexually unexciting relationship get better? Had you asked that, I would say, "Yes, definitely."

First things first: you're right that you have to end it with the ex. Your new girlfriend deserves an honest commitment, and your relationship with her needs your undivided attention. But your letter makes it sound like you're giving up before you've even tried. You don't provide many details as to what makes sex with her boring, but whatever it is, you have to be more open with her. And you're going to have to take the lead. Let her know what you want, and if she doesn't want to try that, what will she try? Maybe there are some things she'd like you to do, too. Approach this in the spirit of finding out what you both enjoy.

It's great when we hit it off with someone sexually, but it doesn't always work that way. In fact, I suspect it usually doesn't. The two of you may have to work a bit (if you can call it work) to see what makes you both happy, but it's well worth the effort. And you can't discount how much better any sex is when it's with someone you're really crazy about.


Dear John,

I'm 27 (hitting 28 next month) and as of yet I have never been on anything you could really call a date. I started a lot of things later than most people, which has put me out of sync with a lot of friends and coworkers. I've tried talking to my friends and family on the subject and gotten mountains of completely useless advice, ranging from "just go sleep with the first girl who's willing so you're not so nervous" to "just wait and see - the right girl will come along on her own" and just about every meaningless platitude in between.

Until a few years ago, my biggest issue stemmed from a very low self-esteem and a history of self imposed isolation. More recently, however, I've been doing much better. I'm going back to school and doing very well, I'm living in my own apartment and supporting myself, I try to eat right and look better than I ever have, but I'm still struggling with meeting people and starting a relationship.
I'm starting classes at a new school in a new area in a few weeks, and this seems like a good opportunity to finally leave behind my old hang-ups and move forward. What makes me nervous is that I'm going to be ten years older than the majority of my classmates. I'm also finding that the older I get the more I see late teens and early 20-somethings as kids rather than potential relationships. And all of that is compounded by my anxiety at never having done anything like this before. Having never been in a relationship means I get to go through that obnoxious awkward phase everyone else I know went through back in high school.

Am I doomed to having to exclude my classmates for fear of being "that guy"? Should I be upfront about my lack of experience or keep it to myself and feign competence? If I'm upfront, how do I even begin to explain why I've never even so much as held a girl's hand without sounding like the world's biggest loser?

Sincerely,
A Late Bloomer

Dear Late Bloomer,

It sounds like you've made some constructive changes in your life, with more to come in the near future. I think the only change you have left to make is in how you're thinking about this. Or, to be more accurate, how you're overthinking it.

I'm sure that as a 28-year-old virgin, you must look around and feel like you're the only one not having sex all the time. Well, you're not. I really don't want to add to your meaningless platitude collection, but the best thing you can do for yourself is to stop dwelling on this, stop analyzing it, take your new life as it comes, and see what happens. Desperation will put women off a lot more quickly than inexperience will. (In fact, I don't think inexperience will put them off at all.) You've already decided your classmates will think you're too old for them, and they'll seem like kids to you anyway – maybe this will be the case; maybe it won't; but you haven't even met any of them yet!

As far as being upfront about your lack of experience, let me tell you something: sex with anyone for the first time is a little awkward. You don't have to offer any kind of preemptive explanation. Sure, if it seems right at the time, you can reveal that this is all a little new to you, but again, don't overthink it. Just take it as it comes.
You're not someone who's "never even so much as held a girl's hand." You're not "the world's biggest loser." You're just you. Keep an open mind, don't think so much about all of this, and just put yourself out there and see what happens. And if you would, let me know how it goes. I'm confident it will all be fine.

Dear John,

I have an ongoing disagreement with my husband involving our thirteen-year-old son. He doesn't like a lot of different foods, and when we go out to a restaurant, he usually ends up ordering one of the most expensive things on the menu. (Steak of one kind or another is one of the only things he likes.) I'm writing now because we were on vacation recently and we went to dinner at a very nice restaurant in a very expensive city. My son wanted to order a $42 filet mignon! To me, this just seems, I don't know…selfish or something. We don't have a lot of money to spare and I usually don't let myself order the most expensive thing, and here he is doing it like it's no big deal. My husband, on the other hand, couldn't care less. So am I making too big a deal about this, or do you agree that there's something unseemly about a kid ordering a meal that ends up costing $50?

Signed,
Eating Away At Me

Dear Eating Away,

Just my opinion, but I think if you go out to dinner, everyone should feel free to order whatever they feel like having without second thoughts. If it gets too pricey, you should go to a restaurant that's more within your budget. (This goes for you, too, by the way. If you want to order the most expensive thing on the menu, go for it! It's a treat.)

It goes without saying that a boy with such expensive taste should be prepared to eat what he orders. One $50 steak that's mostly still on the plate when the check comes would be the last one he'd order if I were paying. But if he knows what he likes and eats what he orders, I'd let it go and enjoy my meal if I were you.
John is a middle-aged family man from Providence, Rhode Island. If you learn from your mistakes, he's brilliant. Write to him at [email protected].
If you valued this article, please LIKE GoLocalProv.com on Facebook by clicking HERE.
---
Related Slideshow: 10 Great Golf Spots in New England
Related Articles
Enjoy this post? Share it with others.