Dear John: Condoms Pose Barrier for Relationship
Wednesday, April 25, 2012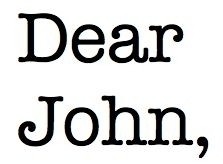 What's your problem? Write to John at

[email protected]

.
Dear John,

I've been dating a woman for about six months who seems to have an inordinate fear of STDs. She knows of ones I've never even heard of, including symptoms and transmission rates. So she insists I use a condom when we're intimate. I respect her taking charge of her sexual health, but I feel like this has gone too far. There's literally no chance she can get pregnant, so that's not an issue. I have assured her I've been tested for STDs and I would gladly get tested again, with her, if it would reassure her everything's okay. I don't have any other sex partners and I wouldn't cheat on her. The thing is, I hate using a condom. I've never liked them and about a quarter of the time, wearing a condom ends up making me lose my erection midway through sex. I've never had good experiences with them, and I've tried many different kinds. But she refuses to even talk about the possibility of sex without condoms, claiming STD testing isn't perfect, could possibly fail to detect a newly introduced disease, and besides, "Why take the chance?" as she says. It's the only thing we really don't see eye to eye on. Any thoughts on how I might get her to loosen up a bit on this?

Signed,
Breaking Through The Barrier

Dear Breaking Through,

First, I think you should ask her if there's a point at which your relationship might progress beyond this stage. Does she envision a future, however far off, in which condoms become unnecessary? If not, then you have to decide if you can live with that. If condoms cause erection problems for you as frequently as you say, perhaps you could consider erectile dysfunction medication to prevent this from happening. That's something to discuss with your doctor if this is a step you're willing to try. That's a call only you can make.

I agree with you that it's good for sex partners to take std's seriously, but it sounds like she's more fearful of them than she has reason to be. Have you talked to her about what might be underlying this? If there's more going on here than you're aware of, condoms might be more a symptom than a problem.


Dear John,

My wife is driving me crazy, refusing to respect one of the few requests I've made of her: she won't stop calling me when I'm driving. I've asked her to do so only if it's really important and she says that's what she's doing, but we have drastically different definitions of important – to her, important is calling to ask if I know where she left her book. I feel like it's dangerous to talk on the phone, and truth be told, I don't like the phone and the car is my last oasis where I can be undisturbed. I could just not answer it, but I'm not comfortable doing that because we have a young child with health issues. I certainly do want her to call me if it involves our daughter; I just don't want her to call short of that. This has been going on for a while and I'm really tired of it. What should I do?

Sincerely,
No Answer

Dear No Answer,

I'm on your side as far as chatting on the phone while driving goes. I think it's a bad idea. You've made your position clear to little avail, so I think your next step should be to repeat to her that you don't like to talk on the phone while you're driving. From now on, you will let all these calls go to voicemail and check the messages as soon as you've reached your destination. In the event of an emergency with your daughter, she should call you, hang up, then call again – the double call will be the signal that this is urgent. If she abuses the double call with questions about where she left something, I think you should have an honest discussion with her about why she is willfully ignoring a request that's perfectly reasonable and important to you.


Dear John,

I'm really upset. I just found out my ex-husband is going to have a baby with his new wife. I was totally unprepared for this because he had had a vasectomy after our last child was born. This has so many implications for our family (we have three children together) that I never even considered – everything from financial implications to questions of his availability for spending time with our kids now that they will have one too. I'm still processing all this – still in shock. Don't you think he should have discussed this with me, even though we're divorced, since it will affect the kids he had with me so much?

Sincerely,
Unpleasantly Surprised

Dear Unpleasantly Surprised,

I can certainly understand your surprise. I'm not sure, though, how giving you notice that this was in the works would change anything. If you mean he should have brought it up so you could try to talk him out of it, I don't think that would have helped. He wants to start a family with his new wife, which is understandable even though it might not be what you want to happen. If I were you, I would accept this news, talk with him about how the two of you will address the implications it has for your family, and go from there. Is part of the reason you're so upset due to unresolved feelings you have about your marriage and how it ended? I think that's something worth thinking about.
John is a middle-aged family man from Providence, Rhode Island. If you learn from your mistakes, he's brilliant. Write to him at [email protected].
Related Articles
Enjoy this post? Share it with others.