Dear John: Dad's Dating Reports Are TMI
Wednesday, July 11, 2012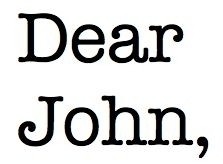 What's your problem? Write to John at

[email protected]

Dear John,
My parents have been divorced for quite a while – they're well into their 60s and I'm a middle aged woman. For about a year, my dad has begun going on dates with women he's met online on dating web sites. My problem is my dad is very enthusiastic about his dating life and I just don't want to hear about it. I stopped thinking my parents might get back together a long time ago, but I still don't want to hear details about picnics, bike rides, etc. It makes me very uncomfortable. How do I tell him without hurting his feelings?
Sincerely,
Reluctant Daughter

Dear Daughter,
It's unclear how long your parents have been divorced, but the bottom line is, divorce is hard for kids – even grown kids. It sounds like your dad is understandably excited about his revived social life and he wants to share that excitement with you. It also sounds like you may need a little help accepting the fact that your parents are no longer together and never will be again. Look at it this way: if your dad were a widower, would the things he shares with you be bothersome, or would you be relieved that Dad is not alone in his old age? I don't think you should try to tell him to keep these things to himself. Instead, I think you should try to get to a place where you feel genuinely glad for him.
Dear John,
I work hard to keep my property really nice with landscaping, etc. It's my most important hobby and I take a lot of pride in it. Recently, a new couple moved in next door. Our back yards share a fence and shortly after they moved in, they asked me if I would be willing to split the cost of replacing the fence. I politely declined because there was nothing wrong with the fence that was there and technically, it's on their property. Well, they went ahead and replaced it anyway, and the new fence is just hideous! I can't even sit in my back yard now and read because the fence irritates me so much. And my hostility to the fence is beginning to spread to the neighbors themselves! Don't you think we should have talked about what fence they wanted to put up since it affects me as much as them, and what recourse do I have now?
Sincerely,
Fences Make Bad Neighbors

Dear Fences,
They definitely should have talked to you about the kind of fence they were thinking of putting up. Typically, this conversation happens immediately after you agree to split the cost.
You blew it. You were cheap, and now this is what you get. When you declined to help pay for the fence, you simultaneously forfeited the right to weigh in on its design. After all, "technically, it's on their property." There is one thing you could do, but I don't think you'll like it. You could tell them you regret your former un-neighborliness, you really don't like the new fence, and you'd like to work with them to choose a fence you're all happy with – at your expense.


Dear John,
It's happening again. I am in a new relationship with a wonderful woman and I am about to break it off and leave her wondering what went wrong. The problem sounds kind of trivial, but I can assure you that to me, it's extremely serious: I wear a hairpiece. It's very high-quality and it looks great, so no one knows. The only time it's a problem is when I am in a relationship and things progress to the point where either I'm going to tell her or she's going to find out the hard – or at least very embarrassing – way. Rather than face this humiliation, it's easier for me to just break it off. I love how I look with my hairpiece, but I also feel trapped by it. I don't know what to do!
Signed,
Bald Is Not Beautiful

Dear Bald,
As someone who has experienced male pattern baldness' indiscriminate sting, let me assure you, I don't think your problem is trivial. Let me assure you of another thing, too: people know. I don't care how expensive your hairpiece is; I don't care how meticulously you maintain it; people know. That is, those who even care. Losing your hair has also led you to lose perspective.
None of this would matter if your perfectly normal vanity never got to the point where it's sabotaging your personal life. But that's where we are. Drastic steps are required. You have to do a couple of things that will be excruciatingly difficult. First, give this woman the benefit of the doubt. Make yourself vulnerable and tell her your "secret." If it's easier, tell her in an email – this is one of those rare times when it's okay to take the easy way out. If your worst fears are realized and she dumps you because you're bald, I'd say, "Good riddance." But as I said, she probably already knows.
And as if that's not hard enough, here's the second thing: lose the toupee. You nailed it when you said you felt trapped by it. That's exactly what you are. Imagine the liberation you'll feel not worrying that people can tell, that it's not on right, that it looks weird in the back where you can't see it, and all the other things I imagine toupee-wearers think about. Maybe you can approach this in small steps. For example, do you ever go on business trips alone? After you check in to your hotel, remove the wig and go out for a walk. See how it feels. See how many people point and exclaim, "Oh my God, a bald man!" At some point, you will have to venture out into the world without the security blanket you wear on your head. And guess what? No one's going to care.
John is a middle-aged family man from Providence, Rhode Island. If you learn from your mistakes, he's brilliant. Write to him at [email protected]
Related Articles
Enjoy this post? Share it with others.