Dear John: Will Boyfriend's Solitary Pleasures Lead To Pain?
Tuesday, February 19, 2013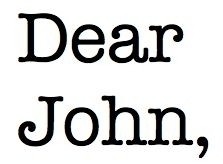 What's your problem? Ask John at

[email protected]

.
Dear John,

I have been dating a man I have a question about. I will be the first to admit that even though I am in my forties, I am relatively inexperienced with the habits of men. To be honest, not to mention blunt, it seems to me that my boyfriend masturbates what I would consider a lot. If I had to put a number on it, I'd say almost every day? (I should add that he's just a couple of years younger than I am.) I was raised with the belief that masturbation is wrong, but I realize that's no longer a widely held view. But in researching it on the Internet, I have come across people who believe that it is detrimental to a relationship. I feel like our relationship will progress to the point of being sexual in the next few months, but I'm concerned my boyfriend's habits may pose a problem. So I guess my question is, is this typical for a man? And how likely is it to be a problem?

Sincerely,
Anxious

Dear Anxious,

In general, yes, most men masturbate at least occasionally. Beyond that bland generalization, though, the specifics vary widely. Is how frequently your boyfriend does it "typical"? It's probably more frequently than most men in his age group, but that's not too say it's too frequently. Men differ drastically in how much sexual activity they prefer.

It's impossible to say how likely it is to be a problem once the two of you start having sex, although I wouldn't assume it will be one. To begin with, he may well masturbate less frequently once you're intimate because it's probably at least partly a substitute for sex with you. At the risk of being glib, though, this will only be a problem if it's a problem. My advice is to talk openly with him about any questions or worries you have, see how it goes and expect things to work out well. If they don't, it may be worth your while to talk it over with a therapist who specializes in sexual issues.


Dear John,

My fiancée's aunt is prone to getting cold sores, and we see her quite a bit. Sometimes I will see her when she either has one or has just gotten over one, and she will want to give me a kiss on the cheek in greeting. Problem is, I have a job that requires me to do a lot of public speaking, which is difficult enough for me as it is – the very last thing I need is the self-consciousness I would feel having a cold sore, too. I have talked to my fiancée about it, but what can she do? Her aunt is very sweet; I just think she has a blind spot as far as this issue is concerned. I have tried to find a way to put a graceful end to this without any hurt feelings, and I've come up with nothing. Do you have any ideas?

Signed,
Sore Spot

Dear Sore Spot,

I don't think your reluctance to kiss someone with a cold sore puts you in some kind of fringe group. The vast majority of people would feel the same, I suspect. Difficult as it might be to talk with her about it, you would be doing her a favor if you could gently tell her that she should simply refrain from going in for a kiss when she has a cold sore. If you absolutely can't do that, though, every time you run into her, be prepared to say you've just gotten over something you'd hate for her to catch and she should definitely keep her distance.


Dear John,

My husband and I have a three-year-old daughter. We are trying very, very hard to raise her so that she doesn't think her most important attribute is how she looks. We want her to understand that her appearance is largely a matter of factors beyond her control, whereas her character – kindness, compassion, resilience, patience, thoughtfulness, integrity, etc. – are well within her control and infinitely more important than how she looks or the clothes she wears.

My in-laws are coming for an extended visit, and this has already been a point of contention between me and my husband and them. They love to buy our daughter typical girly presents that send a message we simply can't support. Their interactions with her convey the same things, calling her their little princess, telling her how beautiful she is (without ever mentioning how smart she is), and so on. But when we try to explain why we don't want them doing that, they act so hurt and offended. I realized last time they were here that not only do they not understand what we're talking about; I think they are literally incapable of understanding.

How can I explain to them the kind of interactions we want them to have with our daughter and why it's so important for her? I know they absolutely adore her and they do this out of love, and I don't want their visits with her to be anything but enjoyable.

Sincerely,
I'm Not A Queen So She's Not A Princess

Dear Not A Princess,

You probably can't get your in-laws to adopt a view that is so foreign to them – and if you could, it definitely wouldn't make for an enjoyable visit. Instead of talking to them about your daughter, talk to your daughter about them.

Whatever they do during their visit will not undermine the lessons you are trying to teach her. Not only is the amount of time they will have with her minuscule compared to the time you and your husband spend with her, but you are the ones she looks to for guidance. Yours are the values she will be molded by. So instead of trying to make your in-laws into people they will never be, explain to your daughter that Grandma and Grandpa come from a different generation when people thought it was more important for girls to look a certain way and to act a certain way and be a certain way, but we don't think that any more. In doing so, you will have an opportunity to reinforce the lessons you're trying to instill in your daughter, and you will also be demonstrating love, respect, and tolerance of different points of view – all values that will be important to the person you're raising her to be.
John is a middle-aged family man from Providence. If you learn from your mistakes, he's brilliant. Write to him at [email protected].

Related Articles
Enjoy this post? Share it with others.