Dear John: "Guys Weekend" Had More Girls, Fewer Clothes
Friday, August 31, 2012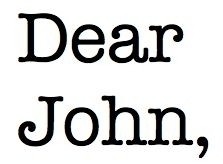 What's your problem? Write to John at

[email protected]
Dear John,
My husband went away for the weekend recently to reconnect with some old college buddies. They rented a house and it was described as a guy's weekend of beer, cigar smoking and card playing. When he came home, though, I learned that a couple of the "guys" were girls, and the fun extended to some nighttime skinny dipping. He told me all this without any reluctance or with me having to drag it out of him, but it is bothering me a great deal nonetheless. I trust him and we have a good marriage, but I feel like swimming naked with old friends right before all heading in to bed was a bad idea. At first he was apologetic about it; but now he is saying it's time for me to stop dwelling on it and drop it. If only it were that easy. Am I making too much of this?
Signed,
Would Rather Not Know
Dear Would Rather Not Know,
Well, you feel how you feel, and I don't think it's helpful for your husband to decide what the expiration date is on your dismay, disappointment, or however you would characterize how you feel. The two of you have to talk about this if you're going to gain any insight into exactly why this is so upsetting to you. Shutting down discussion will not facilitate that process.
So why is it so upsetting? Was one of the women an old girlfriend? Do you suspect he knew all along women were part of this weekend? Do you feel like he knew you'd disapprove and this is a passive aggressive way to make you feel uptight and puritanical? Are you insecure about your own body and know you couldn't possibly bring yourself to participate in this kind of public display? I have no idea, obviously – I'm just speculating. But these are the kinds of things the two of you have to discuss in order to really resolve this as opposed to stuffing it into a mental corner and refusing to think about it. To go back to the question of whether you're making too much of it: there's a reason for how you feel, and until you gain some understanding of what that reason is, the issue isn't going away, whether your husband wants to hear about it or not.
Dear John,
Over the course of the past couple of years, my best friend's world has just come crashing down around her. It started when her husband lost his job and couldn't find another one in nearly the same salary range. He started drinking more, which made it even less likely he was going to find a job he wanted, and things really started deteriorating. They finally separated about six months ago and there's no chance they will reconcile. (They don't have any kids, which is the only fortunate thing in this whole mess.) Out of financial desperation, she had to move in with her sister and brother-in-law, and now she is almost starting from scratch to put her life back together again. And this is a woman well into middle age.
We have been friends since we were in high school and have supported each other through our share of problems, but nothing has been of this magnitude. A while ago, I started sensing she was withdrawing from me until now she doesn't even return my calls. (I know other mutual friends have had the same experience with her.) John, I really want to help her through this, I think about her and worry about her all the time, but she is pulling farther and farther away from me and I feel heartbroken over it. And more than the pain I feel, I'm afraid that she is depriving herself of the support of friends who care about her very much. Is there anything I can say or do to make her see that she will get through this…that there's a light at the end of the tunnel? I'm so worried about her.
Sincerely,
Friend In Need
Dear Friend In Need,
I think you have to let her know once and for all that you and the rest of her friends love her and that you'll help her in any way you can should she ask. And then you have to give her the space she apparently feels she needs right now.
There could be a lot of reasons for her withdrawal. She could be embarrassed by the position she finds herself in; she may feel like she can't endure one more well-intentioned pitying glance; she may even feel like her life needs a fresh start and she wants to leave as much of her old life behind as she can. Only she knows. But while her motives may be unclear, her desires seem pretty obvious, and you have to respect them.
I would write her a letter telling her how you feel but respecting her wish for some space. Let her know that she can always turn to you for support and she has an open invitation to take you up on your offer of help. But since she hasn't returned your efforts to get in touch with her, you assume she wants to be left alone for a while, and you will honor that. (You may also want to get in touch with her sister to make sure she's okay and to let her know, too, that you are available to help should your friend need it.) Perhaps she'll reply to this letter and offer an explanation for why she's pulling back; perhaps she won't. Either way, while I know it's painful, there's not much more you should do.
Dear John,
What is the protocol for acknowledging cosmetic surgery? A woman I work with has so obviously been overhauled recently that it seems like only someone rude or blind would fail to say something. I've received differing opinions on this from different people and I'm just curious what you think. I have plans to ask her out and I really don't want to screw up my chances! Thanks.
Signed,
Can't Help But Notice
Dear Can't Help But Notice,
No, you have it backwards. It would be rude – utterly so – to say anything, not the other way around. Some people couldn't care less who knows they've undergone cosmetic surgery; others would be mortified. Unless she mentions it herself (and that's assuming you're suspicions are correct, which is a big assumption), you can't say anything. Furthermore, if she does mention it, you say, "Oh, really? I had no idea," not, "I KNEW it!"
And not that you asked, but I would rethink your intention to ask her out. In general, it's not a good idea to date co-workers. Even ones who've been overhauled recently.
John is a middle-aged family man from Providence. If you learn from your mistakes, he's brilliant. Write to him at [email protected]
Related Articles
Enjoy this post? Share it with others.