Dear John: My Boyfriend is Bad at Sex
Tuesday, February 11, 2014
What's your problem? Write to John at [email protected].

Dear John,

I'm in a long-term relationship (11 years now) with a guy I love dearly… but the sex has always been very infrequent and frankly lousy. He's inexperienced, and that does put me off — because trying to give him instructions is fruitless. His hands are so rough that they hurt. He doesn't like performing oral sex. (I don't like to either so I'm not about to complain!)

Due to obesity and high blood pressure, he's partially impotent, so what little stimulation I get from intercourse is always thwarted by the way he moves his hips — the worst possible way at the worst possible time. I've tried to teach him. He simply has zero bed talent because he's so disconnected from his body. He went off sex completely for two years due to medication and I had to force myself to stop thinking of him sexually. I succeeded. Now, he's off those meds and would like sex again. But I find I just can't go there now. But what do I tell him? I've already told him that I shut off thinking about him sexually, but should I explain further? How can I without hurting this dear sweet man? I'm really stuck here. He gave me the freedom to pursue sex outside of our relationship, but I never have, and now that he's interested again, it just doesn't seem fair to. I'm getting older and I miss sex, but frankly, bad sex is just more frustrating than I can handle. I'm really stuck here! Any advice? Thank you!

Signed,
Ready To Give Up – Almost

Dear Ready To Give Up,

I'm going to take you at your word when you say, "I just can't go there now." I would have a different answer for you if you had written that there's even a glimmer of hope the two of you can have a sexual relationship, but you say that door is shut. And that's perfectly understandable.

What does that leave, though? You're in a relationship with a man you like but for whom you have no sexual feelings. I would call that a friend. Just a garden-variety friend. Human relationships are varied enough that if you said you were in a committed, exclusive, celibate romantic relationship with him, I'd buy that. Not sure I'd understand it, but that's okay. But you're not saying that. You're saying you want a sexual relationship with someone, just not him.

See what I'm getting at? Your long-term relationship fizzled out, but it was so lacking in passion, you didn't even notice. Explain to him as gently as you can that the two of you have to redefine your relationship. You're not lovers; you're not romantically involved; you're friends. I know you don't want to hurt this "dear, sweet man," but you deserve a relationship with a man you have a connection with, both physically and emotionally. Sometimes we hurt others because we do something selfish or cruel. And sometimes we hurt others as an unavoidable result of just living our lives. Any pain you cause him falls squarely into the latter category. It sounds like you've really tried to make this work. Now it's time to move on.
Dear John,

I have been involved with somebody for about two years. We both are in our 40's. We are not in a committed relationship, but we clearly enjoy each other's company and companionship.

When he has too much to drink, which is not often, he admits how he has "hooked up" with other people in his office after work. He does not remember that he has admitted this to me. He has a high sex drive, and I know that the infrequent times we have sex cannot be sufficient to satisfy him. We both work about 70 hours per week, but at different times of the day. We both are self-employed and have businesses that require us to work these long hours and cannot adjust our schedules. What bothers me most about this situation is that he thinks he is "hooking up" without me knowing. Just last night, he told me he stayed at work late just "talking on the phone." He never stays late. He always leaves exactly at the same time and calls me on his mobile phone. And the way he explained about staying late was so convoluted that I know that last night was one of his "hook up" nights.

I don't like the fact that he thinks he is fooling me. I would prefer he say nothing than to give an explanation I know is a lie – he thinks I will believe anything he says. It does bother me that he meets other people for sex, but the reality is that he and I just cannot get together as often as we would like. Changing our work schedules would result in reduced income that neither of us can afford. Should I just ask him to stop giving me false explanations and say nothing at all? I do not like to be considered a fool. Should I stop having feelings for him and just enjoy the sex?

Sincerely,
Not That Gullible

Dear Not That Gullible,

As you're finding, it's very hard for most people to sexually share a partner they care a lot about. It's much easier to be in a non-exclusive relationship when the sex is good and the feelings are shallow to nonexistent. Should you "stop having feelings for him and just enjoy the sex?" You don't really think it's as easy as that, do you?

As far as your specific question goes, you two need to have an honest talk. Tell him what you've written here: you don't like the fact that he meets other people for sex, but when he does, he might at least do you the courtesy of being up front about it. What's the point of agreeing that it's acceptable to see other people if you're going to get lied to about it anyway? Isn't the point of such an agreement to keep the relationship honest at the very least?

Buried in your letter, though, is the most important fact in all this: "It does bother me that he meets other people for sex." Then why are you doing this? Why are you willing to endure this just to be with a guy who, to be honest, doesn't sound all that irreplaceable? He NEEDS sex? Come on. He NEEDS air. He doesn't need sex. It's okay because you and he "can't get together as often as we would like"? Uh, do you know any married couples? Because that describes about 90% of them.

Here's what I get from your letter: you're in a relationship with a guy who sleeps with a variety of women he works with (big mistake), who gets so drunk he dumps the information on you then blacks out, and who lies to your face about it even though you've given him permission to do it. Is that about right? And you don't like it, but you're willing to accept it. Frankly, I can't imagine why.

Dear John,

My best friend and I have been friends for 8 years; she was the new girl in our freshman year of high school and I was the first person to befriend her. Ever since then, she's shared just about every thought and experience she has with me. She asks for my input on just about every decision she makes and she's always asking for advice. I don't mind it in the least, though. I adore her.

The trouble is, her problems are starting to exceed my expertise. She's always had low self-esteem and can't stand the idea of being alone (which is to say, she hates the idea of not having a boyfriend). I'm just the opposite; I'm confident and cannot stand the idea of having to share my life/space/decisions with someone else. I've dated, but once I figured out that I hated being "in a relationship" I stopped. That was a few years ago.

Now my friend is in this relationship and she's having a lot of trouble. He's only her second boyfriend ever and the first boyfriend she had was… not awesome, to say the least. He really deepened a lot of the insecurities she already had. The current boyfriend is a vast improvement. He's a really decent guy.
Except that ALL of his friends are girls. Which would be cool, except he's kind of an affectionate, flirty guy. It's not that he's hitting on these girls, most of whom are in relationships themselves for whatever that's worth. I sincerely don't think that he would be unfaithful to my friend, not even if his friends started throwing themselves at him. He has these ideals about nobility and honor, and anyway, he's kind of too spineless for that sort of thing.

But my best friend is EXTREMELY jealous. She doesn't think she should be and she doesn't believe he would ever physically do anything with any of those girls, but she feels like he's cheating emotionally or something. Like he's putting her second to spend time/effort with other girls. She says things like, "I know I'm being crazy but I can't help feeling the way that I feel." She's always worried that he's going to dump her to be with a prettier, funnier girl who shares more of his interests. She's always worried she isn't good enough.

I want her to be happy. I want her to stop feeling bad about herself. But I am rubbish at this. I don't ever know what to tell her when she calls me, sobbing and asking for advice. Is emotional cheating even a real thing? Is there something to be done about her feelings? Should she just dump him? What the hell am I supposed to tell her?

Sincerely,
Helpless Best Friend

Dear Helpless Best Friend,

You have no idea how right you are when you say her problems are starting to exceed your expertise. In fact, they're exceeding the expertise of anyone who isn't a competent therapist.

Everything you say about your friend – her emotional neediness, her poor choices in guys, her extreme, unreasonable jealousy – all indicate that she has a level of insecurity that is far, far beyond being bolstered by anything you could say over the phone. Do you know of anything in her childhood or the way she was raised that would account for how she feels about herself? Because such an absence of self-esteem almost never arises out of nowhere.

Yes, emotional cheating is a real thing, but nothing you've described here indicates her boyfriend is cheating, emotionally or otherwise. (He does sound like he may be a little too eager to show off his platonic "nobility," as you call it. But even though he's a decent guy, a man with so many friends who are girls is a bad choice for your friend. That's why I say she makes poor choices in guys – they're not necessarily bad, but they're bad for her. She could break up with this one, but the pattern would repeat itself.)

All you can do when your friend calls you all upset is to reassure her that you understand how she feels, you're sure her boyfriend isn't cheating on her…whatever you have to say to calm her down. That will end the call, but it will have zero effect on her bigger issues. So when she's not upset, tell her that you think she's a great person, but you're not sure she sees that in herself, and has she ever thought about talking to someone about the way she feels about herself? Because that's all that's going to make a real difference in your friend's life and happiness.


John is a middle-aged family man from Providence, Rhode Island. If you learn from your mistakes, he's brilliant. Write to him at [email protected].
---
Related Slideshow: 10 Valentine's Day Gifts for Her
Prev
Next
A Charming Gift
Show your special someone that you cherish them this Valentine's Day by giving them a unique gift from Alex and Ani. The popular Rhode Island retailer has outdone themselves this Valentine's Day season offering a variety of gifts -- including bangles, wraps, and earrings. You can even personalize your piece with a cupid or heart charm.
Price: $28 and up
Buy it from: The Paper Store, Millbury, Hudson, Leominster, Shrewsbury
Prev
Next
Specialty Chocolates
It's been said that they fastest way to a woman's heart is through her stomach and who are we to argue. This Valentine's Day, pick up some tasty handcrafted chocolates from Hebert Candies. Hebert offers over 50 different Valentine's Day candy packages sure to please even the most discerning palate.
Price: $6.95 and up
Buy it from: Hebert Candies, Shrewsbury
Prev
Next
A Day at the Spa
Treat that special someone in your life with a day at the spa this Valentine's Day at Bellisimo European Day Spa. Bellisimo offers a wide variety of services including skin rejuvenation, massage therapy, skin care treatments, spa body treatments and spa experiences.
Price: Prices vary by service. Visit their website or call 508-799-7767 for more information.
Buy it from: Bellisimo European Day Spa, Worcester
Prev
Next
A One of a Kind Item
Is your partner a bit eclectic? If so, Funky Stuff is sure to have the perfect gift. This unique store sells an array of gifts including fine art, clothing, handmade jewelry, gems and minerals, and locally made holistic products. Click here to see what Funky Stuff has to offer.
Price: $2.50 and up
Buy it from: Funky Stuff, Worcester
Image: Huge heart shaped Amethyst for sale at Funky Stuff
Prev
Next
A Beautiful Bouquet
Nothing says "I love you" on Valentine's Day like a wonderful bouquet of flowers. Express your love Valentine's Day beautiful and affordable flowers from Perro's. From romantic roses to impressive modern bouquets, Perro's offers over 30 different Valentine's Day special that are sure to please even the most discerning eye.
Price: $42.50 and up
Buy it from: Perro's Flowers, Worcester
Prev
Next
A Romantic Evening
Did you know that many components in Japanese cuisine have long been known to be natural aphrodisiacs? Ingredients such as rice, wasabi, ginger, unagi, sake, even shitake mushrooms can fuel romance. So if you're looking to start your evening with some natural and edible sparks, join 7 Nana on Valentine's Day, February 14th, and either choose from their regular dinner menu, or make your reservation for one of their special prix fixe menu seatings and enjoy a special Valentine's Day menu.
Price: $79 per couple
Buy it from: 7 Nana Japanese Steakhouse, Worcester
Prev
Next
Warm Woolies
Gifted socks don't have to be a boring practical gift when you choose a few pairs from the French Twist Boutique. Make a bigger impact with three or four pairs of P.J. Salvage socks partnered with another winter accessory life a scarf or a hat.
Price: $17 per pair
Buy it from: French Twist Boutique, Worcester
Prev
Next
Luxurious Body Care
Thymes Olive Leaf bath products make a stunning impression. Besides the packaging being festive and pretty, the olive leaf extract and shea butter draw a tapestry of scent on her skin. Put together a combination of bath powder, lotion, and soap and then give her an hour to herself, no questions asked. Your Valentine will find one hundred ways to thank you
Price: $14-$30
Buy it from: Bhadon Gift Gallery, Worcester
Prev
Next
A Music Lover's Dream
Does your Valentine have an affinity for classical music? How about taking her to the Blithewold Mansion on Valentine's Day for a concert she'll never forget. The Seven Hills Symphony's Winter (Valentine's Day) Concert, which will take place Feb. 14 from 7:30pm to 9pm, features an all-Romantic program. The concert will include the first movement of Dvorak's Cello Concerto and the first movement of Bruch's Violin Concerto No. 1. Click here for more information.
Price: This is a free event, but donations are encouraged.
Where: University of Massachusetts Memorial Medical Center, Worcester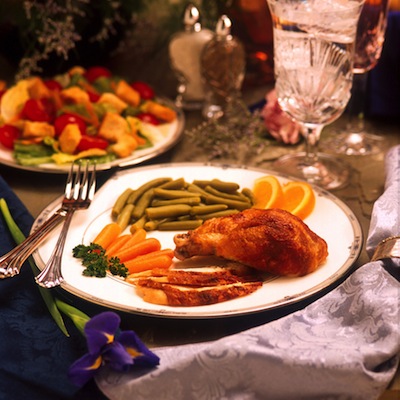 Prev
Next
Romantic Dinner at Home
Who doesn't love a home-cooked meal, especially when someone truly special prepares it? Pick out a cookbook with a lot of personal and memorable recipes that were his favorite dinners growing up, or the meal that she had on your first date. Then, as a bonus, offer your companion the opportunity to pick out a three-course meal of their choosing from the cookbook, prepare it, and have a nice dinner in for your Valentine's Day.
Price: Call 508-796-5613 or click here.
Buy it from: Annie's Book Stop, Worcester
Related Articles
Enjoy this post? Share it with others.