Dear John: Relationships 101
Wednesday, August 01, 2012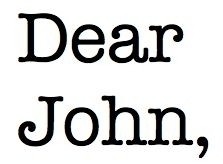 What's your problem? Write to John at [email protected]
Dear John,
I am about to enter my senior year in college. Last year, my best friend began dating one of her professors. (We're both women.) He is a well-respected faculty member in her major and while she wasn't a student of his at the time, she had taken a couple of his courses. He had some students over to his house, she was the last one to leave, they hit it off (apparently), and now it's become "serious." The problem – my problem – is I find the whole thing repugnant in the extreme. There are no other people involved (he's divorced) so it's not black-and-white wrong, but he's around 50 and I just don't think this shows good judgment on his part. There is such an imbalance in where they are with their lives, not to mention the fact that as her teacher, he is in a position of so much superiority over her that to me, it seems almost predatory for him to be abusing his position over her in this way. She doesn't see it that way, of course, and seems to think this (slightly) forbidden love makes it more romantic. I'm writing because she just told me she is going back to school a couple of weeks early so they can have some time together before the semester starts. I just can't seem to let this go. So what's your opinion? Is this not the big deal I'm making it out to be? Should I drop it? Implore her to come to her senses? Or what?
Sincerely,
Disgusted
Dear Disgusted,
This is actually my second response to your letter. In my first one, I agreed with you. There's something I find unseemly in a college professor dating a student for the very reasons you state.
But then I remembered that Donald Hall, one of my favorite writers and the Poet Laureate of the United States, met his late wife Jane Kenyon while she was a poetry student of his. They fell deeply in love and devoted themselves to their writing and to each other until her untimely death at 48 from leukemia.
So I discarded my first answer, and here's what I think: She's your best friend. She's also an adult. Trust her judgment, be trustworthy yourself, wish them the best, and mean it.
Dear John,
I work as an assistant to a boss who is generally considered good in his field/job, but he's difficult. He doesn't seem to realize that this is a job for the people who work for him, not that it isn't important, but it's not their whole life. He expects totally loyalty at all times and he will go to great lengths to get it. For example, no one else knows this, but I happen to know that occasionally he will go into a stall in the men's bathroom and crouch on the seat so no one will know the stall is occupied so that he can spy on people's conversations! I asked him what if someone thinks the door is locked on an empty stall and looks under the door or something. He said that would be fine because then everyone will know they have to watch what they say even when they think no one is around. I am fairly new to the work world…is this type of thing normal? Do I warn the people who work here, or try to get him to see he doesn't have to be so paranoid?
Signed,
Wary At Work
Dear Wary At Work,
New to the work world, eh? I hesitate to describe your boss' behavior as normal, but I will safely predict that he's not the last, uh…colorful character you'll meet in the business world. In a way, you're lucky. At least he sounds like a fairly talented paranoid micromanager. You'll cross paths with others who aren't even talented.
Unless people are involved in illegal or unethical behavior, my workplace advice is usually just to do your job the best you can. (You may be thinking, isn't eavesdropping unethical? I'm talking about unethical by the standards of the business world, which means really unethical.) So don't get in the middle – don't start warning people the boss may be lurking in a cupboard in the kitchen, and definitely don't imply that he's being unreasonable lest he turn his gaze your way. Instead, learn whatever he has to teach (the good stuff, anyway) and do what I suspect many of your colleagues are doing: wait for the job market to improve.
Dear John,
I did something really dumb. Long story short, I recently got back in touch with a girl I used to get together with a while back. We exchanged a couple of mildly flirtatious emails and she suggested getting together for a drink. Now, we're both married but my marriage is in the final stages, so I pretty eagerly said yes. But then when I showed up where we agreed to meet, she had her husband with her! The whole thing was not what I expected at all—uncomfortable from the get go. I could tell that she very quickly realized I had misunderstood the nature of this get together, and she didn't seem happy about it. So after a bit of strained catching up, we all left. But here's the thing: I really want to see if we can pick up where we left off a while back, and I know for certain her marriage is no great shakes, either, but I feel like we got off on the wrong foot. So I'm curious what to do next—I feel like the next move is going to be my one chance to get back on track.
Sincerely,
Oops
Dear Oops,
Sometimes I have to give advice that has nothing to do with a letter writer's question. Like now. You're married. Work on your marriage or get a divorce. If you choose the latter course, spend a little time reflecting on why your marriage failed and what you learned from it, both about being married and about yourself. After you've done that, pursue relationships with other people who are also unmarried. At that point, if you encounter a problem you'd like my advice on, feel free to write to me again.
John is a middle-aged family man from Providence, Rhode Island. If you learn from your mistakes, he's brilliant. Write to him at [email protected]
Related Articles
Enjoy this post? Share it with others.