Dear John: She Doesn't Want Him…Until She Can't Have Him
Tuesday, December 18, 2012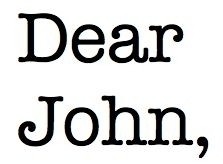 What's your problem? Write to John at

[email protected]
Dear John,
I dated a girl last year, which was my senior year of high school, and she was my first serious girlfriend. Over the summer she broke up with me, but she found out I was kind of going out with someone else, or starting to, and she wanted to get back together. So we did, and she broke up with me again a couple of weeks later. Now I've started seeing someone else and she has started calling again, saying she's sorry, she misses me, she really wants to get back together, not being together makes her see how important I am to her, etc. etc. I know how it sounds, but I'm almost ready to get back together again because I'm really crazy about her, but big mistake, right? But then I think of saying no and I think, what if it would have worked out? And I don't want to take that chance. Most of all, she has me very uncertain as you can probably tell.
Sincerely,
Together Or Not?
Dear Together Or Not?,
Allow me to provide the clarity you lack: this young woman doesn't want you, but she doesn't want anyone else to have you either. Why? Who knows? She's already dumped you twice, though. How's a third time going to feel? If you play her game, you have no one to blame but yourself if – when – you lose.
Dear John,
Holiday-related question for you. I have a cousin who works for a major retailer. I happen to know that when things are unsellable but still in fine condition – for example, if the package is slightly crushed or something has been returned for no good reason so it's open and the packaging is torn apart – he can buy them for next to nothing, which is how he does all his Christmas shopping. So everyone who knows him gets things in boxes that are badly torn, ripped open and retaped, etc. It's very awkward to open a gift from him without saying something about the condition it's in. And I resent that he gives these things, some of which were originally quite expensive, without acknowledging that he was able to purchase it for much less than its regular price. I go out of my way to pick out thoughtful gifts for all my relatives, and I feel like he's just digging through a bin in the warehouse without giving any thought to whether a recipient really wants the gift. At the very least, I think the gifts people give him should be in the same price range as what he pays, not what they might have originally cost. My sister thinks I am making too big a deal out of this, but I feel like all the other relatives are just letting him get away with this charade, and if I buy him a noticeably less expensive gift this year, I feel like I should tell him why. What do you think?
Signed,
Fair Is Fair
Dear Fair Is Fair,
Well, I think a few things:
I think I can't believe you celebrate the birth of Jesus by dwelling on this.
I think you should try as best you can to see the giving and receiving of gifts as two completely independent acts that have nothing to do with each other. Approaching gift-giving as if it's a tedious accounting chore in which two columns have to approximately match doesn't strike me as being in the spirit of Christmas.
And I think that this year, if it's not too late, you should give all your relatives something you can't buy in a store. Offer to perform some kind of service for them, put together an album of photos from when you were all kids, take an elderly aunt or uncle out for the day…anything to show that you truly care about them, not merely that you spent money on them.
Dear John,
Over the past couple of years, I've started meeting men for dates online. I have met lots of nice guys this way, and it works well for me.
The problem is, I don't want everybody knowing this is how I meet the dates I go on. I just don't feel like it's anybody's business, but it's one of those things everyone feels entitled to ask. I have a friend who knows how I feel about this, but every time we're in a group of friends and someone asks how I met so and so, before I can even answer, she blurts out that we met online and says, "That's how she meets all these guys." When I remind her later that that's not information I'm comfortable sharing, she dismisses me by saying, "What's the big deal? It's how everyone meets nowadays." She just won't respect my privacy. I do like her and we've been friends for years, but how do I get her to butt out of this and let me handle it my own way?
Sincerely,
Nobody's Business
Dear Nobody's Business,
You actually have two problems: you worry too much what other people think and you pick lousy friends – or you picked one lousy one, at least.
Let's start with the former. I have a hunch that this isn't really a question of whether this is anyone's business; after all, it's perfectly natural for people to ask, "How did you two meet?" That's not exactly prying. But I think you're slightly embarrassed about your forays into the world of online dating. Are you? If so, why? What does anyone else's opinion matter? People who think anything other than, "Oh, good for Mary, she's getting out there and trying something new" aren't worth wasting time worrying about.
Having said that, however, you've made your wishes known to your friend and she has treated them with contempt under the guise of being helpful. That's not what a friend does. If she doesn't think you should be so reticent about this, she should discuss it with you, not simply trample over your request for discretion. She may well have a point, but she shouldn't use it to poke you in the eye. She sounds a bit mulish, so I don't think there's any easy way to get her to butt out – not if you want to stay friends. In the future, though, I would be careful about telling her anything you don't want anyone else to know.
John is a middle-aged family man from Providence. If you learn from your mistakes, he's brilliant. Write to him at [email protected]
Related Articles
Enjoy this post? Share it with others.