Dear John: There's No Pleasing Her
Wednesday, August 22, 2012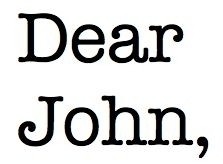 What's your problem? Write to John at

[email protected]
Dear John,
I love my girlfriend, but she is terrible at sex. We don't like any of the same positions, and 90% of the time I'm doing all the work. I do everything I can to please her, but when it's my turn I get complaining and if I'm lucky a lackadaisical effort. I've tried talking to her, but it always ends badly. Our relationship is so good otherwise, so what should I do because I don't want this to ruin it?
Signed,
Frustrated Guy

Dear Frustrated,
Your problem isn't your girlfriend's lack of imagination and enthusiasm as much as her unwillingness to work on this. It goes without saying that no one should be pressured into doing things they're not comfortable doing, but it doesn't sound like you're asking her to learn how to use a trapeze. Every couple should be able to come up with a sexual repertoire they both find completely enjoyable, and finding out what those things are should be fun. Sometimes it's effortless and sometimes it takes a little work, but it's not something that should be met with complaints. If you value this relationship, I think you should really consider couples' counseling. Sexual compatibility is a big deal, and if she won't even try to work with you on this, you should take a close look at whether that's something you can live with. I have a feeling it's not.
Dear John,
I'm a young man (very young) and I love this wonderful girl but there's a slight problem – she is way out of my league and she's my best friend! I'm scared to ask her out and I don't want to wreck our relationship because we have spent so much time building it up... but I realized I have stronger feelings than ever before for her but am still clueless about what I should do. Please help me!
Sincerely,
Lover Boy

Dear Lover,
I think you should tell your friend how you feel about her, but I also think you should steel yourself for a disappointing – even devastating – response.
I'm pessimistic this will go the way you so desperately hope it will simply because if your friend had similar feelings for you, you'd know by now. So why tell her? Why not just let things stay the way they are? A couple of reasons.
First, things won't stay the way they are whether you want them to or not. What happens when she gets a boyfriend? You'll become distant because it's too painful, she'll ask why you haven't been around, you'll give her some vague made-up reason, and your friendship will suffer anyway.
And besides, you shouldn't get into the habit of suppressing or denying your feelings just to avoid the risk of pain. Sometimes you have to take a chance. It won't go your way every time or even most times, and as a man who has been on the receiving end of "no" in eight languages, I understand how much it hurts. But eventually, those same qualities that make you such a great friend will also make you a great boyfriend to the right girl.
Dear John,
One of my best buddies has been dating a girl for about a year and a half. She's a really cool girl and has become one of my best female friends. This was great for a while, but now my buddy is cheating on her (not just once). She's beginning to become suspicious and I don't want to have to lie to her, but I also don't want to ruin my friendship with my buddy. I'd rather stay out of it, but what should I do if she starts pressuring me for answers or at what point do I need to say something to her?
Sincerely,
Torn Friend

Dear Torn,
You are not ruining your friendship with your buddy. If he is expecting you to lie to another friend just to make it easy for him to act like a selfish jerk, then he's ruining it, not you.
So don't do it. I think your first instinct is right: stay out of it. But if she asks you point blank what's going on, you should simply say that you don't want to get caught in the middle of two friends' relationship and if she has any questions, she should direct them to her boyfriend, not you. Likewise, if your buddy expects you to do anything to facilitate his philandering, tell him to leave you out of it. If he expects his friends to cover for him like that, he should start looking for a lower class of friend.
John is a middle-aged family man from Providence. If you learn from your mistakes, he's brilliant. Write to him at [email protected]
Related Articles
Enjoy this post? Share it with others.