Fit For Life: Create Impact Today…
Sunday, October 29, 2017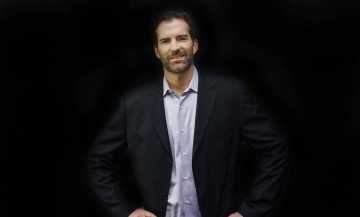 Heard bad news twice last week. First I got news of a very young friend, and client for several years, who passed away unexpectedly, and then I got a call from another member that just had her second brain surgery. In my business, you are not just a nameless face - you become family, and it's easy to get attached to clients because we are helping people change their lives, so people who come to us have a high level of trust in our expertise, and in some cases things get personal. The culture we instill gives you the sense of community, and the feeling that you belong to something more than just another gym.
When I hear news like this it not only saddens me, but also changes my outlook on life, and makes me realize that the only thing that really matters in this world is people. When events like this happen to us, they should make us think, and put the important things into perspective.
What do we sometimes overlook? Not money, or material things, but the people around us that are irreplaceable. We all get caught up with our busy lives and sometimes focus on the wrong things, while overlooking what's truly important. We all want approval, encouragement and that feeling of appreciation that you can only get from human touch or interaction.

Today's modern conveniences are hindering that from happening naturally because they create isolation among us. If there comes a time when people don't need to leave the house, or their desk, and can just stay in front of a laptop, the benefits of human interaction will diminish.

I am reading a great book and it describes how much happier and more productive people are when they are getting the right amount of human interaction and attention. We release "feel good" hormones, that elevate our moods and make us feel safe. Regardless of how tough, or mean we want to be, its scientifically proven that we need positive reinforcement and encouragement to thrive. Just like the physical workouts at Providence Fit Body Boot Camp, getting compliments, approval and feeling safe all release endorphins that make us feel better.

This is an area of my life that I am working on.
The last book I read was "How to win friends and influence people" and reinforces that we will all get further in life when we approach people in a friendly and tactful manner. I always try to be nice to people, however, in the past I would sometimes be short, or even confrontational, depending what was happening around me, but I am learning how to polish my approach. It is beneficial in business with my team and members, and it also works in your personal life when dealing with family, friends, and strangers, alike.

The bottom line is that we NEED each other on many levels. While sitting in a memorial service, I read a passage that really hit a nerve. So, I am going to share this powerful message, by George E. Odell, with you. Here it is…..

WE NEED ONE ANOTHER
We need one another when we mourn and would be comforted
We need one another when we are in trouble and afraid
We need one another when we are in despair, in temptation, and need to be recalled to our best selves again
We need one another when we would accomplish some great purpose, and cannot do it alone
We need one another in the hour of success, when we need someone to share our triumphs
We need one another in the hour of defeat, when with encouragement we might endure, and stand again
We need one another when we come to die, and would have gentle hands prepare us for the journey
All our lives we are in need, and others are in need of us

In conclusion, my friends:
We only get one chance in this lifetime to create impact.
Life is not a dress rehearsal.
There are no retakes.
You get one shot.

Yes there is opportunity to correct most of our mistakes, but almost everything we say or do, cannot be rewound. If you fall and make a mistake by working in a place you hate for too long, or if you go off your nutrition plan and eat badly for a week, those things can be corrected. But when you do something that affects another fellow human, good or bad, it will leave an everlasting effect on them. I heard another great line while at the service for my friend, and it's one you may have heard, too - "People will forget what you said or did but they will never forget how you made them feel."

So if you want to create impact in someone's life, get on the phone and call someone that you care about. Let them know that you appreciate them, and are there for them when they need you. Do something nice for a stranger like simply hold the door or say "hi" with a smile. Buy someone a coffee. Let someone go ahead of you when you are not in a rush.

Most of the time we don't realize how important people are until a disaster hits, and it's too late.
The last time this country bonded together as a whole was when 9-11 happened. People were all around nicer, and more compassionate to each other. Do you remember that time? Let's not wait for another tragedy to show appreciation for your fellow man.

CREATE IMPACT TODAY

Matt Espeut, GoLocal's Health & Lifestyle Contributor has been a personal trainer and health & fitnesss consultant for over 25 years. He is the owner of Fitness Profiles, a one on one, and small group personal training company, as well as Providence Fit Body Boot Camp, located at 1284 North Main St., on the Providence/Pawtucket line. You can reach Matt at (401) 453-3200; on Facebook at "Matt Espeut", and on Twitter at @MattEspeut. "We're all in this life together – let's make it a healthy one.

---
Related Slideshow: The 7 Best Health and Fitness Apps
Here is a list of some of the most obsession worthy health apps.
Related Articles
Enjoy this post? Share it with others.