GETTING OUT: Best Super Bowl Parties in Central Mass
Thursday, January 31, 2013
The first weekend in February is here again, and that means it's time for America's favorite sporting event. As always, despite the Patriots' unfortunate demise, there are plenty of parties at bars and restaurants in honor of the big game, and a few are listed below. But that's not all. There a number of different activities being held in honor of this fantastic weekend. Here are few fun things going on in Central Mass that you may want to check out.
Brew City Grill & Brew House
104 Shrewsbury Street, Worcester
Go to Brew City this Sunday and celebrate the Super Bowl with a special package deal. Get your choice of a mouth-watering entree, "stadium snacks" during the game, and family style appetizers at half time. Enter to win Coors Light gear, framed Patriots photos, and gift cards. A raffle will be held for a chance to win tickets for four to a Bruins game with limo transportation or a $200 gift certificate to La Summa in Boston. Watch the big game on any one of 18 HD large flat-screen televisions. The party starts at 4 p.m.

Beemer's Pub
114 River Street, Fitchburg
Beemer's Pub Restaurant and Lounge is having a unique Super Bowl Sunday Chili cook-off. Bring your very own homemade and sample the best others have to offer. Watch the game on any one of five huge TVs. Check out the inexpensive and extensive selection of beer (including their famous Beemer Beer) and appetizers, including wings. Pool tables and dart boards will be open for play as well.

Loft 266 Bar and Lounge
266 Park Avenue, Worcester
Go to the Loft on Super Bowl Sunday, starting at 4:30 p.m., and take advantage of a magnificent free buffet with wings, chili, tacos, sliders and more. If you're among the first 100 people to arrive, you can take advantage of the Super Bowl Square Give Away with a chance to win Celtics tickets, Loft gift cards, Loft gear and more. As always buy some great drinks and take in the friendly environment with some good friends.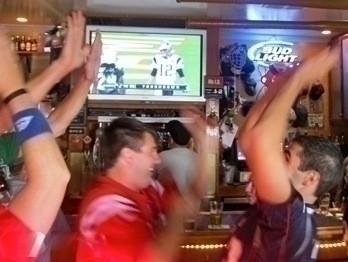 Pepperoncini's Pizzeria & Grill
201 E. Main Street, Milford
Stop by this scrumptious this Italian restaurant for hot pizza, wings and cold beer on Sunday. During the game, large cheese pizzas will be on sale for $6.99 along with 35 cent wings. Pep's special edition football t-shirts will be given out to the first twenty people and at halftime a tailgate package including a grill and cooler will be raffled off.

JJ's Sports Bar and Grill
380 Southwest Cutoff, Northborough
JJ's will feature free football squares for the first 100 customers who attend. In addition there will prizes and giveaways each quarter, among these will be a flat screen TV. Take advantage of great drink and food specials as well. Watch the game on Plasma and LCD TVs. as always play some pool and a take a shot at the dart board.

Worcester State University Super Sunday 5K Run
286 Chandler Street, Worcester
If hearing so much about the Super Bowl hasn't gotten you in the mood to challenge yourself in your own athletic endeavor, sign up for the first ever Super Sunday Run, a 5K race starting and ending at Worcester State. The Super Bowl Sunday race course is mostly flat and fast, winding through Worcester's city streets. The race begins at 11 am. It is organized and sponsored by Superhero events. Prizes are given for the age group and overall winners. All proceeds go to support WSU track and cross country teams, and the Central MA Striders running team.

YMCA Central Community Branch 3rd Annual Super Bowl Extravaganza
766 Main Street, Worcester
On Saturday, for the third straight year, get ready for the Super Bowl the day before by sampling all the great programs and exercise routines the YMCA of Central Massachusetts has to offer. Experiment with yoga, zumba, cycling, cycle fusion, massages, boxing conditioning and much more. Get important information on nutrition, health checks, bike safety, healthy food, and recipes, and try an express personal training session. The events begin at 2 pm.


Related Articles
Enjoy this post? Share it with others.