GETTING OUT: Where to Watch the Bruins and Pats Games
Thursday, January 17, 2013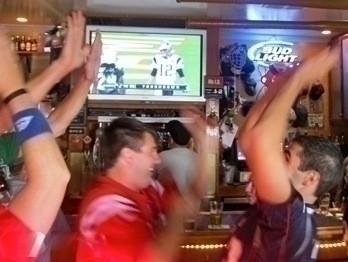 This weekend is a huge one for New England sports. The NHL lockout has finally ended, and our beloved Bruins are starting up this Saturday night against the rival New York Rangers. Meanwhile, the Patriots are in the AFC championship once again, playing the Baltimore Ravens this Sunday for the right to go to the Super Bowl. Both games present a worthy excuse to go out and spend some quality time with your buddies. Here are a few places in Central Mass where you can enjoy watching the games.
The Loft 266 Bar & Lounge
266 Park Avenue, Worcester
Loft has 10-cent wings, $5 dollar drink specials and, to celebrate the return of the Bruins this weekend, is offering three $25 Loft Gift Certificates as door prizes. Everyone will receive a raffle ticket. For Sunday, they will be giving away two $50 Loft Gift Certificates as door prizes. Everyone joining them has a chance to win. The Loft has a total of nine 50" flat screen TVs for your viewing pleasure in their upstairs sports bar.

Perfect Game
64 Water Street, Worcester
Perfect Game tentatively has one of the minutemen from the Patriot games known as the End Zone Militia showing up on Sunday, complete with uniform and musket for the Patriots game. They also have beer specials from their local distributor. For the Bruins game, they have wings specials and a gift card giveaway for the most authentic Bruins uniform. In addition to having 14 large-screen HD TV's they have the area's only 110" HD projection screen as well.

The Luxury Box
899 Central Street, Leominster
It's hard to imagine a more perfect place to watch a sporting event (short of actually being at the game of course) than at the popular Luxury Box in Leominster. In addition to the spacious main dining room, complete with a number of HD televisions and a large granite and mahogany bar, what makes this venue particularly unique and ideal for this weekend is its four semi-private "boxes" large enough for 6 to 40 people. Each of these rooms contains its own 42" plasma screen TV, couches and dining tables. Call ahead to reserve one of these rooms and have a party while you watch the games!
Legends Bar and Grill
68 Airport Road, Fitchburg
Watch the Bruins game on any one of the 10 flat-screens TVs located on every wall at Legends, and then stay a little while longer to hear New England's premier classic rock band "Mason Alter Ego" immediately after the game. Show up the next day for the Pats game as well and take advantage of numerous daily specials from the full kitchen and bar including appetizers, burgers, and entrees.

Three G's Sportsbar
152 Millbury Street, Worcester
All games can be watched in the Three G's music room on an eight foot TV with surround sound or at the bar on four brand new 46" LG TVs. For the Patriot's game, Three G's will put out a free buffet. Enjoy the bar's $2 drafts and $5 16 oz. drinks. In addition, take advantage of the pool table, KENO, dance floor and dart board.

Related Articles
Enjoy this post? Share it with others.