Great Cultural Opportunities in Central Mass
Wednesday, July 11, 2012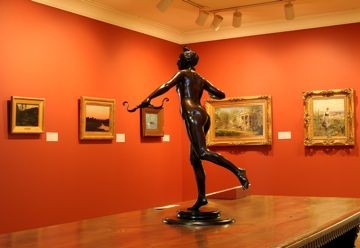 Looking to expand your cultural horizons this summer? Central Mass has a wide array of museums, galleries, and theaters, so there is something for art enthusiasts of all ages and persuasions. Get out of the city and onto the roads less traveled by visiting the locations below.
Fitchburg Art Museum


25 Merriam Parkway, Fitchburg
Ancient artifacts, a portrait by John Singleton Copley, and an engraving by Albrecht Dürer are just a few of the many works on display at the Fitchburg Art Museum. Founded in 1925, the museum houses a permanent collection that spans 5,000 years. American, European, African, Egyptian, Greek, Roman, Asian, and Pre-Colombian art can be found in the museum's 12 galleries.
Two exhibits not to be missed include the museum's 77th Annual Exhibition of Art and Craft, featuring over 100 artists from the region and "Tales from a Test Tube: The Chemistry of Curating" at the Warner Babcock Institute of Green Chemistry in Wilmington.
Admission is $9 for adults, $5 for seniors, and free for children 12 and under. The museum is open Wednesday – Friday, 12:00 – 4:00 pm and Saturday – Sunday, 11:00 am – 5:00 pm.
Stageloft Repertory Theater


450A Main Street, Sturbridge
Only a mile from Old Sturbridge village, the Stageloft Repertory Theater will be launching its summer production beginning on Friday. Ken Ludwig's "Leading Ladies," is the story of two British actors who attempt to inherit an old woman's fortune and the hijinks that ensue.
In addition to performances, the theater also offers workshops and a murder mystery dinner. The workshops teach skills associated with theater production and performance. The Academy Awards themed murder mystery dinner is held five times throughout the year, offering attendees food, entertainment, and the chance to win a prize.
Tickets for stage productions are $17 for adults, $15 for seniors, and $8 for youths 12 and under. Workshops are $213 for each session, with space still available for Session 3 (July 23 – August 3) for children ages 7 – 14. Summer dates for the murder mystery dinner, which is $52 per adult, are July 27 and August 17.
Willard House & Clock Museum

11 Willard Street, North Grafton
Open since 1971, the Willard House & Clock Museum is a historical treasure trove. Dating back to 1718, the Willard House is Grafton's oldest building and home to the world's largest collection of Willard clocks. First made in 1766, Willard clocks were well known during the late 18th and early 19th centuries. In fact, the clocks were a status symbol due to their high quality and expensive cost. Simon Willard, a fifth generation member of the Willard family, designed clocks for the United States Senate and Capitol building, with two of the clocks still on display and operational.
In addition to housing the Benjamin Willard Clock Manufactory and over 90 Willard clocks, the museum also features period furniture, antique Oriental rugs, period costumes, military and hunting weapons, and original documents signed by Thomas Jefferson and James Madison, both of whom were personal acquaintances of Simon Willard.
Check out the museum on Sunday, July 15 and take part in the museum's "Iced Tea Social," which will include iced tea and period refreshments. The cost is $15 and advance reservations are required.
Museum hours are Wednesday – Saturday, 10:00 am – 4:00 pm and Sunday, 1:00 – 4:00 pm. Admission is $7 for adults, $6 for seniors, $6 for students 13+, $3 for children 6-12, and free for children under 6. Guided museum tours are available and last approximately one hour.
Cultural Center at Eagle Hill


242-251 Old Petersham Road, Hardwick
The Cultural Center is a premier venue, featuring two theaters, art galleries, music and art studios, a woodshop and function hall. Located at the site of the Eagle Hill School, the Cultural Center is a state-of-the-art facility dedicated to celebrating the culture of Central Mass and integrating students into all aspects of the center.
The center's art gallery is currently featuring a student exhibit entitled "Play. Imagine. Feel. Show." This exhibit, which includes graphic arts, woodwork, photography and more, will run until July 31. Beginning August 2 the Center will offer "Ice Cream and other Delights: A Cabaret," featuring the Gilbert Players. The cabaret is free of charge and will feature the announcement of the Cultural Center's program for the season.
Quinebaug Valley Arts Center


111 Main Street, Southbridge
There's no better place to see the work of local artists than the Quinebaug Valley Arts Center. A part of the Quinebaug Valley Council for the Arts and Humanities, the center offers enthusiasts a variety of exhibits at its historic location. Built between 1832 and 1836 the building was once the largest home in Sturbridge, earning the nickname the "Ammidown Castle," after its owner, Ebenezer Ammidown. It was purchased after the founding of the council in 1977.
Currently the center is running two exhibits: the Annual Members Exhibition and the Second Annual Art Wall, which features works from the public. Construction of the Art Wall, which is located outside of the center, began on July 9th and will continue throughout the summer. Artists from Central Mass and Connecticut are invited to submit work. The wall is available for free viewing 24/7.
Between July 13th – August 31st the center will host the first annual Luna Film Festival, featuring screenings of short and full-length films. Tickets are $6.
Hopkinton Center for the Arts


98 Hayden Rowe Street, Hopkinton
"Introduction to Cartooning," "Narrative Screenplay Writing" and "iPhoneography" are just a few of the summer programs offered by the Hopkinton Center for the Arts (HCA). The HCA offers an array of programs for both children and adults, enabling all to explore their creativity.

HCA's gallery is currently featuring the "Photo Voice Project," an exhibit containing the photography and writings of seven adults with memory loss. This exhibit will run until July 22 and is available for viewing Monday – Friday from 2:00 – 4:00 pm. The HCA is also running its Summer Jazz Series through August 18, featuring different jazz groups each Saturday night from 7:00 – 8:30. Admission is free.
Related Articles
Enjoy this post? Share it with others.