Harr Motor Group Donates $25,000 for UMass Cancer Walk
Wednesday, September 19, 2012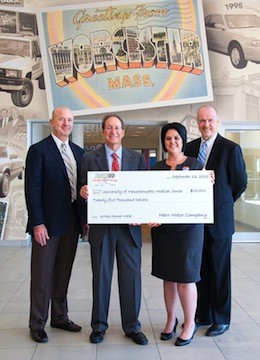 Harr Motor Group will serve as the chief sponsor of the
14th Annual UMass Medicine Cancer Walk
after donating $25,000 to the cause.
All proceeds from the walk will go to the UMass Cancer Center to help care for patients and their families, as well as provide resources for doctors and research scientists to continue evolving cancer care. The event has taken place every September since 1999 and features thousands of people coming together to donate whatever they have raised in the past year to battling cancer.
"We at Harr Motor Group are honored to not only sponsor such an important event here in Central Massachusetts, but to also make a donation that will go towards cancer research," Charles Ribakoff, CEO of Harr Motor Group said. "The UMass Medicine Cancer Center of Excellence is an invaluable resource and we are thrilled to contribute our time and efforts to their cause."
Emily Cabrera, the Walk Event Manager, was thrilled to have such a respected local business serving as chief sponsor.
"We are very pleased to have the Harr Motor Group on board this year as a flagship sponsor of the UMass Medicine Cancer Walk," Cabrera said. "The commitment of their leadership and their staff is a great example of a local business partnering with the UMass Medicine Cancer Center of Excellence to make a difference in the lives of cancer patients in their community and globally."
The event begins Sunday morning with different "teams" that have raised money together starting and ending at the UMass Medical School campus. Thus far, five different teams have each raised over $3,000 for the event, with "Bobby's Bullpen" leading the way with just under $6,000.
"We have over 200 teams already signed up, some with over 70 people," Cabrera added. "We have Pop Warner cheerleaders coming to the start line to cheer the teams on, and it's just going to be a really fun day."
Check in for the walk begins Sunday at 8 am. The walk itself is scheduled to begin at 10 am. If you would lake to register to walk, click here. To make a donation, click here.
Related Articles
Enjoy this post? Share it with others.