Hispanic Heritage Month 2011: Festivals, Films + More
Friday, September 02, 2011
With the coming of fall, Providence's festivals celebrate the vibrant diversity of its large Spanish-speaking population. Aligning with September's designation as National Hispanic Heritage Month, the coming weeks are full of activities for locals and visitors of every age to celebrate the city's rich Hispanic influences that range from Puerto Rico to Central America, and from Ecuador to the Dominican Republic.
A season's worth of events
URI/Providence: New Perspectives: Dominican Republic Exhibit, September 12 - October 31, 2011
Located on the University of Rhode Island's Providence campus, this exhibit honors the largest group of Hispanic citizens in all of Rhode Island. Visitors will be fascinated by the stories of emigration, struggle and challenge detailed in elaborate photos taken by renowned Dominican photographer Anne Casale. The Global Foundation of Democracy and Development, an exhibit sponsor, will also be providing information on study and work opportunities in the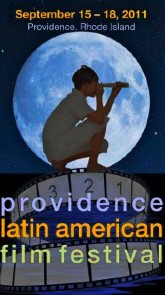 Dominican Republic.
For more information, go here
.
South Providence: Dialysis of the Planet Mural Opening, September 15, 2011
Visitors can prepare to be awestruck rounding the corner at Broad and Plenty streets in south Providence. After 16 years of hard work, Agustin Patino's 140 foot by 25 foot two-part painting series "Amazon River" and "Metropolis and Riverbanks" will finally be revealed to the public on September 15. The Ecuadorian muralist depicts the earth in its most natural form with incredible water, animal and earth images. For more information, go here.
Providence: 19th Annual Providence Latin American Film Festival, September 15 - 18, 2011

Luces, Camara, ¡Accion! Movie buffs can enjoy top films from Latin American, Portuguese, Spanish and American-Latino filmmakers. PLAFF has been recognized both nationally and internationally for its quality and stature of film. Screenings can be viewed at select locations throughout the city. More information regarding tickets and schedule will be available soon online, here.
Providence Children's Museum Hispanic Heritage Celebration, September 16, 2011

Families can participate in the Hispanic celebrations with free entry to the Providence Children's Museum from 5 p.m. to 8 p.m. Children can listen and dance to music from The Andes performed by Providence-area youth leader Silvio Cuellar. For more information, go here.
Statewide: A Treasure Hunt as Big as Rhode Island, September 16 - October 15, 2011
Kicking off during the Hispanic celebration at the Children's Museum, families can grab a map and traverse Rhode Island's vast cultural attractions. Fun locales like the Roger Williams Park Zoo and the Johnson & Wales Culinary Art Museum or Watson Farm and The Norman Bird Sanctuary will have special Hispanic-themed activities on tap. Children who visit all 13 destinations on the Spanish/English-worded map (also available online) have the opportunity to win "Explorer" awards at a late October closing event. For more information and an introduction to Túpac the Tour Guide, visit www.hispanicheritageri.org.
Providence: Central American Festival, September 18, 2011
Travelers can listen to the sounds of marimbas and mejoranas during this late summer festival in the Roger Williams Park Temple of Music. Fans of the Central American culture can eat, drink and dance with local performers. For more information, call 401-481-1108.
Statewide: Artist Talk: Reynier Ferrer, September 28, 2011

Cuban-born artist Reynier Ferrer will talk about his abstract artwork and reveal his experiences painting in his home country. Ferrer studied at the School of Fine Arts at San Alejandro in Havana and his work has been shown at numerous exhibits throughout Cuba. The renowned painter will also be assisting the Rhode Island State Council of the Arts on a number of exhibitions and events throughout Hispanic Heritage Month. For more information, visit www.hispanicheritageri.org.
Enjoy this post? Share it with others.