How to Protect Your Trees in Winter Storms
Saturday, January 22, 2011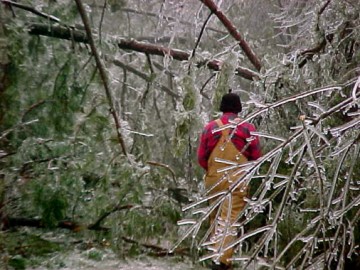 Snow, wind, and ice are major threats to trees. Sudden gusts of wind are especially hazardous. When combined, these harsh elements can topple even the sturdiest of trees. Take the winter storm we had a few weeks ago.
Three days of snow, ice, and wind toppled several big trees in South Kingston. The wind had the most impact. Winds reached up to 50 mph, which when combined with the ice and snow, had quite the impact on the local trees.
High-speed winds are the main threat to trees in the winter. They can snap limbs and branches without warning or pull newly planted trees from the ground. Winds that gust or swirl are major threats in winter.
Snow and ice also cause damage
Snow and ice are also threats to trees and branches. Layers of snow and/or ice on a branch can increase its weight up to 30 times. Add sudden wind gusts to the mix, and the chances of a branch or limb snapping off increase considerably.
Branch loss minimizes a tree's total leaf area, reducing the carbohydrates available to the roots, exposes the open bark to sunscald and infestation by stem borers and other insects, and leaves the breakage wound open to decay, fungi, and crown gall bacterium.
Non-deciduous trees (conifers or evergreens) are especially susceptible to winter damage. They keep their leaves through the winter, which can capture and hold snow. When the wind blows, the snow-covered foliage catches the wind and acts as a drag on the tree, bending and twisting the trunk, just like an umbrella on a windy day.
Deciduous trees (or hardwoods) shed their leaves in autumn. Thist leaves their branches bare in winter and allows wind, snow and ice to pass through much more easily than with densely foliated trees. While shedding helps deciduous trees, they're still susceptible to damage. In fact, any areas that can trap snow and ice or block the wind— narrow branch crotches, over-sized limbs, or stem clusters along the trunk—are potential problems. Avoid these areas.
Protecting trees against winter
To protect trees from the winter elements, you must be proactive. Examine non-deciduous trees in July and August and cut back overly dense foliage. Look to see if branches are too tightly arranged with little separation between them. If you find tightly arranged branches, cut one or two of the offending branches off to permit wind, snow, and ice to pass through without trouble.
Examine deciduous trees in February and March. Look for cracked or broken branches, or narrow-angled or V-shaped crotches. These are structural defects you may not see when the trees have all their leaves. Cutting cracked or broken branches ahead of time protects the trees from the effects of snow, wind, and ice.
Winter can severely damage trees. While snow and ice are issues in winter, wind is the biggest concern. It can snap trees in half or completely uproot them. But you can protect trees in the winter if you're proactive in the spring and summer by eliminating threats to their structural integrity.
For more information on how to protect trees in winter, contact the Rhode Island Tree Council or the International Society of Certified Arborists.
John Campanini is technical director of the Rhode Island Tree Council. Previously, he was Providence's city forester.
Enjoy this post? Share it with others.