Newport Manners & Etiquette: BYO Parties + V-Day Marriage Proposal
Wednesday, February 12, 2014
The etiquette of making a Valentine marriage proposal, hosting a BYO surprise birthday party, support your sweetheart through a funeral, and Do I really have to wear hose? All questions to Didi Lorillard this week at
NewportManners.com
.
Getting in the mood to propose
Dear Didi,
Is it proper etiquette to ask my boyfriend if he wants to get married? He's invited me to an awesome restaurant to celebrate Valentines and I know he's bought me a present. We've been a couple for three years, live together, talk about getting married, and I want to get married, so is it alright to propose? By the way, we're both in our thirties. A.F., Providence
Dear A.F.,
Absolutely. Mind you, I'm not suggesting you get down on your knee and ask him to marry you in the restaurant, but I've another idea. Surprise him. Go to a store that specializes in over-the-top black lace lingerie and buy the sexiest combo of brassiere, garters and panties you can afford. When you surprise him in private after a romantic dinner, you will be impossible to resist. Then you can get on your knee and propose, but you've got to make the moment rather special. ~Didi
Hosting a BYO party
Hi Didi,
I'm hosting a surprise birthday cocktail party for my husband, hiring a bartender to mix cocktails, and wondering how to word the invitation to include: In lieu of present bring a bottle to help contribute to the night. I want people to dress up more than our usual casual attire of shorts/t-shirts but don't feel the need to go overboard -- I'm thinking slacks and shirts for the men but not thongs or ties. How do I convey that we are not serving unlimited drinks and guests should bring their own alcohol as we have estimated 6 cocktails per guest to be in our budget? N. G., Tampa, FL
Dear N.G.,
In organizing a BYO surprise cocktail party for your husband, much like a pot luck supper, you want to be sure that guests don't all just bring whiskey. You have to know what they're bringing and the size of the bottle. You'll need a range of beverages, which is why when they RSVP your invitation they should tell you exactly what they're bringing: a six pack of beer, a 1 Liter bottle of vodka, gin, etc. Who supplies the mixers and what will you be offering those who don't drink alcohol? Once you have a headcount, ask the bartender exactly what he needs for the number of guests attending.
Since it is a cocktail party, use the dress code 'Cocktail Attire' or find an invitation with a man (or couple) wearing the cocktail attire you're hoping for and use that as your image. Take a free photo off the Internet to use on your e-vite by searching: free image cocktail party.
Remember, when you're asking people to pitch in to pay for the party, which you're doing by asking them to bring a bottle, you can't then tell them it is a cash bar after six drinks unless you give them each six tickets at the door. The tickets will signal that after they're used up, they pay the bartender (and he won't be taking credit cards of checks). Asking guests to bring additional alcohol would be too complicated unless they bring it voluntarily.
Remember guests won't read a complicated invitation, so simplify, simplify, simplify.
Here's a sample of wording for your invitation, centered on the page/card:
It's a SURPRISE 40th Birthday Party for
Michael Wilderstein
Come celebrate with family and friends!
Saturday, March 2nd
6:00PM to 9:00PM
2345 Ocean Avenue
Tampa
RSVP __________
Dress Code: Cocktail Attire
In lieu or a gift, please let me know what beverage you're bringing to claim your six drinks per person tickets at the door, then it's a cash bar.
~Didi
Romance and funerals
Dear Didi,
This started many years ago. I'm 43 now. When I was 18, I had a relationship with an amazing girl my age. We lived together for a couple of years until our relationship took a turn for the worse. I found out 20 years later she had gone to a party. after being out at bar, and was brutally assaulted by a group of men and her beautiful self-esteem was destroyed.
Then she hooked up with a man 9 years older and she says now that she had a very low opinion of herself. (I have been very supportive of helping her through this as she has kept this bottled up for over 20 years....many tears weve shed!!!) This man cheated, lied, abused drugs and completely screwed her over. She had 2 kids with him, now 18 and 20. After 10 years she left him and he's never given her a cent in child support for her or his two kids. She worked two jobs and was abusing alcohol. I also had two children, now 13 and 16, in a loveless marriage. I moved on and we've been a couple now for almost a year and living together for 6 months.
My question is: Her ex is very close to dying of cancer. Only recently did he tell his kids (He has a pitiful relationship with his daughter, who lives with us, but a better one with his son, as he can smoke pot, drink, womanize and do whatever.), even though he has known for over a year or more.
I believe my sweetheart should go to the funeral out of town with her daughter out of respect for his family who never hurt her. Honestly I have no respect for him or even met his family, but I will be available to the kids as a friend and possible step-father down the road. Is it wrong of me not go to the funeral? My close friends say I do not have to go. I appreciate your response as this column is very enlightening and I find solace in reading your responses. Regards, P. H., Location withheld
Dear P. H.,
I understand your sweetheart is going to her former horrible husband's funeral in support of her daughter, but who will be supporting her emotionally? A whole lot of repressed anger is going to seethe out toward the louse. She will most likely not only act out but also be depressed. Now that she has made the decision to stay away from abusive relationships, it would help her feel better about herself if you were there for her. That's what partners do.
Also, you would be a buffer between her and her children, if they act out and things became unpleasant or even toxic. If you're in a committed relationship, you are in this for better or for worse. If you don't go, she may return bitter and withdrawn and angry that you hadn't been there to help her when she needed you. ~Didi
Do I have to wear pantyhose?
Dear Didi,
Is it appropriate to go without hose when attending a Black Tie Optional affair and wearing a short black dress? J. H., Location withheld
Dear J. H.,
It depends upon the climate and the shape of your legs. If it's chilly out because you live in a cold climate, you will feel the cold going outside to and from the car and inside the car before it warms up. When your legs are buff and shiny, you can usually get away with not wearing legwear. You don't have to wear those nasty pantyhose your mother wore. Legwear today can actually enhance the look, feel, and shape of your legs. Look online at brands such as Wolford and find similar legwear in a department store near you. Wear legwear that is a shade lighter than your skin tone with a bit of shimmer and shine to it and they will dress up your legs. ~Didi
Do you have a question for Didi? Visit her at NewportManners.com. We can withhold your name and location. Didi researches etiquette and all matters of manners for her book,"Newport Etiquette." Previous weekly GoLocalProv.com columns can be found by typing in Didi Lorillard in the above righthand search.
---
Related Slideshow: 10 Valentine's Day Gifts for Her
Prev
Next
A Charming Gift
Show your special someone that you cherish them this Valentine's Day by giving them a unique gift from Alex and Ani. The popular Rhode Island retailer has outdone themselves this Valentine's Day season offering a variety of gifts -- including bangles, wraps, and earrings. You can even personalize your piece with a cupid or heart charm.
Price: $28 and up
Buy it from: The Paper Store, Millbury, Hudson, Leominster, Shrewsbury
Prev
Next
Specialty Chocolates
It's been said that they fastest way to a woman's heart is through her stomach and who are we to argue. This Valentine's Day, pick up some tasty handcrafted chocolates from Hebert Candies. Hebert offers over 50 different Valentine's Day candy packages sure to please even the most discerning palate.
Price: $6.95 and up
Buy it from: Hebert Candies, Shrewsbury
Prev
Next
A Day at the Spa
Treat that special someone in your life with a day at the spa this Valentine's Day at Bellisimo European Day Spa. Bellisimo offers a wide variety of services including skin rejuvenation, massage therapy, skin care treatments, spa body treatments and spa experiences.
Price: Prices vary by service. Visit their website or call 508-799-7767 for more information.
Buy it from: Bellisimo European Day Spa, Worcester
Prev
Next
A One of a Kind Item
Is your partner a bit eclectic? If so, Funky Stuff is sure to have the perfect gift. This unique store sells an array of gifts including fine art, clothing, handmade jewelry, gems and minerals, and locally made holistic products. Click here to see what Funky Stuff has to offer.
Price: $2.50 and up
Buy it from: Funky Stuff, Worcester
Image: Huge heart shaped Amethyst for sale at Funky Stuff
Prev
Next
A Beautiful Bouquet
Nothing says "I love you" on Valentine's Day like a wonderful bouquet of flowers. Express your love Valentine's Day beautiful and affordable flowers from Perro's. From romantic roses to impressive modern bouquets, Perro's offers over 30 different Valentine's Day special that are sure to please even the most discerning eye.
Price: $42.50 and up
Buy it from: Perro's Flowers, Worcester
Prev
Next
A Romantic Evening
Did you know that many components in Japanese cuisine have long been known to be natural aphrodisiacs? Ingredients such as rice, wasabi, ginger, unagi, sake, even shitake mushrooms can fuel romance. So if you're looking to start your evening with some natural and edible sparks, join 7 Nana on Valentine's Day, February 14th, and either choose from their regular dinner menu, or make your reservation for one of their special prix fixe menu seatings and enjoy a special Valentine's Day menu.
Price: $79 per couple
Buy it from: 7 Nana Japanese Steakhouse, Worcester
Prev
Next
Warm Woolies
Gifted socks don't have to be a boring practical gift when you choose a few pairs from the French Twist Boutique. Make a bigger impact with three or four pairs of P.J. Salvage socks partnered with another winter accessory life a scarf or a hat.
Price: $17 per pair
Buy it from: French Twist Boutique, Worcester
Prev
Next
Luxurious Body Care
Thymes Olive Leaf bath products make a stunning impression. Besides the packaging being festive and pretty, the olive leaf extract and shea butter draw a tapestry of scent on her skin. Put together a combination of bath powder, lotion, and soap and then give her an hour to herself, no questions asked. Your Valentine will find one hundred ways to thank you
Price: $14-$30
Buy it from: Bhadon Gift Gallery, Worcester
Prev
Next
A Music Lover's Dream
Does your Valentine have an affinity for classical music? How about taking her to the Blithewold Mansion on Valentine's Day for a concert she'll never forget. The Seven Hills Symphony's Winter (Valentine's Day) Concert, which will take place Feb. 14 from 7:30pm to 9pm, features an all-Romantic program. The concert will include the first movement of Dvorak's Cello Concerto and the first movement of Bruch's Violin Concerto No. 1. Click here for more information.
Price: This is a free event, but donations are encouraged.
Where: University of Massachusetts Memorial Medical Center, Worcester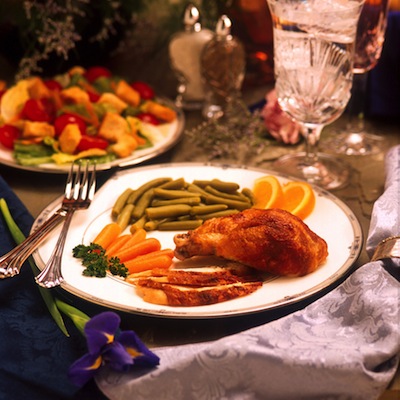 Prev
Next
Romantic Dinner at Home
Who doesn't love a home-cooked meal, especially when someone truly special prepares it? Pick out a cookbook with a lot of personal and memorable recipes that were his favorite dinners growing up, or the meal that she had on your first date. Then, as a bonus, offer your companion the opportunity to pick out a three-course meal of their choosing from the cookbook, prepare it, and have a nice dinner in for your Valentine's Day.
Price: Call 508-796-5613 or click here.
Buy it from: Annie's Book Stop, Worcester
Related Articles
Enjoy this post? Share it with others.