Newport Manners & Etiquette: Holiday Survival Tips, Lecherous Teacher & Midnight Toker
Thursday, November 30, 2017
Hosting holidays in stride, lecherous teacher (#MeToo,#BalanceTonPorc), smoking neighbors, and cats in the sandbox were all questions to Didi Lorillard at
NewportManners
this week.
Great Tips for Surviving Holiday Houseguests
Q. I'm already feeling overwhelmed about houseguests coming for Christmas (family) and New Year's (friends)! Everybody wants to stay in our new house, but I feel like taking off and letting them take care of themselves. My husband did the inviting and I'm now stuck planning meals and worried that I don't have enough towels and what to do with the guests during the day! Help! AG, Winthrop, MA
A. Take it in stride when hosting out-of-town guests with whom you may or may not actually want to share space. Most importantly don't get tired. Tired can make you feel overwhelmed and irritated. Keeping the vibes good and even-keeled is the key to being a successful host.
Ahead of time, suggest that they bring ice skates, snow shoes, swimming trunks, bikes and helmets, etc.
Ask about any food or pet allergies before they arrive.
Short on linens? Before they arrive, ask them to bring towels, pillows and comforters. Rent cots or purchase blow-up beds.
Make sure you have fresh linens, soap and lots of toilet paper.
Be home to greet your guests and show them to their room.
Ask them if they need anything such as bottled water, more coat hangers, etc.
If there are tricks to turning on the shower or lights, clue them in.
Have on hand a local paper with a map of the area to encourage your guests to go out on their own and explore.
Yes, they are your guests -- but don't be shy about asking them to make themselves useful:
To pickup bread, beer, paper towels, ice, wine or milk when they go out.
Delegate certain chores around the house like laying the fireplace, setting the table, reading to your six-year-old, taking the dog for a walk or putting out the garbage.
Bring out favorite board games, puzzles and cards.
Believe it or not, most guests like to feel helpful. So don't hesitate to ask them to help you with the dishes. Say, "I'll wash, you dry," as you toss the dish towel their way. Or you rinse and they load the dishwasher.
Best yet, if they invite you out breakfast, lunch or dinner, go for it.

My Teacher Favors Me Unpleasantly
Q. My physics teacher treats me differently than the other girls. There are only three of us girls in the class. He embarrasses me when he favors me. Sometimes he puts his hand on my back, shoulder or arm and it totally makes me feel really uncomfortable. It freaks me out. The other two girls giggle and tease me about him and that really annoys me. It's an advanced class and I cannot drop out half way through the year. What should I do? I have nobody to talk to. Name Withheld
A. Dearie, you should be able to talk to a parent or other adult about your wretched situation. The good news is that you're half way though the year.
I want you to be very brave.
Ask to speak to that teacher after class. It would be nice to have a buddy who could hang out at the door and listen to you, but if that's not going to happen, be extra brave.
Tell him that it makes you very uncomfortable when he favors you.
Ask him to please stop touching you.
Try to look him in the eye as you say, "Please don't annoy me in class because it is very awkward for me.
You're the teacher, I'm the student. You're not supposed to be showing favoritism toward me in any way."
Then walk out.
This is not up for discussion.
Try talking to an older sibling or cousin, if no adult has time to talk to you. Then the two of you should find an adult who will listen. We adults are not good listeners, but some of us try harder than others to make time to listen attentively.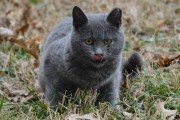 Neighbors' Annoying Cats
Q. So what we do we do? I've been on good terms with our neighbors for ten years. Now they have five cats up from one. I recently built a playground for my kids in our backyard. The neighbors' cats now use our wonderful sandbox as their personal litter box.
I tried talking to the neighbor, but he brushed me off saying that his father used to rid his sandbox of their neighbor's kitty poop with a shovel. He said, "What's the big deal?" GD, Newport Beach, CA
A. I do hate answering pet questions that bring on a barrage of comments, but perhaps other pet lovers have dealt with your problem successfully. Feel free to comment, pet lovers!
There are organic safe-products to deter cat paws from mucking up your sandbox. Look for them in your area and online.
Alternatively, it may be less expensive in the end to create some kind of wire netting to place over the sandbox when your children aren't playing outside.

Midnight Toker
Q. What to do about our new neighbors who smoke? By the way, they're night birds that smoke out on our adjacent balconies every night! We can't open our windows without smelling tobacco smoke. TY, West Palm Beach, FL
A. Invite the new neighbors over for coffee or a drink. Over the course, of twenty minutes let them know how you feel about smoking. If they fully understand how disappointed you are at having neighbors' tobacco smoke drifting into your bedroom, they may start smoking inside with the air conditioners blasting. Tell them that:
On average, smoking kills 1,200 smokers every day.
Every year, more people die from smoking than murder, AIDS, suicide, drugs, car accidents, and alcohol combined.
Smoking causes heart disease, emphysema, acute myeloid leukemia, and cancer of the mouth, esophagus, larynx, lung, stomach, kidney, bladder, and pancreas.
Smoking also causes reduced fertility, low birthweight in newborns, and cancer of the cervix.
Didi Lorillard researches manners and etiquette for her forthcoming book at NewportManners.
---
Related Slideshow: 50 Ways to Give in Central MA This Holiday Season - 2017
Related Articles
Enjoy this post? Share it with others.