Newport Manners & Etiquette: Nanny Cams + Relationship Busters
Wednesday, October 30, 2013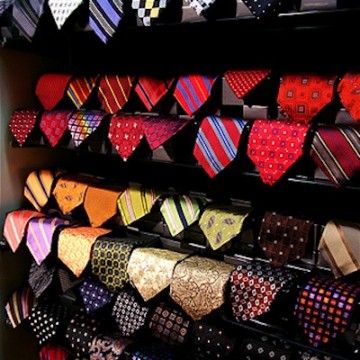 Breaking off maintenance friendships, spying on the nanny with hidden cameras, and how to tell your babe she's contagious? There are ties and there are ties. All topics into Didi Lorillard this week at
NewportManners.com
.
Assessing the hidden nanny spy cam
Dear Didi,
We love our children's nanny, but we're disturbed by all the incidents of nannies-going-out-of-control. Since our second child, our beloved nanny seems bedraggled and we worry. My husband and I work full-time. We're also worried that if we have a nanny cam set up and she finds out, she will think we've lost confidence in her abilities and the whole relationship will break down. Is there a more polite way of assessing the situation than hiding cameras in the house to spy on her? R.M., Providence
Dear R.M.,
Sit down with the beloved, bedraggled nanny and have a heart-to-heart. This is the person who is responsible for your two children eight hours a day, but you're responsible for them 24/7. Gently ask her how she's adjusting to having two children to mind when she had originally been hired to care for only one. Watch her body language. If it tightens up and yet she fidgets, try to get her to relax enough so that she can tell you what you can do to make her job easier. Cut down on her hours? Give her more time off? She may breathe a sigh or relief and open up. She may even get teary-eyed. That's okay, because then you know you can work with her to smooth out wrinkles. Such as enlisting a relative or hiring a college student to pitch in with the older child or finding someone to come in to clean and do laundry. If she won't communicate, there may well be anger issues and that's a very bad sign. Talk to her and work it out or find a stronger support team, before you get to the stage of hiding cameras. ~Didi
The unromantic lip sore
Dear Didi,
My girlfriend has a sore on her lip. She said she got it from trying on lipstick colors in a department store. Should I be concerned? D.N., Peabody, MA
Dear D.N.,
Gently suggest that you're concerned about the outbreak of the sore on her mouth and tell her to ask a pharmacist to recommend a product for her to use. Follow up and ask her what the pharmacist recommended. If the outbreak flares again, tell her she has to see a doctor or dentist to treat the ongoing problem. When you're gentle and genuinely concerned about her health and appearance, she'll respond, although you may have to offer to pay for the treatment. ~Didi
The best ties
Dear Didi,
What type of tie fabric/pattern should a man wear to a semi formal event? S.M., Brooklyn, NY
Dear S.M.,
A good tie for a fairly formal event is made of three pieces of heavyweight silk that comprise the blade, under blade, and gusset which are hand sewn together. The heavier weight silk holds colors of greater intensity; the weight and texture of the silk determine the feel of the tie. When laying the tie across the palm of your hand it should feel significant and not easily slide off.
The pattern for evening would more than likely be a dark solid herringbone with spots in a different color. Alternatively, a two-color square design, a two-color diagonal diamond pattern, a two-color hounsdstooth, or a plain solid color twill tie are also warn with dark suits. A repp (diagonally-striped) tie in two colors works best with more casual jackets, such as a blazer or sports jacket. Linen ties are for summer or tropical locals and wool is primarily worn in a cooler climate in the daytime. Lastly, don't wear a button-down shirt after six o'clock, especially with a good tie. ~Didi
Maintenance friendships
Dear Didi,
On a cruise we took six years ago we met another couple whom we really liked at the time. When we got home we would see them every couple of months, but now we accept the invitations to dinner and have them back, but only out of a sense of obligation. We've come to dread having to make time for them. How do we break it off with this other couple without hurting their feelings? P.W., Exeter
Dear P.W.,
You never know, the other couple may feel the same strained obligation to keep the invitations flowing for sentimental reasons. The next time it is your turn to reciprocate suggest that you go to a concert, play, or movie where it is understood that you would grab a quick bite to eat ahead of time, which will minimize the actual time you'll have to engage in chit-chat. Then if it is tit for tat, they'll perhaps stall in inviting you back. ~Didi
Do you have a question to ask Didi? Email it to

[email protected]

or visit her at NewportManners.com. If we use your question, we can withhold your name and address. Didi researches etiquette and all matters of manners for her book,"Newport Etiquette." Prior weekly GoLocalProv.com columns are listed below. More topics can be accessed through a search.
---
Related Slideshow: Foodie Getaways in Massachusetts
Food lovers will love these destinations statewide for indulging your palate.
Related Articles
Enjoy this post? Share it with others.