Newport Manners & Etiquette: Virgin Fiancées + Wedding Dress Code
Wednesday, February 05, 2014
The anticipation of a Valentine proposal, the etiquette of teenagers with overnight guests, and the magic and heat of a summer wedding dress code, along with what name does a second-time bride use on her wedding invitation, all questions to Didi Lorillard at
NewportManners.com
this week.
Overnight girlfriend guests
Dear Didi,
As a divorced single mother of 4 sons 15-21 I'm at my wits' end dealing with their overnight girlfriend guests. Worst is when one of their friends comes down in the morning with a girl I've never met. She doesn't introduce herself and he doesn't make the introduction. I didn't even know they were in my house. In trying to keep my sons safe, I've inadvertently turned our home into a teenage flophouse. How do I stop this madness? I used to call the girl's mother late at night and ask her to pick up her daughter, but they just say, "I'm not worried." Well, of course, my house is a safe place. ~N.D., Location withheld
Dear N.D.,
Set boundaries. Call a house meeting. If you can't corral your four sons, sit down and talk to them whenever you can. Gently say, "I need to enlist your help. It's too stressful having my house turned into a cheap motel with girls I don't even know coming and going at all hours. You cannot invite your friends to bring their girls over to spend the night. It's not working. If you want to have a girl sleep over, ask me nicely. Otherwise, god forbid, if there was a fire, I wouldn't know if everyone got out."
You may have to repeat this over and over again until they learn to respect the new house rule. If worse comes to worst, have a chalkboard by the entrance for everyone (family and guests) to sign in and out with times. At least it will remind your lads how rude it is to not communicate about who's home. ~Didi
The virgin fiancée
Dear Didi,
We're not sure who to ask or how to ask this, but we're concerned. Our sweet, lovely thirty-something daughter, who we strongly suspect will become engaged on Valentines, is still a virgin. Seriously, being a virgin has become part of her modus operandi. Also, possibly, why she's hooked such a catch. Should she or shouldn't she lose her virginity before the wedding day in early fall? Name and location withheld
Dear concerned parents,
This is what you do. Sit her down and tell her, "This is what happens if the sex doesn't work for you both, you'll end up divorced before the year is out. Would you buy an expensive pair of shoes that you can't return without trying them on first?" Tell her you've heard of instances where the size of his "lance of love" was too large and thus too painful. Size does matter. Encourage your daughter to talk to her girlfriends about losing their virginity. ~Didi
Dress codes for a summer wedding 3:00 ceremony + 6:00 reception
Hi Didi,
I am having a July 2014 wedding in the Chicago suburbs. There will be a 3:00pm ceremony at a Catholic Church. Approximately 300 people will attend, and the reception will be being held at an old Italian estate nearby, indoors. The cocktail hour will be at 6:00 pm on the terrace overlooking elaborate gardens followed by a sitdown dinner and dancing with a live band. We have chosen floor length dresses for the bridesmaids in a berry pink chiffon and my fiancé wants himself and his groomsmen to wear black tuxedos.
We would love to have a "black tie optional" or "formal attire" wedding, but are hesitant as the ceremony is on summer afternoon.
Do you have any advice on how to proceed? Is it bad taste to request this attire, which would seem to require guests to change before the reception, if we go with "formal attire." Would "black tie optional" allow guests to wear one outfit for the duration of the day? Would male guests look out of place to wear a tuxedo before 6pm? Thank you for your advice. E.S., Chicago, IL
Dear E.S.,
The best solution would be to have the men wear white dinner jackets with black tuxedo trousers. If you are asking them to rent tuxedos, you might as well have them rent white dinner jackets instead of black. White dinner jackets are handsomely stunning at a summer wedding and cross over from day to night in with great style and panache.
Alternatively, for a summer wedding navy blue blazers with cream-colored trousers are also very popular. Add a white collared shirt, a stripe tie in the wedding colors and black Gucci style loafers. The wedding photographs would be fabulous against those elaborate gardens.
You should be commended for thinking about the comfort of your guests. Just for the fun of it, ask your fiancé to poll his groomsmen. Give them the choice: black tuxedo, white dinner jacket with black tuxedo trousers or navy blue blazer with white trousers, with the understanding they would only need one outfit.
Another option of course is the all-time favorite for this time frame in summer: 'Suits & Dresses,' which means best summer suits (or navy blue blazers). The groomsmen could then wear light gray summer suits, which are also rather popular right now. Even if the guest dress code was 'Suits & Dresses,' the groomsmen can still be wearing tuxedos or a white dinner jacket. Then you'll find male guests will opt to wear a summer suit instead of a black tuxedo. If the ceremony was early or the reception later, guests would have time to change, but for many it would be a big bother. ~Didi
Second-time bride wedding invitation
Good afternoon,
I am divorced and I kept my former husband's last name for the sake of my children. Now, I am getting remarried. Can I use my maiden name on my wedding invitation and save-the-date, even though most people know me under my current name? I'm not sure what to do. Any advice? Thank you, Rose, Providence
Dear Rose,
This is what you do. Send out the save-the-date cards with the name you are using on your wedding invitation, but have the return address on the STD envelope include your maiden as well as your former husband's last name. For instance, if you had been using Mrs. Rose Wilson, use instead: Ms. Rose Brown Wilson (first, maiden and former husband's last name).
Then on the invitation just use Rose Brown or include your birth middle name as in: Rose Elizabeth Brown. This way the STD identifies your maiden and former married name so when the invitation arrives, they'll know it is you. ~Didi
Do you have a question for Didi? Visit her at NewportManners.com. We can withhold your name and location. Didi researches etiquette and all matters of manners for her book,"Newport Etiquette." Previous weekly GoLocalProv.com columns can be found by typing in Didi Lorillard in the above righthand search. The slideshow below is not endorsed by her.
---
Related Slideshow: 10 Valentine's Day Gifts for Her
Prev
Next
A Charming Gift
Show your special someone that you cherish them this Valentine's Day by giving them a unique gift from Alex and Ani. The popular Rhode Island retailer has outdone themselves this Valentine's Day season offering a variety of gifts -- including bangles, wraps, and earrings. You can even personalize your piece with a cupid or heart charm.
Price: $28 and up
Buy it from: The Paper Store, Millbury, Hudson, Leominster, Shrewsbury
Prev
Next
Specialty Chocolates
It's been said that they fastest way to a woman's heart is through her stomach and who are we to argue. This Valentine's Day, pick up some tasty handcrafted chocolates from Hebert Candies. Hebert offers over 50 different Valentine's Day candy packages sure to please even the most discerning palate.
Price: $6.95 and up
Buy it from: Hebert Candies, Shrewsbury
Prev
Next
A Day at the Spa
Treat that special someone in your life with a day at the spa this Valentine's Day at Bellisimo European Day Spa. Bellisimo offers a wide variety of services including skin rejuvenation, massage therapy, skin care treatments, spa body treatments and spa experiences.
Price: Prices vary by service. Visit their website or call 508-799-7767 for more information.
Buy it from: Bellisimo European Day Spa, Worcester
Prev
Next
A One of a Kind Item
Is your partner a bit eclectic? If so, Funky Stuff is sure to have the perfect gift. This unique store sells an array of gifts including fine art, clothing, handmade jewelry, gems and minerals, and locally made holistic products. Click here to see what Funky Stuff has to offer.
Price: $2.50 and up
Buy it from: Funky Stuff, Worcester
Image: Huge heart shaped Amethyst for sale at Funky Stuff
Prev
Next
A Beautiful Bouquet
Nothing says "I love you" on Valentine's Day like a wonderful bouquet of flowers. Express your love Valentine's Day beautiful and affordable flowers from Perro's. From romantic roses to impressive modern bouquets, Perro's offers over 30 different Valentine's Day special that are sure to please even the most discerning eye.
Price: $42.50 and up
Buy it from: Perro's Flowers, Worcester
Prev
Next
A Romantic Evening
Did you know that many components in Japanese cuisine have long been known to be natural aphrodisiacs? Ingredients such as rice, wasabi, ginger, unagi, sake, even shitake mushrooms can fuel romance. So if you're looking to start your evening with some natural and edible sparks, join 7 Nana on Valentine's Day, February 14th, and either choose from their regular dinner menu, or make your reservation for one of their special prix fixe menu seatings and enjoy a special Valentine's Day menu.
Price: $79 per couple
Buy it from: 7 Nana Japanese Steakhouse, Worcester
Prev
Next
Warm Woolies
Gifted socks don't have to be a boring practical gift when you choose a few pairs from the French Twist Boutique. Make a bigger impact with three or four pairs of P.J. Salvage socks partnered with another winter accessory life a scarf or a hat.
Price: $17 per pair
Buy it from: French Twist Boutique, Worcester
Prev
Next
Luxurious Body Care
Thymes Olive Leaf bath products make a stunning impression. Besides the packaging being festive and pretty, the olive leaf extract and shea butter draw a tapestry of scent on her skin. Put together a combination of bath powder, lotion, and soap and then give her an hour to herself, no questions asked. Your Valentine will find one hundred ways to thank you
Price: $14-$30
Buy it from: Bhadon Gift Gallery, Worcester
Prev
Next
A Music Lover's Dream
Does your Valentine have an affinity for classical music? How about taking her to the Blithewold Mansion on Valentine's Day for a concert she'll never forget. The Seven Hills Symphony's Winter (Valentine's Day) Concert, which will take place Feb. 14 from 7:30pm to 9pm, features an all-Romantic program. The concert will include the first movement of Dvorak's Cello Concerto and the first movement of Bruch's Violin Concerto No. 1. Click here for more information.
Price: This is a free event, but donations are encouraged.
Where: University of Massachusetts Memorial Medical Center, Worcester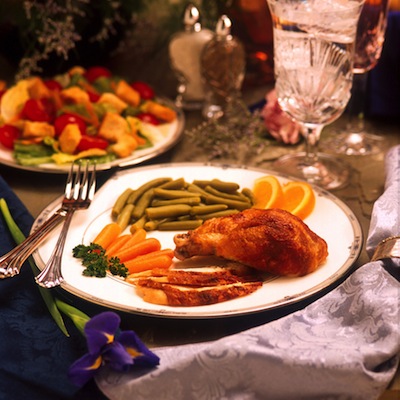 Prev
Next
Romantic Dinner at Home
Who doesn't love a home-cooked meal, especially when someone truly special prepares it? Pick out a cookbook with a lot of personal and memorable recipes that were his favorite dinners growing up, or the meal that she had on your first date. Then, as a bonus, offer your companion the opportunity to pick out a three-course meal of their choosing from the cookbook, prepare it, and have a nice dinner in for your Valentine's Day.
Price: Call 508-796-5613 or click here.
Buy it from: Annie's Book Stop, Worcester
Related Articles
Enjoy this post? Share it with others.