Organize + Energize: 5 Simple Ways to Organize Your Email
Tuesday, December 03, 2013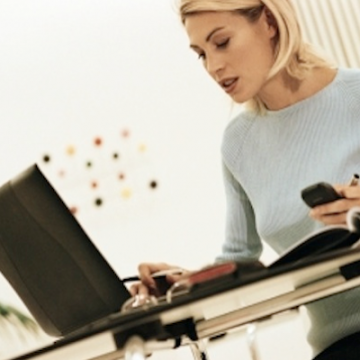 It seems like when the holidays roll around, it's also a time when we get bombarded with emails. We still get our important daily emails, but in between are junk, spam, holiday offers, coupons, etc. If you are already having difficulty managing your emails, you may find your emails are stressing you out more than usual this time of year. There is a hope and there will be a light at the end of the tunnel. Take time now, to get a handle on all the emails that come your way.
Here are 5 tips to help you get a handle on your emails this time of year and going forward.
1. Unsubscribe
When an email arrives that you no longer want to receive, take the time now to unsubscribe. You may be receiving emails from a company you no longer purchase products from or you are no longer interested in the information you are receiving. If you decide you want to subscribe again in the future, you will know where to find them. For now, unsubscribe. It's one less email you have to open.
2. Categorize
Just as you would tackle an organizing project in your home or office, use that same process to organize your emails. Set up and categorize folders. Once you look at an email, you will know immediately if you have to tackle it or if you need it for reference at a later date. Drag that email over to your folder.
3. Delete, delete, delete
The minute you see an email that you know won't ever need, delete it immediately. One less item in your inbox.
4. Important events, dates, or trips
Set up a folder for important travel and event information. Instead of letting it take up space in your in box, mark the important date on your calendar and retrieve the email from the folder when the date arrives.
5. Emails you have to take care of ASAP
I'm going to get some looks from some people on this saying I'm killing a tree, but if you need to, print out the email if it will make you remember that you have to tackle it. Print it and attach to your to-do list. Most people won't print it and it stays in their email and it gets forgotten and the task never gets done. Print it and you won't forget about it.
Going Forward
By now you have weeded out your inbox and you probably only have a few emails left in it. Going forward you will maintain your inbox just as you maintain your physical organization with your mail and paper. Start fresh and stay on top of your emails and this will be one less stress you have to worry about.
Kristin Carcieri-MacRae, the founder and owner of Organizing in RI, has always enjoyed finding creative ways to streamline the environment around her. Kristin has appeared on air on www.talkstreamradio.com and Patricia Raskin's Positive Business Radio. Her articles have been published in the Rhode Island Small Business Journal and New England Home Life. Her CD, Organizing Basics, is a 1-hour guide for the person who wants to get organized but doesn't know where to start and is available at the following locations, listed here. She is also available for organizing workshops.
Related Articles
Enjoy this post? Share it with others.