Organize + Energize: 6 Things to do to Prepare for Your Move
Tuesday, June 13, 2017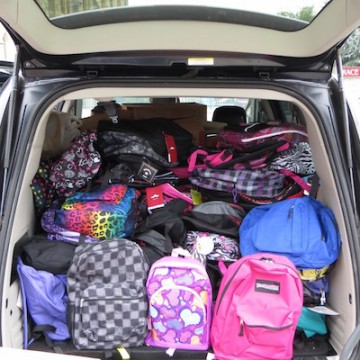 Many of my clients are on the move this year. They're decluttering and organizing before they move. If you want to have a seamless, stress-free move, then you need to get a plan together and then put it into motion. Being pro-active and planning ahead will be a win, win all around. You're getting your home ready to sell, but you're also making the process of moving much easier. Moving doesn't have to be stressful. Don't wait until the last minute to tackle this project.
Here are 6 ways to prepare for your move:
Declutter and organize every closet in your home. Everybody wants great closet space and if your closets are cluttered and disorganized, buyers won't get a vision of how the space can be utilized. Now is a great time to take everything out of your closets and go through them. This will also help you with your packing process. Pack away what you can.
Declutter and organize your kitchen. We all want a big kitchen to store appliances, prepare meals, and entertain. If your kitchen, food pantry and cabinets are cluttered, the buyer won't feel comfortable in your kitchen. Again, declutter for your purposes too. Only take with you what you know you'll be using.
Get rid of anything that is a dust collector. Pack away your collectibles and chatzkies. Get rid of the piles of paper, and anything else that is cluttering up your home. Remember, you're not only prepping your home to sell, but you're also making the process of packing everything up much easier.
Declutter and organize your children's rooms. Buyers want to imagine themselves living here and it will be difficult to vision if they don't have a clear picture of the space. Check what your kids have outgrown and get rid of anything they're no longer using, including books and toys.
Declutter and organize your bedroom. Bedrooms are for sleeping and relaxing. Make this room the most peaceful, serene room in your home. Declutter the nightstand, tops of furniture, and get all clutter off the floor.
How much do you really need to take with you? Think about what you actually need in your new home. Are there items you haven't used in years and actually forgot you had? Do you really need them? Be sure to purge before you pack. Do not pack anything you won't be using in your new home. The transition of moving will go much smoother if just take with you the items you need. Once you get to your new home you can unpack and set up your organized systems, making the transition a breeze.
When you're selling your home, the last thing a buyer wants to see is a home that is disorganized and cluttered. Clutter is a distraction and your buyers will not be able to focus on the selling points of the home when they are faced with clutter and/or disorganization. Selling a home is the best time to get organized, because you have to physically go through everything you own and make a fresh start!
Kristin Carcieri-MacRae, is an organizing & efficiency expert and owner of Organizing in RI. Kristin teaches her clients that living an organized lifestyle will save them time and money, decrease their stress levels and help them become more efficient and productive. Her articles have been published in local and national magazines. She has also given over 70 presentations throughout the state. Watch Kristin LIVE every Thursday at 3pm here on GoLocal LIVE with Molly O'Brien.
---
Related Slideshow: Organizing Products For Your Closet
Related Articles
Enjoy this post? Share it with others.