Organize + Energize: Simplify the Holiday Season
Tuesday, November 19, 2013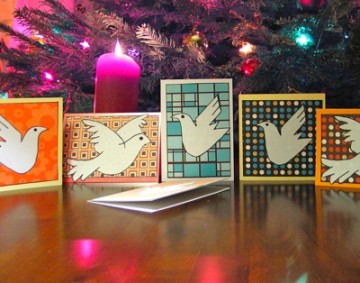 I believe there can always be a simpler way to accomplish a task. The holiday stress has already hit some people over the head. I don't think that playing holiday music before Thanksgiving helps.
Think about everything you have to do this holiday season and how you may be able to streamline the process, whether it's making to-do lists, planning and preparing, or just getting organized.
Here are 6 ways you can create simplicity around the holidays.
It is okay to say no.
Too many invites, holiday parties or gatherings stressing you out? Do you feel like you will offend somebody if you don't attend? Choose the ones that take priority, respond and go and have a great time. Don't feel that you have to go to every event. This also applies to shopping trips, lunch dates, etc. It's ok to say no.
Pick up gifts cards now that you need to buy for the holiday.
Do you wait last minute to pick up gift cards because it's an easy gift to purchase? Don't wait for the last minute to fight with traffic. If you know which gift cards you need to purchase, make a list and pick them up now. It's one less errand you will have to run as it gets closer to the holiday.
Have a yearly ritual, like hosting a party, cooking, or decorating?
There can always be a simpler way to do something. Make your life easier and streamline the procedure.
Address holiday cards now.
Sign, address, stamp, and put elastic around with a sticky note dated when you need to send. Next year, start the process even sooner.
Don't save anything until the last minute.
If you know you have a ton of things to do around the holidays, why are you waiting until the last minute? Sit down one evening, make your list and then tackle it.
Keep track of what you are buying to stay on track with your budget.
Trying to think of everything you have purchased and how much you have spent? Write it all down. Remember, mental clutter causes stress. Release the mental clutter.
It seems as the holidays get closer, the more we have to do. Do you make things more complicated than they need to be? Make a plan to simplify and streamline your process. If you feel you just can't do that this year, make a plan to get on track next year!
Next week's topic is the last of the 4-part holiday series on organizing your holiday decorations.
Kristin Carcieri-MacRae, the founder and owner of Organizing in RI, has always enjoyed finding creative ways to streamline the environment around her. She has appeared on air on Patricia Raskin's Positive Business Radio and her articles have been published in the
Rhode Island Small Business Journal
and
New England Home Life
. Kristin's CD, Organizing Basics, is a 1-hour guide for the person who wants to get organized but doesn't know where to start. She is also available for organizing workshops. And on

December 2

, Kristin will be debuting her 1/2 hr weekly talk radio show, Organize, Energize with Kristin on www.talkstreamradio.com.
Related Articles
Enjoy this post? Share it with others.