Pakachoag Music School Announces May Performance Events
Thursday, May 01, 2014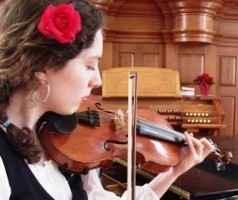 Pakachoag Music School
has announced its calendar of musical events for the month of May.
Starting on May 6, Pakachoag will participate in the Greater Greater Worcester GIVES Day on May 6th.
"We hope you will come out to hear some May music and consider joining the Greater Worcester community and Pakachoag on May 6th to create lasting philanthropic impact throughout Worcester," said Executive Director Sarah Smongeski.
Through the remainder of the month, the school is hosting numerous student performances. Some of these events include, "a musical theater show (for young ones), student performance classes and recitals, a faculty concert, fiddle concert, and a composer's evening," according to Smongeski.
Special Events
May Performance Classes - May 5, May 7, May 14, May 15.
These informal events open to everyone who may have a child who is considering learning to play an instrument. "A performance class can be a nice introduction to what it means to become a musician," according to Pakachoag.
Classes start at 6:30 (additional sessions also scheduled at 7:00, 7:15 or 7:30) - varying end times. Location: The Great Hall at Pakachoag.
Pirates! The Musical - Friday, May 16. 7:00 p.m.
Advance ticket purchase recommended. $2 for regular seating.
The Great Hall at Pakachoag
May Recitals - Saturday and Sunday, May 17 and 18.
Multiple sessions each day.
Times TBA.
Please check the calendar page or email us at [email protected] one week prior.
The Great Hall at Pakachoag
Composer's Evening: Thursday, May 22nd. 6:30 p.m.
Students of our musicianship/theory classes perform their own compositions. Everyone welcome.
Fellowship Hall at 203 Pakachoag Street
Fiddle Concert: Friday, May 30th
7:00 p.m.
Fellowship Hall at 203 Pakachoag Street.
Faculty Concert: DATE!
My Poland, My Love: The Music of Chopin
with Vladimir Odinokikh, Piano.
All Saints Church, Worcester. 3:30 p.m.
---
Related Slideshow: Spring and Summer Music Festivals
Related Articles
Enjoy this post? Share it with others.