Trender: Musician/Artist Andrew Moon Bain
Thursday, April 21, 2011
Who are the Rhode Islanders leading in arts, fashion, food, and style? They're Trenders, and GoLocalProv offers glimpses of the people you most want to know on the scene. Today, artist/musician Andrew Moon Bain, who is one of four artists featured in "New Mythologies," opening this weekend at Candita Clayton Studios. In addition to his visual art, Bain is a fixture on the local music scence, performing as part of Boo City.
Homegrown factor: Went to RISD, lives in Providence.
Age: 36
1. Where did you get your start in your field?
In high school, silk screening shirts for friends and airbrushing images on clothing. as well as doing murals for local business

2. How has living in Rhode Island played a role in your work?
I went to art school here so living in Providence has had a profound effect on my work. I also became engrossed in the local art scene with a handful of friends directly after college that greatly shaped the way I think about making work and my practice.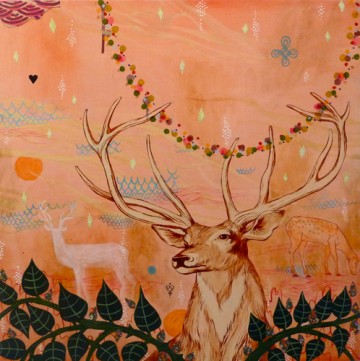 3. It seems like a lot of wonderful fine artists are working here, but we seem not to realize this. What's going on?
There are excellent artists living and working in Rhode Island and many are very active on national and international levels. I guess you just have to be in the right circles to know and see it but from my perspective it always seems to be bustling!
4. What's next for you?
After the New Mythologies show, I have a solo show at the AS220 project space in October. As well I am working on an album with my band, Boo City.

5. What's the biggest challenge about working in Rhode Island?
Staying out of the bars and being distracted by the dark side, i.e. my delinquent friends and colleagues.

The greatest reward?
The tightly knit community. Inspiring friends and the ability to hole up in my studio and focus on my craft. I guess it is a double-edged sword.
Haku's Green Veil, mixed media on panel, 36" x 36"
The opening reception for "New Mythologies" will take place at Candita Clayton Studio, 999 Main St, Unit 105, Pawtucket. For more information, visit www.canditaclaytonstudio.com or call 533-8825.
If you valued this article, please LIKE GoLocalProv.com on Facebook by clicking HERE.
Related Articles
Enjoy this post? Share it with others.