Two MA Students Win New England Regional Entrepreneurship Challenge
Tuesday, June 06, 2017
New Bedford High School's Allison Pereira and Worcester Tech's Adhi Murillo won first and second place spots in the
Network for Teaching Entrepreneurship (NFTE)
New England Regional Youth Entrepreneurship Challenge.
They will go on to represent New England region at the NFTE 2017 National Youth Entrepreneurship Challenge in October in New York City where they will present and defend their business plans to compete for prizes totaling $20,000.
"NFTE activates the entrepreneurial mindset and builds startup skills in youth both to ensure their long-term success and a more vibrant economy and society. Youth today are not prepared for the jobs of today or to create and fill the jobs of tomorrow. Many of the high-growth jobs of today barely existed a decade ago and the jobs of the future likely do not exist today. The entrepreneurial mindset is therefore key to success for any young person who wants to be ready for a fast-changing future," says Shawn Osborne, NFTE President and CEO.
The Winners
First Place winner Allison Pereira won $1,000 for her plan for Equality Storybooks, children's fantasy and adventure picture books with characters of diverse race, ethnicity, religion, gender, and geography, and featuring a factual description of the events that inspired the story to educate youth about current and historical events.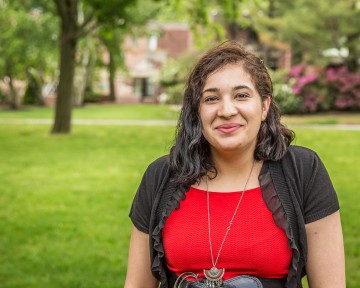 Second Place winner Adhi Murillo created Katharoes and won $500, for her plan for an app for on-the-spot cleaning services where customers can request one room or an entire house to be cleaned.
Network for Teaching Entrepreneurship Challenge
NFTE Regional Youth Entrepreneurship Challenges take place in cities across the country.
Fifty judges participated in the New England regional competition, including: Zenobia Moochhala, Co-Founder, SVP & GM of US & International Consumer Marketplace, Care.com; Patrick Good, Partner, EY; Sheryl Marshall, Founder, Capital W, the Boston Women's Venture Summit; Barbara Russell, Managing Director, Detwiler Fenton; Karen Yim, Principal Support Engineer, Netscout Systems; Sam Polk, Vice President, Marketing Technologies, Santander Bank, N.A.; and Amy Whitney, Director - Innovation & Entrepreneurship Program at Clark University.
---
Related Slideshow: MA's Top 100 High Schools 2015
Related Articles
Enjoy this post? Share it with others.