Where Will You WOO? - Week of August 17, 2017
Thursday, August 17, 2017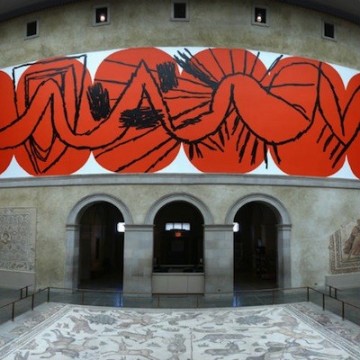 Where will you WOO during the week of August 17?
Thursday, August 17
Park Spirit's Elm Park Summer Concert Series- The Flock
Elm Park
Worcester, MA 01610
Join Park Spirit for a night of free music at historic Elm Park! This concert features the Flock, Worcester's favorite 80's cover band playing you all the hits.
Friday, August 18
Friday Farmers Market
11:00am-2:00pm
Worcester Common Oval
455 Main Street
Worcester, MA 01608
Introducing the new Friday Farmers' Market on the Worcester Common! Stop by the Oval on Fridays June 2nd through September 29th between 11am-2pm. Pick up your produce, goods, and other needs for your weekend!

Options include fruits, veggies, herbs, meats, eggs, honey, soaps, and much more!
Saturday, August 19
YSP Teen Presents Guys and Dolls
2:00pm-4:00pm & 7:00pm-9:00pm
Hanover Theatre for the Performing Arts
2 Southbridge St.
Worcester, MA 01608
Set in Damon Runyon's mythical New York City, Guys and Dolls is an oddball romantic comedy. Gambler, Nathan Detroit, tries to find the cash to set up the biggest craps game in town while the authorities breathe down his neck; meanwhile, his girlfriend and nightclub performer, Adelaide, laments that they've been engaged for fourteen years. Nathan turns to fellow gambler, Sky Masterson, for the dough, and Sky ends up chasing the straight-laced missionary, Sarah Brown, as a result. Guys and Dolls takes us from the heart of Times Square to the cafes of Havana, Cuba, and even into the sewers of New York City, but eventually everyone ends up right where they belong.

Considered by many to be the perfect musical comedy, Guys and Dolls ran for 1,200 performances when it opened on Broadway in 1950. It received nearly unanimous positive reviews from critics and won a bevy of awards, including Tony Awards, Drama Desks and Oliviers.
Cost: $18
Sunday, August 20
Plant ID: Plants Everyone Should Know (Ferns)
1:00pm-4:00pm
Mass Audubon: Broad Meadow Brook Conservation Center and Wildlife Sanctuary
414 Massasoit Road
Worcester, MA 01604
Some of the more than 2500 plants in New England are so common that we can see them almost anywhere, on any given day, if we know how to look. Red maple, meadowsweet, partridgeberry, and hay-scented fern are good examples - can you identify them? Knowing very common plants from four broad groupings can provide you with a solid foundation for futher plant study and will help you make comparisons when identifying new species.

We will learn to identify a dozen plants in each session by looking at plant structures, using field guides, exploring habitats, and discovering awesome adaptations of our local flora. We will look at Broad Meadow Brook's new native plant gardens and explore along the trails as well.
Cost: $10 Adult Member, $13 Adult Nonmember
Monday, August 21
Solar Science Celebration: 2017 Eclipse
12:00pm-4:00pm
EcoTarium
222 Harrington Way
Worcester, MA 01604
Come celebrate the 2017 solar eclipse EcoTarium-style! From themed Science Discovery programs and planetarium demonstrations to opportunities to safely view the partial eclipse (weather dependent), well make learning about the science of eclipses interactive and fun. And, don't miss our "Peak Partial Eclipse Party" during the half hour when the sun is most obscured by the moon!

Tickets to this event are limited! Order tickets in advance online, at the Tickets and Information Desk during your visit, or call 508.929.2703 to reserve your spot!
Cost: Advance Tickets: $13 each/$5 for EcoTarium members; Day-of Tickets: $18 each/$5 for EcoTarium members
Tuesday, August 22
Construction Club at Tatnuck Branch Library
3:30pm-5:30pm
Worcester Public Library Tatnuck Branch
1083 Pleasant Street
Worcester, MA 01602
Do you like Legos? What about Lincoln Logs? Or an amazing marble maze? Come use your imagination to make your own creations. Bring a friend! Supports STEM (Science, Technology, Engineering and Mathematics)! All ages welcome.
Wednesday, August 23
Art carts: Family Fun-Reusable Universes
11:00am-12:00pm
Worcester Art Museum
Salisbury Hall
55 Salisbury Street
Worcester, MA 01609
What do garbage bags, highlighter ink, soda bottles, LED headlights and computer cooling fans have in common? Why our Reusable Universes special exhibit of course. Come explore some of the materials used by artist Shih Chieh Huang to make his marvelous creations. Here at the Art Cart you can see with your hands and then look with your eyes (and hear with your ears) in the exhibit! (programming subject to change)
Cost: Free with Museum admission
---
Related Slideshow: 20 Cool Things to do in New England Before Summer Ends - August 2018
Related Articles
Enjoy this post? Share it with others.