Public Unions Costing Local Governments Millions
Wednesday, October 24, 2012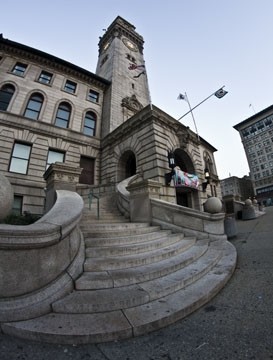 A Research Bureau forum on Tuesday asked whether municipalities can afford public employee contracts, as public sector unions have overtaken their private sector counterparts in recent years as the majority in the American labor movement.
"The recession and its aftermath have laid bare fiscal distress facing cities and states across the nation," said Roberta Schaefer, president of the Worcester Regional Research Bureau.
While pension fund investments have lost value, the already high cost of health insurance for current and retired employees has continued to rise, placing many municipalities in a difficult financial position.
The Worcester City Council recently moved to set aside $5 million in next year's budget to begin paying into a trust for the city's $656 million liability for post-employment benefits for retired employees.
Only about one-fifth of workers in the United States work for the government directly or indirectly, with 21 million people employed in the public sector and the vast majority of them working at the state or local level. Secondary and elementary education professionals account for a majority of state and local public employees.
The Evolving Image of Union Workers
Daniel DiSalvo, assistant professor of Political Science at the City College of New York and a senior fellow at the Manhattan Institute, said that the image of the union worker has changed dramatically over the past 40 years.
According to DiSalvo, public employee unions were virtually non-existent in the United States prior to the 1960s. Before that, unions were almost exclusively in the private sector, and their membership was embodied in the iconic images of construction and iron workers, carpenters, plumbers and heavy industry.
But by 1980, 33 states had some form of collective bargaining laws in place and union membership among public employees rose to between 35 and 40 percent during the decade. The rate of public employee union participation has remained remarkably stable ever since.
Meanwhile, the percentage of private union members has declined dramatically, and in 2009, public employees eclipsed their private sector counterparts as the majority of union membership in the country.
"Union members today are probably better represented by thinking of teachers or other public employees," DiSalvo said.
The public employee unions of today share similarities with the private sector unions currently on the wane, such as engaging in collective bargaining and charging agency shop fees requiring employees to pay dues or fees even if they choose not to join the union.
But DiSalvo argued that the two types of unions are in fact different species, with the public sector groups enjoying a number of distinct advantages over the private sector, including political access, ability to mobilize, and reliable and steady revenue streams.
"Public employee unions can win things for their members both through collective bargaining and through the political process," he said, noting that such labor groups can exercise influence on both sides of the negotiating table, and therefore get two bites of the proverbial apple compared to the private sector's one.
"You don't have much, if any, say over who is the CEO of American Airlines or General Motors, which is different than public employee unions which can involve themselves extensively in the political process throug campaigning and lobbying and have significant influence over who's on the other side of the bargaining table."
Market forces play a greater role in labor negotiations in the private sector, where unions must be sensitive to the competitive position of their employers, thereby imposing constraints on the demands they make.
On the other hand, said DiSalvo, public employee unions work for entities that hardly ever go out of business, and it therefore should be expected that their demands are less in tune with the state of the markets.
Two Worlds of Work
"There's really become two worlds of work," he said, characterizing the highly-competitive and dynamic environment of the private sector as a stormy sea and the more stable and predictable environment of the public sector as an island.
"Once people are hired into public employment they tend to stay there."
DiSalvo said that government worker salaries tned to be about 10 percent higher than their private sector counterparts, and that the price of state and local government services has increased by 41 percent nationally over the past decade compared to 27 percent for private services.
Ultimately, DiSalvo argued, public employee unions end up making state and local governments more expensive by saddling them with more debt, higher interest rates, more employees and more spending overall.
"Government is less efficient and less productive than it might be."
Regarding teachers union contracts in particular, DiSalvo said the overly specific agreements that regulate the amount of time teachers spend in the classroom with students down to the minute have a negative effect.
"The problem with these kind of restrictive work rules is they emasculate management," he said.
Len Zalauskas, president of the Educational Association of Worcester (EAW), said he had hoped the conversation would focus on the specifics of public employee unions in Worcester and the rest of the Commonwealth, which he said differ greatly from the national picture DiSalvo painted.
"Being a teacher, that was offensive to me because it's a very, very difficult job," he said in reference to DiSalvo's analogy of public sector unions as sunny islands while a storm rages in th private sector.
Zalauskas said the EAW is the second-largest pre-K through 12 educators union in New England, trailing only Boston, and that its schools are down 400 to 500 teachers over the past decade.
Related Articles
Enjoy this post? Share it with others.