City Manager's Report Card Delivered by City Council
Tuesday, June 05, 2012
Accusations of an unsatisfactory outreach to minorities, blundering
new property evaluation process
, and lack of coordination in neighborhoods came as
City Manager Michael O'Brien
faced his annual evaluation. O'Brien received comments from all Councilors who each had negative remarks for his annual evaluation at tonight's meeting.
A Tough Year
O'Brien's year has been filled with struggles including budget and healthcare reform, a scandal with Police Chief Gary Gemme, as well as an issue with Pat's Towing.
"This year has proven to be another year of challenges," said At-Large Councilor Kathleen Toomey, who was first to give her evaluation to the Manager. "Twenty-two percent of 27 positions hired have been minorities, and that is not enough. We need to find new avenues to reflect the community in which we live."
Many other councilors mentioned this being an issue. Given Worcester's diversity, they feel there should be more seen at City Hall.
Despite this downside, Toomey gave the Manager a 4.5, with five being a perfect score. The lowest score was given by former mayor, Councilor Joe O'Brien.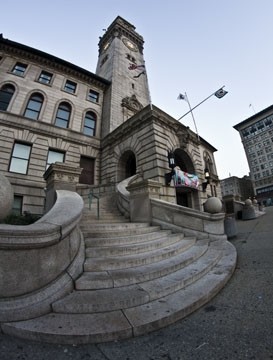 "This year diverges in that I will not give as high of a mark to the Manager. I think we've gotten a little crazy with grade inflation," he said. "A score of 4 is above average, and I haven't been here when someone hasn't given below a four."
O'Brien continued saying, "Every year there has to be an outlier, and I'm the outlier this year. I'm not giving a perfect score because Worcester isn't a perfect city."
"I have been concerned and continue to be that we are a community that continues to provide funding at or a little above minimum funding," O'Brien said. The evaluation followed a successful school budget meeting, but there is room for more improvement, O'Brien said. "At the end of the day, that relationship is going to be the most critical one to work on this year."
Councilor Tony Economou stressed the need for neighborhood stabilization. Others agreed, saying neighborhoods are one of the city's strong points and need to be maintained. Councilor George Russell added to this, saying that one of the challenges of the CSX deal is looking at how this is affecting our neighborhoods.
Councilor Bill Eddy was the first to touch on the issue of assessment and evaluations, which he said, "didn't go as smoothly as any of us would have liked."
Other councilors added to this, calling it an "elephant in the room." Councilor Konnie Lukes said that the issues, "marred our reputation in dealing with taxpayers."
Advancements on City Square
All councilors hit on the Manager's outstanding job in developing the downtown, but this success was not met with some questions and concerns from Council.
"We need to stretch the work like was done in City Square to other places in the city," Economou said, hoping to bring help not only to the downtown but also to businesses in other areas.
"There's room for improvement in Economic Development," Russell said, citing a need to rework the Responsible Employer Ordinance. "I asked for a report of how many citizens will be working at City Square. I don't know if that missed my desk, Mr. Chairman, but I'm still waiting to see that report."
Councilor Rick Rushton added that this year was the first that "people are comfortable saying that the City Manager isn't Superman."
Councilor Lukes also voiced concern that the City Square project would cost the city more than money. "We can't let this be at the expense of our neighborhoods," she said. "City Square was supposed to be a mixed project of residential, business, and commercial properties. There should be no detour from that." Without residential use, she said, "We will see empty streets."
Critique of the Process
Many councilors voiced their negative opinions of the process of evaluating the City Manager, saying that while it is transparent to host it in a public venue, that their comments would be censored.
"No one's going to commit political suicide," Councilor Michael Germain said, offering that perhaps it shouldn't be a public forum. "The whole thing doesn't matter – I once gave a 3.85, now I'm giving you a 4.5." He said the true markers of his success come from things more tangible in the city.
The Highlights
Despite these difficulties, Councilors congratulated the City Manager on his success with the city's economic development. The recent construction on Front Street, through to Union Station was seen as a key motivator for some of the Councilors' high marks.
"During a time when other cities are filing bankruptcy, you've stayed the course," Councilor Toomey said. "We are moving forward with promise and hope." She cited the construction at the bus terminal at Union Station, DCU renovations, and efforts to retain and expand businesses.
Councilor Economou mentioned the city's improved bond rating to a positive standing, which will allow city to borrow money at a better interest rate. He also spoke highly of inspectional services.
Many councilors, including District 4 Councilor Sarai Rivera mentioned the Manager's creative methods in thinking outside of the box for funding. "He has been forced to think outside of his comfort zone," Rivera said.
Councilor Philip Palmeri gave the Manager his highest score of 4.95, but agreed with Germain in saying that the process isn't perfect. "We've always said this but nothing has been done," he said. "This is more theater than anything."
Despite these difficulties, Councilors congratulated the City Manager on his success with the city's economic development. The recent construction on Front Street, through to Union Station was seen as a key motivator for some of the Councilors' high marks.
Related Articles
Enjoy this post? Share it with others.