Council Blasted Over Alleged Illegal Ordinance
Friday, June 15, 2012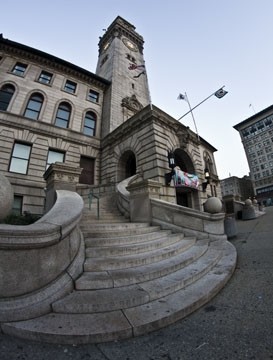 Hundreds of Worcester construction workers' jobs are at stake as City Council continues to deliberate the
responsible employer ordinance (REO)
that has been called illegal, unconstitutional, and dangerous.
"The bottom line – it's illegal. It's a clumsy attempt to get around a judge's decision. It has done nothing to insulate the city and solve their problem," said Ronald Cogliano, head of the Merit Construction Alliance.
In response, Jack Donahue of the New England Regional Council of Carpenters says the ordinance has proven its success in the city and provides Worcester youth with a future.
Currently, the City Solicitor is combing through the ordinance to be sure the city is not susceptible to the same legal battle as in Fall River.
A Big Business in Worcester
"This ordinance will affect hundreds of employees," said Cogliano. "We have one member who employs more than 400 people in the city of Worcester. Another member employs over 1,000 people, many of whom live in Central Mass and live in Worcester."
The sticking point of the ordinance relates to the apprenticeship requirements. If the currently drafted version of the ordinance is passed by the Council, Cogliano and other non-union and open-shop construction companies say that this will create an unfair advantage to organized labor groups and would discourage non-union contractors from bidding on jobs in the city. Cogliano and those who spoke at last week's City Council meeting believe construction companies should be able to set their own apprenticeship programs and training for them. If passed, shops that previously did not have an apprenticeship program would be forced to implement one, will face higher costs and will have a harder time competing with union shops.
"Certainly timing is an issue. There's construction going on. For whatever reason, some union contractors may or may not be able to be competitive, so unions have devised these plans to knock out their competition," Cogliano said.
Conversely, Donahue and other unions see apprenticeship as a way to provide learning workers with a way to rise in the field. He says he would rather see local youth working as apprentices than out on the streets.
Why It's Being Called Illegal
Cogliano says that the ordinance is "illegal, illegal, and unconstitutional."
"With all respect, I know the carpenter unions took great pride in saying they drafted the ordinance, but it's a clumsy attempt at running around the recent federal court decision," he said. "The judge who ruled against it essentially claimed that apprentice mandate – one major sticking standpoint – is illegal, and that the city can't enforce it."
Donahue, on the other hand, believes that this draft of the REO will be secure, keeping the city from treading on thin legal grounds.
"We met with the City Solicitor and went through the REO and any legal hurdles. At that point, I think the city thought it had more. Now it's just the apprenticeship clause," he said. "In the ruling in Fall River, the judge included the apprenticeship piece. That's got people nervous, but I believe she made an error keeping that in there."
Donahue sees apprenticeship as a benefit to local youth and a way for them to make better wages. He says, because they hire apprentices and train better workers, they can compete. "In order to pay the highest wages, they have to have the most skilled workforce to produce and make money. That's what this is about," he said.
Still, Cogliano believes that the Fall River ruling could be an issue for the city if the Council decides to push the ordinance through.
"There's a track record. It's not just illegal on the federal level," he said. "It also breaks the Equal Protection clause as well as two or three bidding laws in the state."
Donahue is not worried about the legality or the success of the REO, despite this history.
"We've met with the Economic Development Committee and there was a pretty good slice of the community that testified. It was impressive," he said. "It's significantly different than the REO in Fall River. That decision dealt with residency and pension plans, which the Worcester REO doesn't have."
'The Numbers Don't Add Up'
Donahue believes that the city's REO has proven successful in its past and that "there haven't been any huge construction issues," but according to some that testified at Tuesday's Council meeting, there have been many cases, including a high school science lab that didn't happen due to union costs.
"It served the city very well," Donahue said. "The city has been a wise purchaser of construction." When asked about the science lab examples, Donahue said he questions the Research Bureau's numbers.
"I don't think the facts support that claim. A lot of the evidence that was presented is not as accurate as it could be," he said. "The numbers don't add up – that's info I'm hoping to present at the meeting on Tuesday. That's just false. The facts don't back up."
Bad News for Tax Payers
One major concern of the ordinance for the general public is cost. Legal fees and the higher cost of rising competition are both at stake with the REO.
"When it's determined to be illegal, tax payers will be paying the legal fees," Cogliano said. "Secondly, if councilors vote in favor of this REO, they are knocking out Worcester born and bred employees. Your prices are going to rise when competition is knocked out."
Accusations Against Council
After heated and impassioned pleas from speakers at last Council meeting, Cogliano walked away with a sense that they were not welcomed.
"They've got their support on Council. That's why it's being pushed," he said. "I felt like there was at least one councilor who wanted nothing to do with us speaking. It was clear that he didn't want us there and was uncomfortable with us being there."
He hopes that council will understand their side of the story and what a burden this would bring to companies and workers in the city. Cogliano says that he would like the discussion to be opened up to other parties and for both sides and the city to come together to draft something that would be in everyone's best interest.
"Some on council perhaps neglected to notify their organized labor to be there and perhaps that's why they were uncomfortable," Cogliano said. We're looking for council to vote this down and for the mayor to call us together to get something to work for everyone. All we're looking for is fair treatment."
Determining the Legality
City Solicitor, David Moore, is now charged with the task of making sure the proposed REO is not susceptible to the same legal action that became Fall River, and plans to have something out before next Tuesday.
"If we take a step back – the city had an REO, when the federal court came out in Fall River that invalidated it," he said. "We had an identical situation. At that time, I advised that if we were challenged, we would lose." Fall River, he said paid $150,000 to attorneys – a cost he didn't want to pass on to tax payers.
"That's when the City Manager decided to not enforce that apprenticeship clause because we would face legal action," Moore said. "That's exactly the point, now. City Council has a revised an REO presented not by city administration. The question is, is it different enough to give us safe legal ground. There was a repeated theme (at the last council meeting) that this is unconstitutional. That was pretty loud and clear."
Related Articles
Enjoy this post? Share it with others.