How Your Vote Could Change Worcester
Saturday, July 07, 2012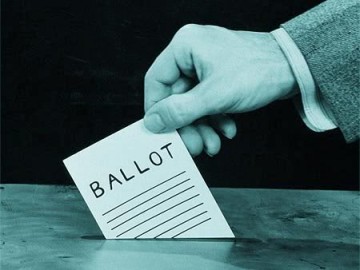 With recent elections in Worcester decided by only a few votes, the
Initiative for Engaged Citizenship (IEC)
is working to get local voters invested in the upcoming election. Worcester is uniquely positioned to affect the outcome of elections both locally and at the state level, and IEC is looking to engage as many voters as possible.
The city has a history of tight races, and Director David LeBoeuf says their group is trying to increase voter turnout by 1,000 votes -- a 5% increase compared to the last election.
"The school committee vote was determined by 13 votes, and there was a recount. The Lukes/Rushton mayoral race was determined by 110 votes," LeBoeuf said. "If two more streets had voted, we could have had a different mayor, for better or worse."
Given these examples, IEC is making sure everyone in the city knows their voting rights and knows why it matters.
LeBoeuf, says that his organization is trying to reach out to Worcester residents, to challenge their ideas of voting and educate them about how their votes could change Worcester and give the city an advantage.
Voter turnout in some of the city's precincts is low, and with a vacant seat in the upcoming race for the 15th Worcester District State Representative election, Worcester has the potential to alter Beacon Hill.
The Number One Reason
According to LeBoeuf, the number one reason that people aren't registered to vote is that they have never been asked.
"We have lost that motivation behind the vote and reminding people why it matters. We need to recapture that – reaching out to neighbors," he said. "We want people to rethink voting. It's not just your duty. That mentality and that message hasn't worked in years past. We want to remind people. This is a quality of life issue. It's about making sure your children have good schools. It's about making yourself heard."
Voting Power in Worcester
Due to recent redistricting in Mass. Worcester is poised for political power.
"We're focusing on the District 15 race, primarily because we have been so involved with the minority-majority decision and because it's an open seat," LeBoeuf said. "The state rep. race is critical for the city. The district has changed a lot. At the state level, Worcester needs a representative in that seat."
The newly redrawn district is a first for the state -- a district where blacks, Hispanics and Asian-Americans make up a majority of voting-age residents. The IEC doesn't usually focus on these races, but this year, Worcester's role is key.
The 15th district contains precincts 2 and 4 of ward 3, Ward 4, precinct 3 of ward 5, and precincts 1, 2, 4 and 5 of ward 10.
There are many city candidates vying for the spot including City Councilor Kate Toomey (D), Frank Beshai (D), school committee member Dianna Biancheria (D), , Mary Keefe (D), Ralph Perez (D) and Brian O'Malley (R). The Democrats will face off against each in the primary in September before facing O'Malley in the November election.
LeBoeuf says that it's very important that a Worcester candidate wins this seat to provide a better advantage for the city's residents. For him, this is what voting is about -- not candidates, but making sure your area is being represented and your voice is being heard.
"Usually, we focus more on municipal elections because they affect your life more and they're the most influential but the least discussed," he said. "A lot of how you live your life in Worcester is determined by City Hall and the school committee."
The group organized a meeting together with twenty-six community groups, and 120 attendees. Rapid fire questions were delivered to committee candidates, and even they were surprised at the turnout.
"We like to talk about voting in terms of the power, not the politician. Really, you're voting for a set of issues and to have yourself counted and recognized," he said. "Certainly some elected officials just look at who's registered when considering where to do their outreach."
Who's Not Voting
LeBoeuf said that their time in Worcester has shown that some precincts are just not voting as much as other areas.
"One precinct with the lowest voter turnout is the one including Worcester Technical High School (Ward 3, Precinct 4)," he said. "Low turnout tends to come from areas with lots of moving in and out. That also comes with the difficulty of voter registration. It's a very confusing process."
IEC will be going door-to-door in the next couple of weeks, mostly to those precincts with the lowest voter turnout.
"In lots of neighborhoods, it's not the fact that they're disinterested, but no one's going there. No one goes to the Worcester Technical School area, even if there are super voters there," he said. "They might think it's not a battleground area or that those individuals are already sure of who they're voting for."
LeBoeuf says this is perpetuating a harmful cycle and that all sides need to be involved with this issue, even those already in office.
"You need a give and take. This can't just be a go it alone issue. It's not a competition. It's about moving things forwards," he said. "We need to stop blaming the voters. We need to look at the system on a whole and the way our government is working. If there's no incentive to vote or so much dissolution about the process… There's a real disconnect."
Urban areas, he said, have voter turnouts that tend to be higher in number but lower in percentage.
Not an Easy Sell
LeBoeuf said that at the root of the issue is a lack of connection of the individual to their community.
"It's not an easy sell. The issue is not disinterested. People care about the issues, and it's not that people aren't aware. A lot of people feel they're not involved in their community," he said. When asked what IEC does with voters feeling disenfranchised, he said, "It's that one to one, personal involvement. Election Day is the only day when no matter how much money you have, we're all equal."
"We want to get the message out to a broader audience. It is frustrating, but you see how immense the issue is, like electional inequity. It's that one to one conversation, and when you see they're interested," LeBoeuf said.
Dedication
LeBoeuf said that while the work they do takes a while to see results, it is worth it, and with the help of some local organizations, it's getting easier.
"The work we do takes a long time to do. A lot of it is about changing and providing people with tools to take initiative on their own," he said. "It does take a while, but it's worth it. Thanks to Holy Cross and Clark and others who really value what we're doing, we're getting larger, and preparing things this summer until November."
Related Articles
Enjoy this post? Share it with others.