GoLocal Worcester's 2014 Non-Profit of the Year: The Friendly House
Wednesday, December 31, 2014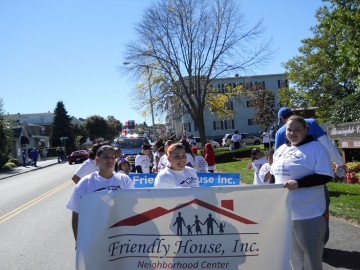 Friendly House has been part of the Worcester community for 94 years. As one of the few nonprofits that voluntarily pays taxes to the city, the neighborhood center assists Worcester residents with housing, food, immigration assistance, affordable after school programs, summer programs and it's Youth Hoop basketball program. For all of these reasons and more, GoLocal is proud to name Friendly House as the 'GoLocal Worcester 2014 Nonprofit of the Year.'
"Friendly House has been doing wonderful work for decades. Their daily and weekly educational and athletic programs have helped so many children and families," said Gary Vecchio, President of Shrewsbury Street Neighborhood Association. "Every holiday season, hundreds and thousands of needy children are given toys and gifts, while families are given food."
Friendly House: A Pioneer of Social Services
Back in 1920, the Friendly House opened as a small three-room settlement house on Norfolk Street in Worcester, under the sponsorship of the Worcester Civic League. Today, Friendly House occupies 36 Wall Street and offers assistance with food, shelter, job searching and resume help.
On Mondays, Wednesdays and Fridays, Friendly House runs a food pantry and even offer gluten-free options with a one week notice.
During the holiday season, Friendly House is also the home of a large, and well-run, food service program and food drive. This summer, Friendly House sponsored 34 summer meal sites and was awarded a $3,000 grant from Project Bread to expand its sponsorship.
As reported by GoLocal, the Sheriff's Food Drive at Friendly House fed 2,000 families in the Worcester Area. "This is the most food we've ever seen in all the years I've been here. This year, rather than just only giving a turkey, we have provided whole meals," said Gordon Hargrove, Executive Director of Friendly House. Hargrove has been at the Friendly House since 1957.
Gordon Hargrove: A Leader for Over 50 Years
In June, Hargrove was honored at an event called 'Heart of Gold.' The event honored Hargrove's 50 years of service to the Friendly House.
"Friendly House has been a constant fixture in Worcester for decades. Through the efforts of Gordon Hargrove, its CEO, the organization has reached out to help 1000's of children and adults in need and to this day continues to make a difference in the lives of many," said Worcester School Committee member John Monfredo.
Hargrove joined Friendly House in 1957 and signed on as its first full-time Program Director in 1965. That year, Friendly House received its first grant from the Office of Economic Opportunity. The grant provided social services to 2,000 residents. By 2010, Friendly House was giving assistance to 25,000 people annually.
How You Can Help
Individuals or organizations looking to help Friendly House in its efforts, please visit: Friendly House Donations.The organization is always looking for volunteer help and through its social services program could greatly use donations of gently used clothing, toys, household items, diapers, baby items and non-perishable food.
"Friendly House has been doing God's work for decades. GoLocal Worcester could not have selected a more deserving organization as its 2014 Nonprofit of the Year," said Vecchio.
Monfredo said, "Congratulations Friendly House may you continue to your fine work in this community for another 50 years."
---
Related Slideshow: 30 Ways To Give In Central Mass This Holiday Season
Related Articles
Enjoy this post? Share it with others.