Gomez Reverse Gun Position May Split GOP
Friday, September 27, 2013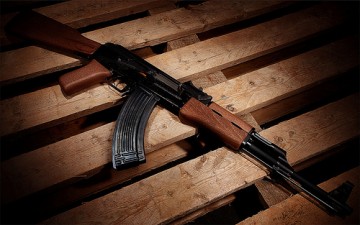 In an op-ed published by the Boston Globe, former Senate candidate Gabriel Gomez said he was wrong to oppose an assault weapons ban throughout his candidacy. The surprising reversal has proponents of the ban clapping their hands, and opponents shaking their heads. It also has politicos guessing that Gomez is eyeing a spot on the Charlie Baker 2014 ticket for Massachusetts' governor.
Gomez insists that his change of heart had nothing to do with politics.
"I submitted this to the Globe quite a while ago and they sat on it for a long time," he said. "It had nothing to do with whether I'm going to run or not. I needed to man up and admit that I was wrong."
Tim Buckley, spokesman for the Charlie Baker 2014 campaign, said, "any decisions regarding potential Lieutenant Governor candidates is a long way off." Baker also favors the existing gun laws in Massachusetts, which include an assault weapons ban.
Why The Change of Heart
"I remain a private citizen, but feel I owe it to Massachusetts' voters to admit that I was wrong in one of my earlier positions," Gomez wrote in the op-ed.
"I asked myself whether my position against banning assault weapons and high capacity magazines represented what is best for the people of our Commonwealth and our Country," he wrote. "Based on everything I have learned, seen and heard from the citizens of the Commonwealth, I can no longer support legislation that would allow the continued sale of assault weapons and high capacity magazines."
This decision was "irrespective of politics," though he did not completely rule out future runs for public office.
"I may never have to vote on this," Gomez said, but he has not made any decisions.
"If something comes up in the public sector that the people of Massachusetts think I would be good for, then I would definitely consider running," he said.
What Ban Opponents Are Saying
Christopher Pinto, vice chairman of the Worcester Republican City Committee, sees Gomez's reversal as a clear indication that the former Senate candidate is planning to run for office again soon.
"In the Senate Special election primary I supported former US Attorney Mike Sullivan. Mike knows that the term assault weapon is a term invented by the gun grabbers and that the legal definitions that are used to ban them address simple cosmetic features on the weapon and do not address any features that make a rifle anymore or less deadly," said Pinto. "Gomez's flip flop just proves that I was right to support Mike Sullivan in the primary. I did not support Gomez in the past and I will not support him in the future."
He also pointed out that to him and several other Republicans, Gomez was never considered legitimate. He cited the RabidRepulicanBlog.com, written by Massachusetts' residents Mike Farquhar and Jim Ettwein, which yesterday said that Gomez's op-ed "proves conclusively that he is an elitist – the perfect Democrat."
The blog's writers seemed especially upset by Gomez's assertion that because of his training as a Navy SEAL, he could appropriately handle an assault weapon, but ordinary civilians could not. They pointed out that it was in fact ordinary civilians who fought and beat the trained British army in the American Revolution, though that conflict was more than two hundred years ago.
Pinto went on to say that guns, and assault weapons in particular, have never been the problem. He insists that controlling crime, not gun ownership, is the key to reducing the United States' growing tide of violence.
"Howie Carr stated it best on his radio show the other day when talking about the Navy Yard shooter," Pinto said. "He asked why this guy went into the Navy Yard with a sawed off shotgun: Didn't he know that their several federal laws that make owning, possessing and manufacturing a sawed off shotgun illegal? Then Howie facetiously said that all we need to do is pass just one more law that makes a sawed off shotgun illegal and next time this won't happen."
What Ban Proponents Are Saying
Proponents of the ban disagree.
"I think it takes a lot of courage for a politician to publicly admit that they were wrong on a position that they had previously campaigned on," said Celeste Bocchicchio-Chaudhri, a member of Advocates for Safe and Sound Gun Laws, and Communications Coordinator for the Massachusetts Coalition to Prevent Gun Violence.
"It takes extra courage for a Republican to come out in favor of stronger gun laws, given that the GOP generally does not," said Bocchicchio-Chaudhri. "Gomez's change of heart is an important reminder that people on both sides of this debate are reasonable people who want the best for their communities and their children. I think too often the gun control debate is painted as one set of ideologues against another, when really people can and do listen to each other even when they feel passionately about the issue."
That sentiment was echoed by Paul Ropp, the Chairman of the Center for Nonviolent Solutions and a professor of history at Clark University.
"I'm delighted to see Mr. Gomez's op-ed piece reversing his position on banning assault weapons and high capacity magazines," said Professor Ropp. "I applaud his thoughtfulness, his grace and his courage in publicly changing his position and listing his reasons in such an articulate and persuasive way. I also applaud and share his criticism of our polarized politics today where mutual respect and the spirit of compromise are often lost in the battle to score points and show scorn to the opposition. "
Vice-Chair of the Center for Nonviolent Solutions, Claire Schaffer-Duffy, said "Assault weapons have proved to be deadly for so many members of the American public and the argument that a gun is need for public defense in a home does not apply to an assault weapon. You do not need multiple rounds of ammunition. Its lethal capacity, as many lawmakers have said, it was designed for a military purposes not civilian. What have we come to as a people if we require military assault rifles to feel safe in our communities?"
Other organizations that support stricter gun control also welcomed Gomez's change of heart.
Nancy Johnson, Executive Director of Citizens for Safety, said her organization does not support or oppose any weapons bans, but has found common ground with Gomez in the past.
"I understand that Gabriel Gomez does support background checks and we agree with him and we think that would be a very important fix to a huge loophole in our law, and would do a much better job of keeping guns and assault weapons out of the hands of people we all agree should not have them," she said
"We also agree with Justice Antonin Scalia who said that certain reasonable restrictions are compatible with the Constitution – none of the Amendments provide an absolute right and the Second Amendment is no different," she said.

Dr. Michael Hirsh, a pediatric surgeon who is the director of Worcester's gun buyback program, the Goods for Guns Coalition, said "I welcome anyone who is willing to explore sensible gun control measures and it is very clear from the recent history of mass shootings that assault weapons play a big role in these shootings."
He worried though that too much focus on assault weapons clouds a bigger problem.
"When you analyze statistics, the handgun is responsible for more problems. I've never been one to emphasize getting assault weapons off the streets. I think the focus should be one handguns," he said.
Related Articles
Enjoy this post? Share it with others.