Worcester's Gem: Hanover Theatre
Thursday, March 01, 2012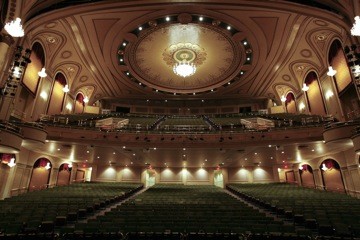 The Hanover Theatre for the Performing Arts is well on its way to fulfilling the vision of its founders as the finest performing arts center in New England. Located at 2 Southbridge Street in downtown Worcester, this historic cultural landmark has hosted shows (both burlesque and Broadway) and film screenings (both silent and contemporary) for more than 100 years. The Hanover's diverse 2012 lineup ranges from The Moody Blues, Seussical the Musical, and Giuseppe Verdi's classic opera La Traviata to Sean Kingston, Blue Man Group, and the one and only Bill Cosby.
Originally built in 1904 as the Franklin Square Theatre, The Hanover was given a major facelift 20 years later by one of the era's leading theater architects. Thomas W. Lamb designed a glorious 3,000-seat theater decorated with ornately painted plasterwork and marbleized columns. Its mirrored walls reflected a grand staircase and a multi-story lobby with a spectacular chandelier. Even in the heyday of elaborate movie palaces, The Hanover stood out. Times change, however, and cinema chain National Amusements refitted the building as a regular movie theater in 1967, before closing it entirely in the late '90s.
In 2002, Ed Madaus and Paul Demoga founded the Worcester Center for the Performing Arts, a non-profit organization dedicated to restoring The Hanover and bringing more cultural events to the city. The overlook-no-detail restoration cost almost $31M and was aided by several private and government contributions. Now completely refurbished to its original grandeur, The Hanover Theatre exemplifies the adaptive reuse of historic buildings.
Education is also an important part of The Hanover Theatre's contribution to the Worcester community. This year's educational fare includes Women in Dance, Shakespeare Recycled, and Jack Hanna's Into the Wild LIVE! The fourth annual Youth Summer Program is designed for students ages 12-18. It provides training in music, drama, and dance and culminates with the mounting of a full production.
The Hanover Theatre for the Performing Arts strives to live up to its mission of fostering a love and appreciation for the performing arts in audiences of today and tomorrow, particularly among area residents. "We are thrilled to be a catalyst for the rebirth of downtown Worcester," says Lisa Condit, The Hanover's director of marketing & public relations.
"This is an exciting time for the city and surrounding communities," Condit continues. "It is uplifting to see hundreds of thousands of people come through our doors with their families, friends, associates, and students to enjoy internationally renowned entertainers, Broadway tours, motivational speakers, and other community events. Through our partnerships with local businesses, restaurants, and cultural institutions, our patrons are discovering a new Worcester that is more accessible, convenient, and affordable than other major cities."
If you haven't been to The Hanover lately, you're missing out on one of our city's crown jewels.
For more information, log on to http://www.thehanovertheatre.org. You can also call the box office at 508.831.0800 or 877.571.SHOW (7469).
Insider tip: When parking for a show, make sure to use the parking garage across the street or pay for an official lot. Many of the private lots nearby rigorously enforce the towing of unauthorized cars.
Susan D. Wagner is a Worcester resident and president of Susan Wagner PR, a boutique public relations firm invested in meeting client's goals with integrity and creativity. She is also Managing Partner for The Boston Ad Agency and Director of Corporate Communications for Boston Web Designers.
Enjoy this post? Share it with others.