MA Spends Twice National Average on Standardized Testing
Wednesday, December 05, 2012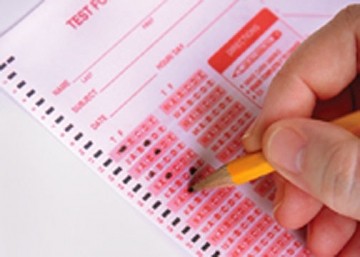 Massachusetts spends $64 per pupil on standardized testing each year, more than twice the national average of $27, according to a new report from the Brookings Institution.
The report, entitled "Strength in Numbers: State Spending on K-12 Assessment Systems," by Brookings fellow Matthew Chingos, found that a combined $669 million was spent each year on such standardized assessments in 45 states. Spread evenly across all the assessed students, that $669 million works out to $27 per pupil, but Chingos found that state-by-state costs varied widely.
At one end of the spectrum were states like Oregon at $13 per student, Georgia at $14 per student, and California at $16 per student. At the other end of the spectrum were states like Massachusetts at $64 per student, Delaware at $73 per student, and Hawaii at $105 per student, ranking among the highest-spending on student assessment.
"We find that larger states tend to spend substantially less, per student, than smaller states," said Chingos, "which is not surprising given that larger states save on fixed costs like test development by spreading them over more students and may have more bargaining power."
The Brookings study estimated that nationwide totals for annual spending on assessments may be upwards of $1.7 billion due to six percent of the country's students being located in the five states for which the authors and researchers were unable to obtain data. While that number may seem like a lot, Chingos and his colleagues said that it actually only amounts to one-quarter of one percent of annual K-12 education spending.
"This relatively low level of spending on assessment, combined with concerns that the quality of tests in many states is not high enough to use them for high-stakes purposes such as teacher evaluation, strongly suggests that states should seek efficiencies in order to absorb budgets cuts without compromising test quality or to free up resources that could be reinvested in upgrades to assessment systems," Chingos wrote.
The Brookings report offered an assessment Worcester Public School Committee member John Monfredo could get behind.
"The strength of any testing program rests on the data and how to use the data wisely. I'm a believer in value added testing for it's essential to see growth from year to year," he said.
"My concern has to do with the dollar amount that it costs to test as I believe that the resources would be better allocated to prevention programs such as a full-day preschool program in our Level 4 and Level 3 schools."
For Monfredo, standardized testing of students in every subject is ineffective, but he does support testing in English Language Arts and Math and getting 80 percent of students reading on grade level by the end of the 3rd grade a top priority.
Another major area of concern for the school committee member is the absentee rate among low-income students. He said that Worcester Public Schools have over 3,000 students whose absenteeism is considered chronic, meaning they are absent for more than 10 percent of the school year, or at least 18 days.
"We also need to work with the health community in assisting low-income parents with workshops and resources for their child from age six months to age four," Monfredo said.
"Let's put books into the hands of our parents at a very early stage and teach them how to help their child a home. This alone would narrow the achievement gap in education."
While the issues raised by Monfredo may unrelated to standardized testing, the high cost of such assessments in the Bay State means fewer funds available for other priority areas.
"If resources were used in prevention then we would get a much better return for our money."
Related Articles
Enjoy this post? Share it with others.