NEW: Worcester City Hall to Close at Noon for Blizzard
Friday, February 08, 2013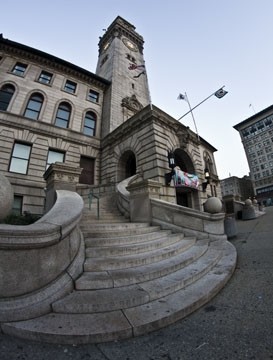 With snow already falling in the heart of the Commonwealth and many inches more on the way, the City of Worcester announced that City Hall will close at 12 noon today.
Residents with storm-related issues are asked to call the Department of Public Works Customer Service Center at (508) 929-1300, which was open and staffed as of 7:30 a.m. Friday and will remain so through the storm and into Saturday or longer depending on the severity of the storm. Residents should call this number to report down trees, loss of heat, tree limbs, blocked roadways or other City related storm issues.
Worcester's Emergency Operations Center (EOC) was set to be fully staffed and operational as of 10:00 a.m. this morning with critical City personnel and departments such as Public Works & Parks, Inspectional Services, Public Health, Communications, Police, Fire and the City Manager's office.
According to the City, Worcester DPW has over 400 pieces of departmental and contracted pieces of snow removal equipment at the ready and has stockpiled sand and salt for road treatment in order to keep all roads safe and passable.
Related Articles
Enjoy this post? Share it with others.