Protest at City Hall Challenges Racial Profiling and Accountability
Wednesday, April 04, 2012
About fifty protesters gathered outside City Hall before Tuesday night's City Council meeting to raise the issues of racial profiling and administrative accountability. Police cars were parked on the sidewalk as demonstrators carried signs and gathered together. The goal of the rally was to push action by Council concerning the arrest of David Russo, and to push for changes in how the administration and Police Department communicate with residents.
President of the Worcester NAACP, Ravi Perry, was at the event in support of what he hopes will be "structural systematic policy changes."
"Any opportunity to educate the public and public officials and to raise awareness of making everyone feeling inclusive in the Worcester community is something people should take advantage of," Ravi said. "The reality is that racial profiling is still prominent."
While Ravi said that he appreciated former Mayor O'Brien's recent comments on the issue, he was unhappy about the silence from the city's Human Rights Office.
"The main reason we're here is because we can't ignore these issues. We want to make it clear to leadership that this should be addressed. We need to open up and have a dialogue to step away from this culture of fear. Hopefully it will cause people to think," said Eric DeMeulenaere, who lives in David Russo's neighborhood. "It's about being proactive."
"The rally today is really to say, why didn't city administration respond to the city's request about racial profiling. I would assume that administration would respond right away with issues like this," said Chief of Staff for Mayor Joe O'Brien, and local activist Isabel Gonzalez. "Meet with the families who were concerned, who called their office, who still haven't met with them to this day."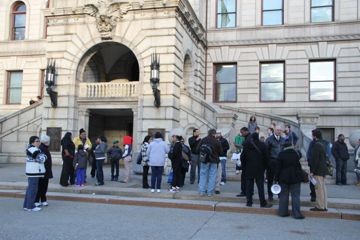 Mayor Joe Petty issued a statement concerning the rally, saying "Civic participation is always encouraged. Government works best when all parties are able have their voices heard."
According to Gonzales, who has been involved in organizing the rally, protesters went to the City Council meeting where former mayor, Councilor O'Brien tabled the issue again.
"I hope that everyone understands that this is in the spirit of talking about this issue and making sure this isn't going to happen again," said Gonzalez. "We want to work proactively with the city administration and have a good understanding with the campus authority on their jurisdiction. I don't want things to be controversial. I want everyone to be comfortable. I hope the city administration is able to respond to our request and if these issues come up in the future to be more proactive."
While Gonzalez and others at the rally firmly believe that David Russo's arrest was an act of racial profiling, Police Chief Gay Gemme disagrees. In a statement issued by Gemme on April 3rd, he said, "I cannot comment on this specific case, nor could I comment in July because of pending litigation. However, after evaluating all of the facts, it was my decision based on the totality of circumstances, that the complaint of racial profiling was not supported."
Gemme says that the WPD remains committed to a "commitment to fair and unbiased policing."
The protest stems from the arrest of 14-year-old David Russo of Hammond Heights on July 26th, 2011. Russo was charged with 2 counts of assault and battery of a police officer, and one account of disturbing the peace. Charges were dropped following a court hearing in mid-September, but his mother Claudia Russo says that police should have immediately reconsidered due to David's pre-existing health issues.
Communication Problems
"(Police officers) realized they had made a mistake about five minutes after they arrested him. At that point they should have stopped everything," said David Russo's mother, Claudia. "Unfortunately they acted like police officers – like they don't make mistakes. They should be able to sit there and think about a situation, in the future. When I went to the station, nothing. I called the chief, nothing. There was no response whatsoever."
Chief Gemme said, "The Worcester Police Department met with members of the community in July to address activity in the neighborhood and we continue to maintain dialogue with the residents through our Community Impact Division." He added that the department had not received any requests to discuss racial profiling since the arrest.
"If the Mayor's Office at the time, felt that a meeting was necessary, they certainly had the ability and the opportunity to hold one," Gemme said.
The Incident
David, who suffers from a brain injury sustained at birth and multiple learning disabilities, had been questioned by police multiple times. The day he was arrested, an unmarked car driven by a WPI police officer followed him. David was also being watched by a neighbor who had called the Police Department due to David's "suspicious behavior."
Profiling at Hammond Heights?
David's arrest followed a summer of break-ins in his neighborhood which caused Hammond Heights to become "hyper vigilant."
"On June 9th 2011, we received an email from a concerned Hammond Heights resident. She was concerned about emails that were going back and forth through the neighborhood watch and what she thought were concerns around racial profiling in the community," Gonzalez said.
According to Gonzalez, police responded by advising the resident to watch out for suspicious behaviors and people similar to those arrested for the break-ins; they were 3 Black and Latino boys.
"This is an upper-middle class neighborhood with a lot of multi-racial and adoptee families," Gonzalez said. "Not only does this cause people to be hyper alert, but you also have people emailing, saying, 'My kids are having their Asian or Black friends over on Tuesday night, please do not ask them if they belong here.' The families of color are then worried about their family and visitor security. This is crazy. This is 2011 that this is happening. These are interactions that are unhealthy in the community."
The WPD denies any claims that the department acted wrongly or has had inadequate communication with anyone involved. They also stated that their commitment to neighborhood watch groups is an important part of their dedication to the community.
"Officers of the Worcester Police Department have committed themselves to neighborhood watch groups, creating those direct lines of communications between residents and police officers," said Sgt. John Lewis, "These partnerships have dispelled rumors and innuendoes about police misconduct and discrimination and have given members of our community a better understanding of the inner workings of a police department."
The Administration's Accountability
Gonzalez, who was former mayor, Joe O'Brien's Chief of Staff, said that he immediately emailed the City Manager and Police Chief about the issue.
"They didn't respond immediately, but the mayor kept trying to get the manager to respond," she said. O'Brien continued to reach out after Russo's arrest and met with his mother after the incident.
Expecting Change
"We expect change," Claudia Russo said. "I feel that the people need to be educated. It's like anything that doesn't touch you, you don't know."
"Why do we have these leaders in these positions for? They put a brain-injured 14-year-old child, his safety, his mental health, everything below their own egotistical needs and desires. That's abusing children. That's what needs to be brought up. They have no regard for anyone but themselves," Claudia Russo said. She hopes that something will come from the protest, but did not attend due to having to take David to his weekly therapy meeting.
Gonzalez is also hoping that change and improvements in communication come from the rally.
"Had the City Manager responded earlier maybe they could have met with the residents sooner and maybe the police officers would have been more sensitive to a call made by a neighbor who lived houses down from David Russo," Gonzalez said. "Maybe it wouldn't have escalated. There are a lot of maybe's but the residents would have felt like there was some level of accountability."
"I would say there would have been a response from the Police Department to make a clarification that they in no way support racial profiling. The Police Department could have run in and said, 'This is not our policy.' I can't say that David Russo wouldn't have experienced what he did, but the community would have felt like there was a response. Claudia Russo would have felt like she had some avenue to have a conversation that wasn't filled with misinformation including carry an ID."
"The Worcester Police Department has worked hard to build a culture of trust, sensitivity and inclusiveness between our police officers and our citizens," Chief Gemme said. "To suggest otherwise or to suggest that our officers are racially profiling is an affront to the men and women of the police department who work with our citizens, from all walks of life, on a daily basis."
"We take issues of community service and policing our diverse community seriously that is why I appointed Sgt. John Lewis as a point person for Worcester Police Department dealing with minority affairs," he said.
Seeking Answers
Besides communication issues, Gonzalez said that their main questions in holding this rally concern the jurisdiction of college/university police in questioning non-students, as well as why O'Brien's requests for information that were never answered. She said they also want an apology.
"No one wants this to happen to anyone ever again," she said. "If there are names of community members who want a meeting with the City Manager and Police Chief – that meeting should have happened immediately. It has yet to happen."
"It helps citizens know their rights and administration to know what to do when something comes up like this."
Related Articles
Enjoy this post? Share it with others.