Taxpayers Demand Accountability for T&G Cleanup
Wednesday, July 11, 2012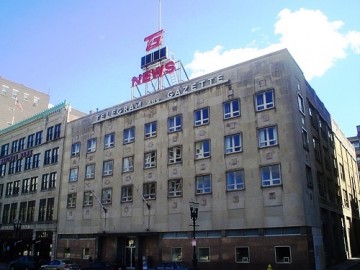 Local taxpayers are demanding that the NY Times Company
takes responsibility
and pays for the T&G cleanup.
Thus far, the corporation has only offered to pay for 10% of the estimated $1.1 million cleanup costs to rid the building of asbestos, lead, and other hazardous contaminants.
The NY Times sold the building to a non-profit subsidiary of the Worcester Business Development Corporation (WBDC) for $300,000, even though its assessed value was ten times that amount.
While this price reflected the contamination, there is still a gap in paying for the full project, and some local taxpayers are voicing their concerns that they will end up fitting the bill for the cleanup as the company moves into their new offices at 100 Front Street.
"We all learned from our parents if not in kindergarten: clean up your own mess and pick up your own toys," said Barbara Anderson, Executive Director of Citizens for Limited Taxation. "Every time they get involved in these private/public partnerships for cleaning up issues, I never hear about how this benefits taxpayers."
Funding Gap
The Environmental Protection Agency (EPA) has already allocated two $200,000 grants to the project from its brownfields funds, one of which is run through the city.
"I think they have an obligation to be at the table with the WBDC and have responsibilities and should be held accountable. The WBDC is sharp. I think they'll privately renegotiate and find a way to pay for it. I think taxpayers will ultimately be involved in this," said Ronald Charette, Executive Director at the South Worcester Neighborhood Center. "The question of the T&G and NY Times owner having contamination, that's not a great thing. The building was used for so many decades, and no one was checking to see about those things. It's a sad situation, but it's not uncommon."
Charette's group has plenty of experience with the WBDC and brownfields. The South Worcester Neighborhood Center has been in charge of the South Worcester Industrial Project (SWIP), an industrial area and brownfield site that has seen a lot of the same funding and support that the Telegram has received.
"In the big picture, this is a small expense, but it is part of a bigger problem where the taxpayers end up footing the bill for big companies who know how to work the system in their favor," said Kenneth Mandile Co-Founder of the Worcester Tea Party. "Individual taxpayers and small businesses end up paying for these companies."
"The property was sold at a very reduced price because of the contamination so that has to be taken into consideration," said Joan Crowell of the group AWARE, Accurate Worcester Assessments on Real Estate. Crowell could not speak to the group's stance on the issue, but offered her own opinions as a local taxpayer. "I don't know how they'll get the additional funding but how I see it, those two grants are not a lot of money when you're talking about a cleanup for this magnitude."
"Where they'll get the additional funding, I don't know," she said. "Sometimes they have creative ways to get it done. With a building right in the downtown, it's a building that should be cleaned up and brought to a useful condition and hopefully not tax exempt."
Crowell said that while she wants to see the building renovated, "we can't keep bleeding the taxpayers."
"The initial $200,000, I don't have a problem with that. I think that's a step in the right direction. Other than that, I really don't know. The owner is going to have to figure some creative ways," she said. "We're the ones that would have to furnish the money in that situation."
Transparency
Anderson says that she wants to see more transparency come from the deal before taxpayer money is involved. She says that the private non-profit subsidiary who bought the property, New Garden Park, may say its goal is to "lessen the burden of government," many times taxpayers are getting billed either way.
"That's the whole concept of a private/public organization. You privatize part of the process and they lessen the burden of government, but if the government is going to pay for it anyway, that's not lessening the burden for the government or the taxpayers," she said.
She said that when private groups get involved, the rules are often a little different.
"If you're not privatizing, at least you have some control over it," Anderson said. "Once the private sector in the partnership gets a hold of it, you have no control again, and that's usually when you see the high salaries of people running the non-profits. That doesn't mean that's the case here, but that's usually the case."
Seeing Tax Benefits
Anderson says that it's a simple answer that the owner should pay for the cleanup of the property. Taxpayers' money, she says, should go to only things benefitting taxpayers.
"Whoever polluted the property has to clean it up. It's basic. If someone wants to buy it, even though it's polluted, they're cleaning it up," she said. "You always have to ask who are they helping and ask why they are helping them out. When you think about all the things we can't afford…"
Her question is what do the taxpayers get from this.
"If the state is going to be involved with the subsidiary, that implies that somehow the state -- we the people -- are going to get something in return from this benefit," Anderson said. "Taxpayers should only be involved in paying for something that would directly benefit them. There are already all of the things we have agreed to pay in this country – infrastructure, social services…"
The WBDC's Past
While some are worried about the funding gap, Charette's work with the group assured him that regardless of whether they renegotiate for the Times Company to pitch in more funding, the job will get done.
"They have a game plan. They will go to work, very privately and quietly and if that requires the New York Times to commit to do more I'm sure they'll work to get it done and elected officials to work to get it done," he said.
Charette said that going into a project without knowing the extent of the cleanup would be foolish. "Who would go in there not knowing what's on the ground? You'd be an idiot. They've cleaned up the parcels for use… it's taken a deal of money and energy, but that's the most logical approach," he said. "If I was to buy a property, it becomes my responsibility and I would be the owner of that problem."
"What the city has been trying to do with SWIP is apply every resource applicable. They're looking for different ways to go after an area and that's what makes it attractive and that's what's moving it up on the list of programs," he said. SWIP was started in 1994 and has yet to see success.
Downtown Importance
The building's location is also a crucial part of the equation.
"They sold the property at a reduced cost. They contributed additionally for the cleanup and sometimes things in the past are hard to correct," Crowell said. "Who's responsibility is it? Sometimes they're unaware and it's hard to say who's responsibility it is. The owner can't just walk away. That building needs to be a part of the downtown."
Charette said that other city projects like SWIP depend on a healthy downtown. He believes this project would benefit from the help of politicians.
"The job of these local officials is going to be to understand the scope and do what they do best in Washington. There aren't a lot of brownfields projects around that would have as much involvement as the downtown," Charette said. "Everyone wants to be a part of it. From the perspective of SWIP, we want a healthy downtown. You've got to have a healthy downtown."

Related Articles
Enjoy this post? Share it with others.