The Fight for Worcester's District 1 Seat
Monday, February 11, 2013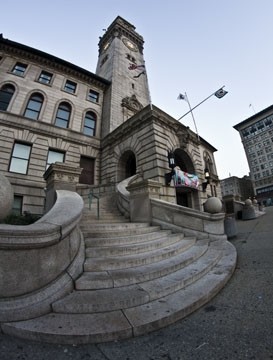 It may be early, but Worcester's city council election just got more interesting as newcomer,
Chris Rich
, will run against
Councilor Tony Economou
for the city's District 1 seat.
Rich said that his hometown of Worcester is, "A city with a lot of potential that has gone untapped."
"Too often this city thinks and acts like a small town," he said. "I lived in the Philadelphia area during school, and I enjoyed the urban life. And in a city like Worcester, while you have access to many of the amenities that an urban area provides, you also have access to the countryside."
Economou said that he welcomes the competition.
"I welcome it and give the guy credit for taking the step," he said. "Competition is a good thing for all of us, and I don't have any ill will towards anybody."
Worcester District 1 generally includes the neighborhoods of Salisbury Street, Westwood Hills, Assumption College, Hancock Hill, Grove Street, Holden Street, Indian Hill, Indian Lake, Greendale, the Summit, Quinsigamond Community College, upper Burncoat, Clark Street, Lincoln Village, Great Brook Valley, Curtis Apartments, Montvale and Massachusetts Avenue Local Historic Districts, Hammond Heights, Bancroft Tower, Winter Heights and Richmond/Flagg.
An "Extra Push"
Rich, who grew up in Worcester, said that often the city's resources go untapped and that he could help the city get that needed extra push.
"As far as solving any problems, you have to get face to face with the people involved. And the leadership needs to bring people together," Rich said. "I'm not sure if everyone is doing that, at least not in the best of faith."
When asked his reaction to Rich's comments, Councilor Economou said that he and the rest of the City Council have done their part to give Worcester that momentum.
"I have supported whatever's happened with the City Square project," Economou said, in defense of his time with Council. He also cited their support of the WBDC. "That's big personally. It's a big urban development plan going on right downtown that will give the city that extra push."
Rich also spoke about the need for citizens to feel like their tax dollars are being put to good use and getting their worth out of being part of the community.
"Leadership is the heart of it. We need people who aren't afraid to say we can do this," Rich said. "It's easy to find things that are wrong. Not a lot of attention gets paid to the good stuff, but it needs that little extra push. A lot of great things could come out of it."
Economou said that he has supported efforts to revitalize the downtown, including colleges moving in and other privately owned buildings.
"I have supported that on the council floor as well and will continue to do so," he said.
Nothing Happens Over Night
While Rich said he sees potential in Worcester going untapped, Economou said that his competition will soon find out that it is easier said than done.
"We're on the cusp of Worcester breaking through with these things that have happened and will be happening," Economou said. "One thing … Mr. Rich will find out as he makes his way through is that's it's not instantaneous. There are lots of moving pieces that have to be considered to get the city on the right path."
A Need for More Questions
Rich said that stronger leadership that's not afraid to ask questions is the key.
"I had to learn a lot to get where I am in my professional career, and I didn't act like I knew all the answers. I got there asking questions," he said. "That's what leadership is about. That's what people in District one would benefit from."
In response, Councilor Economou said that unless Rich has specifics, he could not reply.
"If there's something that comes up that needs to be questioned, I certainly question it," he said. "I'm not going to get on the floor to ask the same ones others have asked. I don't see that as being productive."
Clash On Panhandling
One issue on which Rich and Economou don't agree concerns recent measures against panhandling. Rich said he would have voted against the ordinance which outlaws "aggressive panhandling."
"There are other ways to go about fixing other than an ordinance. People have been doing the tag days for years. That's something I've always enjoyed honestly," Rich said. "I thought that measure was not the best use of our time to go about it."
Rich added that connecting people in need to services in the city is another part of the issue.
"I wanted to have that dialogue – talk to the people giving those services. How do we get out there so they aren't endangering themselves?" he said. "You only get so many perspectives, and I want to get more."
Economou said that Worcester city manager, Michael O'Brien was "in the field" over the summer helping to get that done, based on questions asked by council.
"I would love to hear what his better ways to go about it," he said. "There were follow up reports, and there were people who didn't want assistance. In the grand scheme of things, it's a public safety issue."
Still, Rich said that he thinks the residents of District 1 need to be more plugged in.
"I want to hear more from District one. I want to be the one going to them and asking what they think could be done better," he said. "How can we give them better value for their tax dollars?"
He also stressed accessibility, saying, "I want them to know who Chris Rich is. That's all part of being responsible. That's the right way to do it."
Related Articles
Enjoy this post? Share it with others.