T&G Building Contamination Has Unions Concerned
Monday, July 02, 2012
Two local unions are concerned about the health hazards at the former Telegram & Gazette building, after the
NY Times Company sold the property to a local nonprofit and the building was declared a brownfield site.
According to Michelle Whitmer, Associate Editor of Asbestos.com, companies and government agencies often sweep the issue of asbestos under the rug, ignoring the risk to their employees.
"Unfortunately sites of brownfields and Superfund sites – it's very common to have asbestos. We've seen it get pushed under the rug, even with government agencies like the EPA," said Whitmer. "They try to ignore it. It's unfortunate how often this happens."
Those health hazards associated with these sites have two local unions inquiring about the former Telegram & Gazette building at 18-20 Franklin Street in Worcester, after the building was declared a brownfield, contaminated with lead and asbestos. The NY Times Company has since agreed to assist in paying for the cleanup, but the exact dollar amount of its company has not been disclosed.
Rising Numbers
In Massachusetts, this issue has been growing steadily over the last three years.
The combined number of enforcements and non-compliance cases rose from 29 in 2009, 48 in 2010, to 70 in 2011. This includes both higher level penalty enforcements and lower instances of notice and no penalty.
"It has to do with contractors not fully compliant with regulations," said Massachusetts Department of Environmental Protection (DEP) spokesman Joe Ferson. "We're working to ensure they don't cut corners and that there are unacceptable exposures to workers and in immediate years." He added that while MassDEP constantly updates and changes emissions standards, no significant changes would have affected the increase of the numbers.
Asbestos fibers, when dry can become air-born, entering the body through the lungs and causing respiratory illnesses like mesothelioma, lung cancer, and asbestosis.
Industrial Past in Mass.
Asbestos.com, which is run by the
Mesothelioma Center
, ranked
Massachusetts 11th in the state for risks for asbestos
, something Whitmer says is primarily due to the state's industrial past and old buildings.
"Massachusetts is high on that list due to being an industrial area. It has a strong industrial history. Those numbers are due to factories in the area or if there was a product that originated in the area," she said. "For example the auto industry, the northwestern states with a history of being heavily involved in auto manufacturing also have high numbers."
"It was really the birth place of the American Industrial Revolution," she said. "There were lots of industrial practices going on in the area and lots of asbestos was used because it was a fantastic fire retardant, something that would unfortunately harm the area later in life."
Swept Under the Rug
Sadly, Whitmer has seen many cases where companies neglect their responsibilities and ignore the asbestos-related illnesses of their employees.
"There are a number of companies we feature on our website who have neglected these issues. It's a long laundry list," she said. "One example, W.R. Grace – they knew very well what was going on. They were doing regular x-rays and holding them from the employees, even though they were finding illnesses."
Like W.R. Grace in Acton, many areas become hotspots for asbestos-related illnesses, including areas where mines or other industrial trades and labor have taken place.
"It depends on the area (where it's most common to see asbestos-related illness). In Montana there's the case of Libby. Anyone who gets asbestos-related illnesses there got it from a mine that exposed a lot of people," she said. "Hundreds have already died. Because of their location, unfortunately if you worked with it or were a resident, you ended up getting exposed."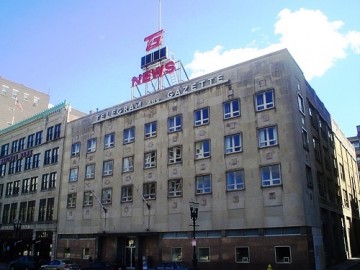 Whitmer said that there are a couple of instances like this in Massachusetts. If you happen to live or previously lived in these areas, it can be a hot spot for exposure.
"There are also different occupations at high risk," she said. "If you're living in an older home (built) before 1980, there's going to be more asbestos, but it doesn't matter if it's private housing or a big public building. Unfortunately, schools have been huge sources of this issue."
Union Concern
Two unions now have voiced concern about the former location of the Telegram & Gazette and are contacting the company in regards to possible health risks.
"I have been talking with the guild's Worcester unit, and they will be handling this," said president of the Providence Newspaper Guild union, John Hill. "It's obviously a matter of concern for us too. We want to get an idea of where this was and what was where it was so that we can figure out what exposure our members had if any."
The Providence Newspaper Guild oversees Worcester, as well as Woonsocket and Pawtucket. Hill said "There's been a conversation but not a letter. Helps if it's written down.
"We need to know what the situation is so we know how to react," Hill said. His union has seen instances of building contamination before. "There have been instances where in Providence asbestos was in piping and in basement settings, but never in a work area. You don't want to go crazy but you need to know what you're dealing with."
Related Articles
Enjoy this post? Share it with others.