Manager Hires Consultant Without Candidate Search
Friday, August 10, 2012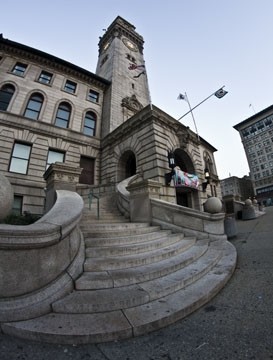 Worcester
City Manager Michael O'Brien
failed to seek other candidates before choosing Dennis Irish as the city's new economic development consultant, a GoLocalWorcester investigation has found.
O'Brien hired Irish, a former city councilor and St. Vincent Hospital spokesman, with a month-to-month contract at $1,000 a week.
Christina Andreoli, spokesperson for the Manager's office, said the office did not post a job opening and she was unaware whether other candidates were interviewed for the job.
O'Brien chose Irish on behalf of the Economic Development Coordinating Council.
Presently, the City of Worcester employs a Chief Development Director for the Department of Economic Development. That department will spend a little over $1 million in salaries in fiscal year 2013 for a total of 34 employees. The Chief Development Officer, Timothy McGourthy, will be receiving a $10,000 salary increase over fiscal 2012, and his salary will jump to $119,218.
Right Man for the Job?
According to city officials, Irish will be focusing on business attraction by going to meet one-on-one with CEOs around the country.
Previously, Irish had been working as the Vice President of Business Development and External Affairs at Vanguard Health Systems since 2005, but doesn't have a background with economic development.
"Mr. Irish's skills in marketing and the Worcester marketplace are key," Andreoli said. "He will be charged with coordinating the "strike force" of business and other leaders to tailor a presentation and ask and the visits to these prospects."
Andreoli said Irish would be look at sectors like finance, medicine, bioscience, lifesciences, robotics, manufacturing, education among others.
Unnecessary Hire
City Councilor Konnie Lukes raised concerns over whether Irish would simply be duplicating work already being done in the city.
"I want to make sure we're not going back and creating more of a problem," Lukes said.
The city already works in a number of public/private funded partnerships including with the Worcester Regional Chamber of Commerce, Worcester Business Development Corporation, Destination Worcester and other regional organizations.
City officials argued Irish would be the one to organize the city's many economic development efforts.
"Business attraction and retention are certainly part of the city's economic plan, but whether it was ever one agency's mission is unclear," Andreoli said. "We need to get these organizations working together and on the same page.
"Obviously, the city doesn't have a budget or enough staff to be traveling," she said. "It tends to go on the back burner while our staff focuses on city development and investment."
Lukes also said O'Brien has failed to outline a strategy for economic development to the council.
"I don't know if this is a sign that we're trying a new strategy; the Manager hasn't told us of one," Lukes said. "I want more transparency. I want to look at creating benchmarks and making sure they are being met.
Related Articles
Enjoy this post? Share it with others.