NEW: WPI Announces for New Green Residence Hall
Wednesday, May 30, 2012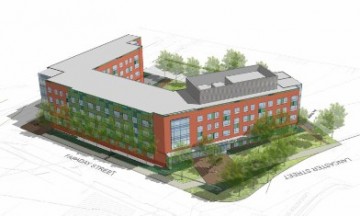 WPI
announced today that it will break ground next month for a new green residence hall, to be located at 10 Faraday Street at the intersections of Faraday, Grove, and Lancaster Streets. Like several other building under construction on campus, the building was designed to meet LEED (Leadership in Energy and Environmental Design) Certification standards.
"This new residence hall is being designed specifically to meet the needs of our students; it is also being designed to celebrate science and technology in such a way that will make it truly distinctive," says Dennis Berkey, President and CEO of WPI. "Its close proximity to Gateway Park will make it especially attractive to the many students focused on the life sciences at WPI; they are eager to live near the Life Sciences and Bioengineering Center at Gateway Park, as well as the new facilities at 50 Prescott Street that will open there this fall."
The $38 million apartment-style student residence hall will be constructed over the next year and will house 258 upper class undergraduate and graduate students. The building will feature four-person apartments and will also include recreation facilities, technology suites, and full wireless access.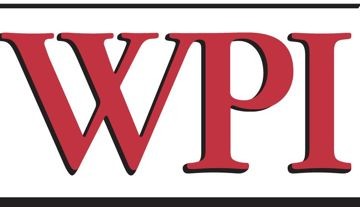 The building's design celebrates the work of
Michael Faraday
, a British scientist, chemist, physicist, and philosopher who is known for having discovered the magnetic field, electromagnetic induction, diamagnetism, and electrolysis. Because of his efforts, electricity became viable for use in technology. Faraday also invented an early form of the Bunsen burner, the system of oxidation numbers and is also known for popularizing such terms as anode, cathode, electrode, and ion.
Other Green Buildings on Campus
The new residence hall will be WPI's fourth LEED-certified building and its second residence hall to achieve that distinction; East Hall, which features the city of Worcester's first "living green" roof, was opened in 2008 as a LEED Gold-certified building.
Like East Hall, the new residence hall will be built using local and recycled materials (to stimulate the economy), will maximize energy- and water-use efficiency and will feature a large number of windows to maximize the amount of natural light, reducing the need for artificial light and minimizing electrical consumption during the daylight hours.
The new residence hall is a part of the university's plans to develop a vibrant lower campus that links WPI's main campus with the downtown area and to Gateway Park, the 11-acre mixed-use life sciences-based campus. In 2007, WPI opened the Life Sciences and Bioengineering Center at Gateway Park (LSBC), a building that serves as the university's focal point for graduate education and research in the life sciences and related bioengineering fields.

Related Articles
Enjoy this post? Share it with others.