Common Wealth: Who's Hot and Who's Not in Mass Politics?
Friday, September 14, 2012
Every Friday, GoLocalWorcester takes a look at who's rising and falling in the Massachusetts political world.
Hot
Tim Murray: The Lieutenant Governor continues to be the real face of Massachusetts back home in the Bay State. During his visit to Worcester this week, Murray announced an additional $4 million in funding for regionalization efforts across the Commonwealth, which will save money and maintain services at the local level. For taxpayers, announcements such as this resonate much more strongly than any prime-time speech.
Elizabeth Warren: Still riding high on her primetime appearance at last week's Democratic National Convention in Charlotte, Warren posted gains in the newest Massachusetts Senate race poll. The retooled ad blitz her campaign released this week may keep the momentum rolling as more and more voters tune in to the highly-contested election. Warren will be joining Congressman Jim McGovern and other Central Mass Dems for the Worcester Democratic City Committee's Unity Breakfast on Saturday morning at Coral Seafood.
Richard Tisei: The Republican Congressional candidate has a shot at making history by becoming the first openly gay member of his party to win office in Washington if he can defeat Democratic incumbent John Tierney. With Senator Scott Brown already breaking ranks with the GOP and pushing an image of an independent, bipartisan leader in his re-election efforts, a victory for Tisei could encourage voters to reconsider what it means to be a Republican in heavily-Democratic Massachusetts.
Mike Moore: The Democratic State Senator from Millbury must be doing something right because his Republican challenger Steve Simonian just rolled out a policy platform calling for legislation Moore and his Senate colleagues have already taken on. From helping small business to restricting EBT card usage to limited taxpayer services for illegal immigrants, Moore has been there, and passed that.
Brian O'Malley: The Republican candidate for State Rep. in Worcester's 15th District faces an uphill battle by any estimation. His announcement Thursday that he will forego any special interest or PAC money in this year's contest against Democratic candidate Mary Keefe won't help fill his campaign coffers, but it does send a refreshing message in post-Citizens United politics.
Not
Voter Suppression: The allegations of voter suppression and intimidation that followed last Thursday's primary made clear the need for additional education among both poll workers and the voting public. Both the Board of Election Commissioners and the City Council tackled the issue at their meetings this week, and a clearer understanding of the rules governing behavior within polling places, as well as how those who violate them will be held accountable, should be forthcoming later this month.
Diocese of Worcester: The Diocese landed itself in Worcester Superior Court this week after the gay couple James Fairbanks and Alain Beret filed suit, alleging their plans to purchase a 44-bedroom mansion from the Church fell through when officials learned the two planned to hold gay weddings at the estate. That the Diocese appears to have accidentally forwarded the email stating as much to Fairbanks and Beret just adds insult to injury.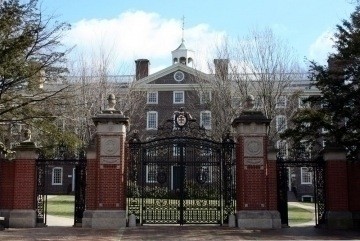 Scott Brown: The usually nimble Brown campaign has been caught on their heels this week. While Warren dropped two new ads this week, things have been relatively quiet on the Republican front, with Brown's camp playing defense rather than leading the narrative as in weeks past.
Barney Frank: The openly gay Democratic Representative argued that a victory for openly gay Republican Richard Tisei this November would impede efforts to further expand gay rights. The idea that party affiliation still trumps personal beliefs is uncharitable at best and plays into the worst kind of partisan politics.
Related Articles
Enjoy this post? Share it with others.