Fecteau: Trump As President
Sunday, November 13, 2016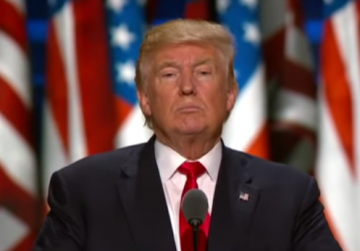 Mr. Donald Trump is now the president-elect. Due to the current political climate, the erratic and eccentric Mr. Trump will likely have a lasting impact on our government for generations. However, because of his lack of specifics on the campaign trail, we can only guess what his policy proposals will be based on his outlandish campaign promises.
Internationally, because most foreign policy experts have shunned his candidacy, Trump has made pie in the sky assurances. Trump's far-fetched idea to build a wall along the Mexican border at the respective government's expense will likely not come to pass. His eccentric promise to pull out of critical military alliances could dilute American influence on the world stage, and embolden Russia. His detrimental policy pitch to rein in or cancel all together our free-trade deals could trigger a trade war. Trump's denial of climate change, and failure to rein in carbon emissions will impact the entire world for decades – scary stuff.
Some of Trump's domestic policies seem equally reckless, and bizarre. Trump's tax plan would add trillions to our debt, and place the tax burden predominantly on low-income, and middle-class families; exasperating income inequality. His promise to roll back gun regulation is troubling especially in the shadow of all the recent mass shootings. Trump has already promised to repeal and replace Obamcare which would result in a loss of insurance coverage for an estimated 20 million people. We will have to keep an open mind, but it doesn't look promising.
Trump will have a lasting impact on our government. With a Trump presidency, and a GOP-controlled Congress, expect far more conservative policies. Even more disturbing, Trump will likely appoint right of center Supreme Court Justices adversely impacting gay marriage, and abortion rights. Consequently, we face a government hostile to progressive achievements.
Never has there been so much gridlock in Congress, but will a Trump presidency solve anything? There is a high potential it will, but in a much more conservative direction. From retrospect, maybe congressional gridlock of the past wasn't so bad after all. We couldn't get anything done, but at least remained in a catatonic state, instead of shooting ourselves in the foot. I'd prefer self-induced coma instead of intentional neglect any day.
Matt Fecteau (

[email protected]

) of Pawtucket, Rhode Island lost to state Senator Jamie Doyle in 2016's Democratic primary. He is a former White House national security intern and Iraq war veteran.
---
Related Slideshow: 10 Ways Bernie Sanders and Donald Trump Are Actually Similar
Related Articles
Enjoy this post? Share it with others.